Yuma Uchida's Speechless fully embraces a softer, easy-listening pop-rock sound, adding a new layer of complexity and versatility to his career as a solo artist.
Title: Speechless
Label: KING AMUSEMENT CREATIVE
Release date: 08/05/2019 
Genre: Pop-Rock/R&B
---
Tracklist:
1. Speechless
2. SOS
3. MAJESTIC
4. Speechless(off vocal ver.)
5. SOS off vocal ver.
6. MAJESTIC off vocal ver.
---
Track by track analysis:
1 – Speechless
Speechless embraces acoustic guitars, big piano melodies, simple bass lines and drums. This song will instantly give you a feel good vibe, with warmth irradiating from the easy-listening melodies and inspiring chorus.
On the vocal end, Uchida delivers a stellar performance, adding a gentle dimension to this song with his mix of sweet mid tones and ethereal high notes and falsetto. Simple and sweet.
---
2 – SOS
Melancholic piano melodies set the stage for this R&B ballad. Strings and simple, hi-hat driven drums and a simple bass line complete this emotional song. The tempo is slow and the instrumental isn't loud, completely putting the focus on the vocals.
And that is exactly in this department that this song shines. Uchida delivers a powerful performance filled with emotion, his trademark delicate falsetto and a melancholic R&B touch. Breathtaking performing in an equally impressive song.
---
3 – MAJESTIC
To wrap up this release we have MAJESTIC, song that comes full circle and brings back pop-rock but with a twist. This is a simpler, more electronica driven take on the pop-rock we find in the first track, incorporating electronica triplets. And even, to my surprise, a jazzy break between the 1st chorus and the 2nd verse.
The instrumental isn't too fast, but it does have its tempo changes, shifting from the fast paced synths to jazzy breaks between the chorus and verses as well as a stripped down outro.
Several tempo changes and resorting to the elements and progressions as featured on this song are rather uncommon, making this song sound a bit quirky on a first listen.
Vocally, Uchida mixed rawness with technicality in the same performance. It gave an interesting flair to this song and contributed to the quirkiness of this song. Not the most consistent song in this release, but still a bundle of fun.
---
Final considerations
Yuma Uchida continues to follow his formula.
Consistency is key in this release, with the opening and ending tracks on the same wavelength and exploring the same sonority. Pop-rock took over 2/3rds of the release but, despite being on the same note, Speechless and MAJESTIC are far from being similar.
Speechless has a feel good vibe to it mainly due to its laidback melodies, comfortable mid-tempo and a strong bet on acoustic elements whereas MAJESTIC brought pop-rock to the table but with an electronic twist to it.
SOS is a beautiful ballad in which Uchida shone. How he hadn't performed a ballad as a solo artist was the most puzzling, especially when his vocals are tailored for that music genre. He might have taken his time but it was worth it.
Two interesting things that I've noticed in Uchida's releases:
1 – The B-Side gems: BE MY BABY (NEW WORLD, 2018), Stardust (Before Dawn, 2018) and now SOS, all explore different sonorities within its respective releases and help showcasing Uchida's versatility, giving more depth to his career. He could have been a strictly dance pop artist – KING RECORDS artists usually start from this route – but he is, with each release, trying to avoid being labeled as such.
2 – Same formula: The structure is always the same for his releases. 1 pop song with electronic elements, 1 acoustic pop-rock tune and 1 wild horse (the order varies between releases). Although not necessarily a bad thing, this creates a certain predictability with his work, something that might hinder the experience for those that like to be caught off guard when they listen to something new.
It is noticeable that Uchida is doing what he does best and isn't rushing anything. Following a formula, especially in the first years as a solo artist. It showcases consistency and, in his case, versatility because of the above mentioned reasons. SOS easily ranks as one of his best songs, thus it is a must listen.
All in all, Speechless is yet another solid entry with its fair share of highlights.
---
Speechless is available for purchase at CDJAPAN.
Yuma Uchida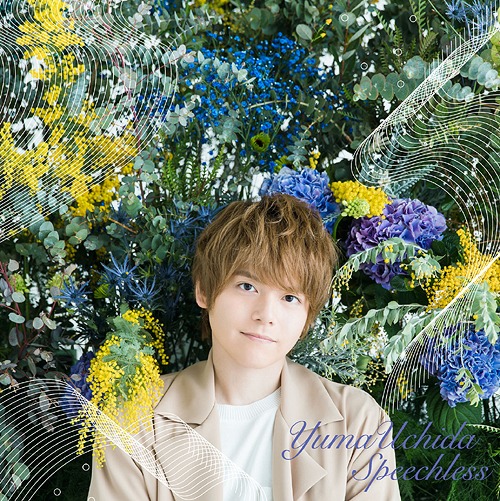 Yuma Uchida
---