"Slick, powerful and fresh, one of those singles that will impress you as soon as you listen to it."
Seiyuu Wataru Hatano is back with new music. This time we're presented with the rocking single "Hikari" that is already a known track by a lot of Hatano's fans since the track is featured as the ending theme of supernatural / action anime "Hamatora". Once again dressed on his rock fashion Hatano shows us that his voice can reach us and really impress in a positive way while exploring new avenues and improving in others.
Single: "Hikari"
Release date: 19/02/2014
Label: avex trax
Genre: Rock / Pop-rock
Tracklist:
1. Hikari
2. Mach 1.67
3. RUNNER
4. Hikari (instrumental)
5. Mach 1.67 (instrumental)
6. RUNNER (instrumental)
Track by track analysis:
1 – Hikari
What a way to start off the single! "Hikari" is one of those songs that quickly make you want to join in on the song and sing along. The amped up chorus, the precise heavy guitar riffs, the fierce drums, the overwhelming bassline, everything is on its place and the pieces fit on this puzzle. "Hikari" is, from start to finish, an incredible precious piece of pop-rock; starting off with Hatano's deep vocals, going through the instrumental piece, there's not a single fail and, in the end, you get one hell of an amazing song. 5/5
[youtube=http://youtu.be/0k18rpFGJQ4]
2 – Mach 1.67
Taking a different turn from the title track we get a blues, jazz inspired track giving us hits and bits of that 50's vibe. Smooth bassline provided by the contrabass, bluesy guitar and simple drums envelop a voice well worth of all this class. A great change in comparison with the previous track impressing not because it's THAT track that makes you addicted at the first listen or because is something beyond comparison, it impresses just by how unpredictable and original it was this choice of genres and overall work on the vocals and instrumental piece. A song to enjoy with your scotch in hand and a cigar or if you're not up for that you can just dance like there's no tomorrow. Classy and memorable. 4.5/5
3 – Runner
Back to where we started: "RUNNER" breaks once again the pace of the single to deliver us a powerful pop-rock track. "RUNNER" shines in this single for its great instrumental piece with the backing band giving their all to provide Hatano's vocals the ramp needed to thrill us. Once again the guitars and the bass go beyond crazy with great solos and bassline. A lively and very fun song that gives us a certain feeling of happiness and completeness. Best way to close this single was impossible. 4.5/5
Final rating: 4.5 / 5
Hatano seems to keep improving at an amazing rate since his last release 君はぼくが帰る場所 and that is a great thing to watch / listen to. His bright pop-rock shines best when together with powerful guitar, excellent vocal control and the up-tempo drums, Hatano's music sounds incredibly good and that is no lie at all. This one was a first and a good first: Hatano's bluesy / jazzy "Mach 1.67" sounds so new yet so classic and classy that is a great surprise for anyone that wasn't expecting Hatano to explore these waters. He sounds incredibly good and so fit for those genres which is an interesting way to showcase his vocal talents. A single that has put the bar high for future releases without a doubt. A slick, powerful and fresh release, one of those singles that will impress you as soon as you listen to it.
HIKARI is available for purchase on CDJAPAN for all overseas fans.
Wataru Hatano
Wataru Hatano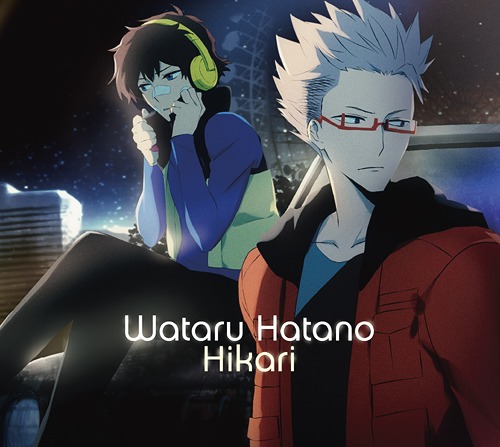 Wataru Hatano