Unicorn Jr. released their second single アフターバーナー (After Burner) in September. Whether this single had the tools need to surpass their strong debut single is something that we're here to take a look at, can the third Rejet unit make as big as an impact as Lagrange Point and Marginal #4 make/made? All of this and more in our review.
Single: After Burner
Label: Rejet
Release date: 09/09/15
Genre: J-Pop
Tracklist:
01.アフターバーナー 
02.Mr.8 
03.Uncrowned 
04.ストレンジャー 
05.アフターバーナー -off vocal- 
06.Mr.8 -off vocal- 
07.Uncrowned -off vocal- 
08.ストレンジャー -off vocal-


Track by track analysis:
01.アフターバーナー
With their trademark strong electronica driven instrumentals, the title track is clearly hinting for us to go to the dancefloor. Dirty synths lead the way in a track that makes a lot of space for each and every member to shine on his way, in the bridge and outro the song is graced with powerful guitar riffs to up the energy. While the intro to the track might sound a bit overwhelming the verses quickly make up for it. Depending on your preferences Shouta and Chiharu might have made an incredibly strong impression with their vocal performance. Shouta's smooth and sexy approach to the lyrics as well as Chiharu's deep and sweet vocals lead the way vocally for Someya to blend in just fine. As the most "exotic" singer, Someya has a bit of a handicap in comparison with melodic singers like Shouta and Chiharu. Even though he might sound sometimes a bit out of place, it's him in the chorus putting everything together. As a whole the track is fun. addictive although a bit repetitive towards the end. 4/5
02.Mr.8
Going towards a "cute" concept, "Mr.8" brings a more ska inspired instrumental to bring out the "cuteness" in this unit. This is one of those tracks where you need to have an extra "open mind" to completely enjoy it. On our side the best thing to do about this track is, besides the fact that the unit is singing it incredibly well, forget about it altogether. The instrumental is the put off element for this track with the annoying synths. Not that great of a track and certainly not the best one in this release. 3/5
03.Uncrowned
Bringing back the rock elements from their past release "Uncrowned" sounds fierce right from the start. With powerful drums, aggressive guitar riffs with a strong bassline, this instrumental really sets aside all electronica elements from the previous tracks, delivering a highly energetic and addictive tune. Vocally everything seemed to be in place – the unit sounded as a whole and managed to give an extra flavor to the track. 4.5/5
04.ストレンジャー
"Stranger" gives off a "Desperados" vibe with its acoustic guitars right in the intro. Latin percussion, melodic guitars and acoustic guitars lead the way in what sounds like a mix between salsa and pop-rock. Just from the instrumental track we're entranced, being impossible not to dance along it. To sum it all up – it's an upgrade version of "Masquerade" by Marginal #4 but with a better chorus and guitar solo. The vocal performance was of top tier by Shouta sounding as sexy as the instrumental track. Regarding Chiharu and Someya we also have heaps of good things to say but we'd never stop so to sum it all up: they sounded right on spot with great control and fitting in with both the genre and the beat in an impressive way. Impressive track. 5/5
Final rating:
"After Burner" is one hell of a strong title track and lives up to this units' energy whereas "Stranger" shows Unicorn Jr.'s new colors, colors that made a good impresion on our side. As a whole this release is bit milder in both power and energy but it's a nice change of pace and great time to show the units' versatility – mainly putting the unit with a rock or latin backdrop – and seeing that the unit not only is fit for dance pop tunes, it also impresses when trying new music genres.
Massive props to Shouta Aoi that completely grabbed our attention in all of the tracks being, by far, the mvp in this release sounding smooth and sexy when needed – even when not needed – and showing a total control over his tone. Chiharu and Someya are slowly showing good signs of improvement – even if we know that Chiharu already sounds better than most so-called top seiyuu singers – Someya still needs some work in his vocal control but that is something that, in a few singles will probably be improved.
"After Burner" was an interesting release, not the units best, but still one exciting and fresh single.
After Burner is available for purchase on CDAJAPAN for all overseas fans.
UNICORN Jr.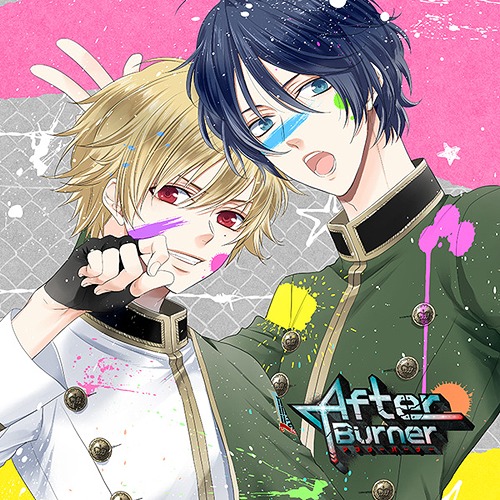 UNICORN Jr.
UNICORN Jr.