TRIGGER have been impressing everyone in Japan, first with their incredible sales power, then with their 5 day run as #1 on Oricon daily and now topping Billboard's Weekly Album sales chart!
TRIGGER have been on a strong run on Oricon, managing to hold #1 since the album's release up until yesterday (an impressive 5 day undisputed run). But Oricon and Billboard are two separate entities so their tops don't have anything to do with each other.
Today, we bring to you Billboard's chart.
Billboard mentioned in two distinct articles that TRIGGER have been, during this past week, a force of nature, holding well their #1 spot on the Album sales chart with "REGALITY". The album sold 19,337 copies in the initial 3 days, ranking #1 with a massive sales difference to second place (BUCK-TICK's "CATALOGUE 1987-2016" that sold 6.999 copies in 3 days).
Today, Billboard awarded TRIGGER with the Weekly Best Selling Album title. According to them, the album sold a total of 31,607 copies during its first week of sales.
Congratulations are in order!
Billboard JAPAN Top Albums Sales 
(from 18/09/2017 to 24/09/2017)


#1『REGALITY』TRIGGER 31,607 copies sold
#2『THE IDOLM@STER MILLION LIVE! M@STER SPARKLE 02』12,074 copies sold
#3『2V-ALK』SawanoHiroyuki[nZk] 11,425 copies sold
#4『がらくた』桑田佳祐 9,848 copies sold
#5『CATALOGUE 1987-2016』BUCK-TICK 8,890 copies sold
A quick note: Billboard is presenting different sales values in comparison with Oricon that has noted a total of 31.704 copies sold. Either way, TRIGGER's run on Oricon might be record breaking tomorrow, when the weekly top is unveiled.
If you still haven't checked their music or if you've been out of the loop or simply want to jam to their new album, here's the music video for their promotional track "DAYBREAK INTERLUDE" and a digest of the album.
"REGALITY" is available for purchase on CDJAPAN for all overseas fans. (all sales on CDJAPAN count towards ORICON charts)
TRIGGER [Ten Kujo (Soma Saito), Gaku Yaotome (Wataru Hatano), Ryunosuke Tsunashi (Takuya Sato)]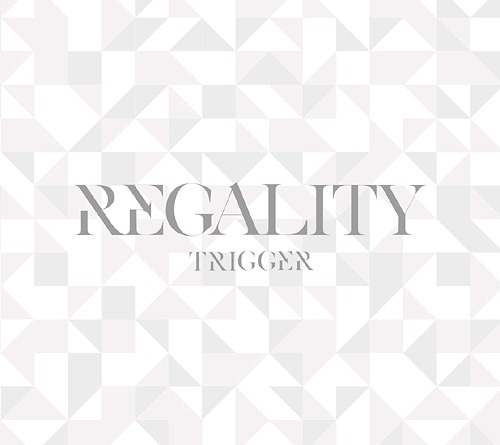 TRIGGER [Ten Kujo (Soma Saito), Gaku Yaotome (Wataru Hatano), Ryunosuke Tsunashi (Takuya Sato)]
TRIGGER [Ten Kujo (Soma Saito), Gaku Yaotome (Wataru Hatano), Ryunosuke Tsunashi (Takuya Sato)]