TRIGGER's first full length album "REGALITY" is going to be released in two days. Today, Lantis released a digest video with previews to the whole album, among already known songs, there are the long awaited solo songs and new powerful tunes.
"REGALITY" is scheduled to be released on 20/09/2017, available in three editions: regular, limited and deluxe.
The cover art is the following for each edition:
The tracklist is the following:
1. SECRET NIGHT
2. NATSU☆しようぜ!
3. Last Dimension〜引き金をひくのは誰だ〜
4. 願いはShine On The Sea
5. Leopard Eyes
6. DAYBREAK INTERLUDE [title track]
7. Riskyな彼女 (Takuya Sato solo)
8. 幸せでいて (Wataru Hatano solo)
9. U COMPLETE ME (Soma Saito solo)
10. In the meantime
11. DESTINY

The album preview is here. Get a first glimpse at the solo songs and the powerful group songs "In the meantime" and "DESTINY".
http://https://www.youtube.com/watch?v=37qSPax6cOw
Lantis released a digest video with a snippet to the new song and its music video.
DAYBREAK INTERLUDE is the music video that was unveiled through a special outdoor one-time event back in August. Fans can now watch it on youtube.
Studio BONES (Darker than Black, NO.6, Soul Eater) animated this music video.
The contents for each edition are the following:
Regular: CD Only
Limited: CD + sleeve case + designed cover + photobook
Deluxe: CD + box + designed cover + photobook + original necklace + original scarf
"REGALITY" is available for purchase on CDJAPAN for all overseas fans.
TRIGGER [Ten Kujo (Soma Saito), Gaku Yaotome (Wataru Hatano), Ryunosuke Tsunashi (Takuya Sato)]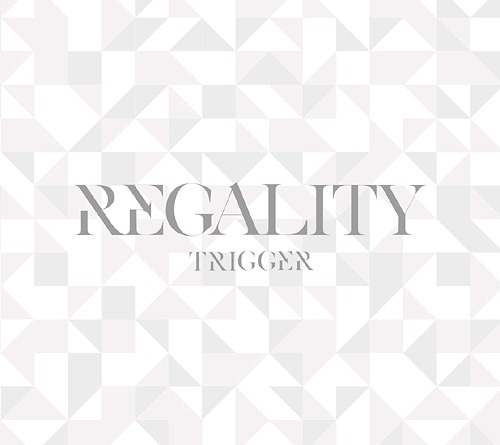 TRIGGER [Ten Kujo (Soma Saito), Gaku Yaotome (Wataru Hatano), Ryunosuke Tsunashi (Takuya Sato)]
TRIGGER [Ten Kujo (Soma Saito), Gaku Yaotome (Wataru Hatano), Ryunosuke Tsunashi (Takuya Sato)]
SOURCE: Lantis official twitter account