TRIGGER's massive popularity has made the impossible, possible.
Today, 20/09/2017, TRIGGER clinched their first #1 on ORICON with their first full-length album "REGALITY".
The news was broken on Twitter.
【音楽情報】オリコンデイリーアルバムランキングにて、『REGALITY』が1位を獲得致しました!
大型ビジョン、アドトラック、号外…。TRIGGERは沢山の夢を見せてくれましたね。一緒に彼らを応援して下さり、本当に有難うございます。https://t.co/VDQr8M8d83

— アイドリッシュセブン公式@大神万理 (@iD7Mng_Ogami) 20 de setembro de 2017
"REGALITY" sold 12,418 copies on its first day of sales, achieving the coveted #1 on ORICON daily ahead of music giants BUCK-TICK, GLAY, and Hiroyuki Sawano.
[UPDATED on 21/09]
The second day of sales and TRIGGER still go strong on Oricon. "REGALITY" so far has sold over 21.000 copies and sits in 1st place for two days in a row (Oricon Daily).
[Updated on 22/09]
The album is still going strong on Oricon with a total of 25.137 copies sold. TRIGGER is reigning over Oricon daily with 3 consecutive days at #1.
[Update 23/09]
TRIGGER holds well to #1 on Oricon for 4 consecutive days. 27.361 copies sold so far, despite the good news, the volume of sales has been decreasing as time passes by. If this tendency continues, it's projected that by tomorrow or in two days, the group will drop from #1. Regardless, TRIGGER is doing a fantastic run on Oricon, the best one so far by a 2.5D/seiyuu unit.
They are close to beat the record holders, QUARTET NIGHT, the only 2.5D male idol unit that has ranked #1 on Oricon Weekly with "God's S.T.A.R." (after 7 fantastic days of sales – but not the same amount of #1's during that week as TRIGGER holds right now). TRIGGER only needs to perform well for the next 3 days to achieve this amazing feat.
[Updated 24/09]
HISTORY IN THE MAKING!
TRIGGER's flawless run on Oricon for 5 consecutive days at #1 is unprecedented for a 2.5D/seiyuu unit – competing as a real group (they are not featured in the anime section of Oricon nor ranked on it). 29.934 copies sold. It's expected that the unit is going to clinch #1 in two days (when it's time for the Weekly results to be released).
[Updated 25/09]
TRIGGER drop to #2 after 5 days reigning on Oricon (as predicted). Their 5 days perfect run on Oricon is certainly a record among 2.5D/seiyuu units and dropping to #2 won't affect much the weekly ranking (unless some release featured on the chart all of a sudden exceeds the 31704 copies TRIGGER has managed to sell during this past week).
[UPDATE 26/09]
TRIGGER are back in 1st place on Oricon daily with a cumulative total of 33.225 copies sold.
The album counts with a lot of already known hits like "Leopard Eyes", "SECRET NIGHT" and "Last Dimension~引き金をひくのは誰だ~" and brings to the table the powerful "In the meantime" as well as the fast-paced dance tune "DAYBREAK INTERLUDE".
Congratulations to TRIGGER for this feat! Our review of TRIGGER's "REGALITY" will be published in a week.
"REGALITY" is available for purchase on CDJAPAN for all overseas fans. (all sales on CDJAPAN count towards ORICON charts)
TRIGGER [Ten Kujo (Soma Saito), Gaku Yaotome (Wataru Hatano), Ryunosuke Tsunashi (Takuya Sato)]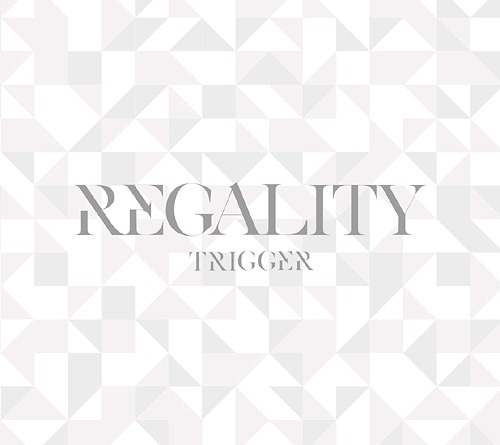 TRIGGER [Ten Kujo (Soma Saito), Gaku Yaotome (Wataru Hatano), Ryunosuke Tsunashi (Takuya Sato)]
TRIGGER [Ten Kujo (Soma Saito), Gaku Yaotome (Wataru Hatano), Ryunosuke Tsunashi (Takuya Sato)]