TRIGGER just wrote history today! The unit that recently topped Billboard's Weekly Album sales chart, has clinched the coveted #1 on Oricon Weekly! TRIGGER are now the record holders of highest ranking album on Oricon among not only 2.5D idol units but also bands and seiyuu units alike.
#1 Weekly Album Sales on Oricon (after 5 straight days as #1 on Oricon Daily)
TRIGGER had a fantastic sales week, showing their popularity and prowess against popular acts such as BUCK-TICK, Glay or Hiroyuki Sawano. On Oricon, TRIGGER presented one of the smoothest runs we've ever analyzed by a 2.5D/seiyuu unit.
They immediately clinched #1 as soon as the album was released, then went for 5 consecutive days run as #1 on Oricon Daily, on the 6th day they ranked in second place, and now, they clinched the coveted, record-setting #1 spot on the Weekly Album sales chart on Oricon. The previous record belonged, ironically, to IDOLiSH7 with their first album "i7".
This is the cherry on top of the cake for TRIGGER, unit that debuted in 2015 that counts with what we consider three of the most dynamic and powerful vocals in the business: Soma Saito, Wataru Hatano, and Takuya Sato.
"REGALITY" sold 31.723 copies (updated/fixed sales figures by Oricon) on its first week of sales. The weekly chart results aren't still out there – going to be unveiled closer to 8/9 p.m JST – but a specific article on Oricon already confirms this record.
Seiyuu Wataru Hatano and Takuya Sato went to Twitter to express their surprise as well as to thank everyone for supporting TRIGGER.
Wataru Hatano wrote "TRIGGER's album " REGALITY " is in first place on Oricon Weekly. I'm so happy about this news! Congratulations TRIGGER! I hope everyone will continue to support (the game) "IDOLiSH7″."
TRIGGERアルバム『REGALITY』が、オリコンのウィークリーで1位を頂きました‼︎
沢山の方に聴いて頂けて嬉しいです!
おめでとうTRIGGER〜っ‼︎
これからもゲーム『アイドリッシュセブン』を宜しくお願い致します。

— 羽多野渉 公式 (@hatano_official) 26 de setembro de 2017
Takuya Sato struggled with finding the right words to thank everyone but still wrote a rather formal thank you note: "Hello. Wow, it's amazing. I don't think my vocabulary works at all (he's speechless), but I think it's all thanks to the people who love our work, characters, and songs. I would like to express my heartfelt gratitude to you as a member involved in the work."
おはようございます。
すごい、本当にすごい。
語彙力が全く機能してくれませんが、ひとえに作品とキャラクターと歌を愛してくださる皆様のおかげだと思います。
作品に携わっている一員として、心から感謝申し上げます。 https://t.co/vCfeKHaYYN

— 佐藤拓也 (@5tAkUyA5) 26 de setembro de 2017
For those that have been following 2.5D idols/seiyuu units or the ones curious about a little of seiyuu unit history:
STARISH (debuted in 2010) are the first-ever popular 2.5D idol group, but they never clinched an Oricon weekly chart #1 in their career, nor released an album. QUARTET NIGHT is one of the most successful among 2.5D/seiyuu units and the only ones to ever score a #1 on Oricon's weekly chart with "God's S.T.A.R."- single category -, but they also never released an album.
TRIGGER is the only 2.5D/seiyuu unit that this year is performing at such a high level on all major charts in Japan. TRIGGER wasn't/isn't competing on the "anime" chart (like Idolmaster for example) so this feat is even more impressive than usual.
Currently, this is the top for male Seiyuu/2.5D units/bands Top ranking Albums on Oricon:
TRIGGER "Regality" #1
IDOLiSH7 "i7" #2
GRANRODEO "Karma to Labyrinth" #3
OLDCODEX "A Silent, within The Roar" #5
B-Project "S Kyuu Paradise BLACK" #5
フェロ☆メン(Feromen) "Magic Mirror" #8
TRIGNAL "One Step Forward" #11
Hiroshi Kamiya + Daisuke Ono "Stories" #12
D.A.T "BEST ALBUM SUITE" #22
MARGINAL#4 "THE BEST「STARCLUSTER 2」" #22
ELEKITER ROUND 0 "Maria" #27
SolidS "White" #32
LAGRANGE POINT "THE BEST「Lagjuliet」" #35
3 Majesty "Triple Road" #42
Liar-S "ROUND AND ROUND" #57
QUELL "Believer- inori" #59
Rêve parfait "Vocal CD vol 3." #62
GROWTH "STAR SAIL" #68
KYOHSO "Vocal CD 3" #70
Our take on this news:
As everyone might have noticed, we at The Hand That Feeds HQ have been following this release quite closely. Regardless of people being or not fans of this unit or the seiyuu involved, the fact is that TRIGGER wrote history this week, setting records and showing impressive sales power all while competing against everyone not only anime/2.5D releases.
Few 2.5D units have this kind of popularity and sales power together. Although TRIGGER's sudden explosive popularity might not interest those that aren't fans of the IDOLiSH7 franchise, the fact that a 2.5D unit is going head-to-head with established musicians/bands (Buck-Tick, Glay, Hiroyuki Sawano, etc) not only will draw some interest and attention to other units in the business (that "who are them?" factor) but is also worthy of congratulations of all kinds. They broke IDOLiSH7's record, set last year in August. Critically acclaimed bands such as GRANRODEO and OLDCODEX sit behind them right now. This is not a drill, TRIGGER wrote a fantastic piece of history today with an album that is close to perfect.
If you still haven't checked their music or if you've been out of the loop or simply want to jam to their new album, here's the music video for their promotional track "DAYBREAK INTERLUDE" and a digest of the album.
"REGALITY" is available for purchase on CDJAPAN for all overseas fans. (all sales on CDJAPAN count towards ORICON charts)
TRIGGER [Ten Kujo (Soma Saito), Gaku Yaotome (Wataru Hatano), Ryunosuke Tsunashi (Takuya Sato)]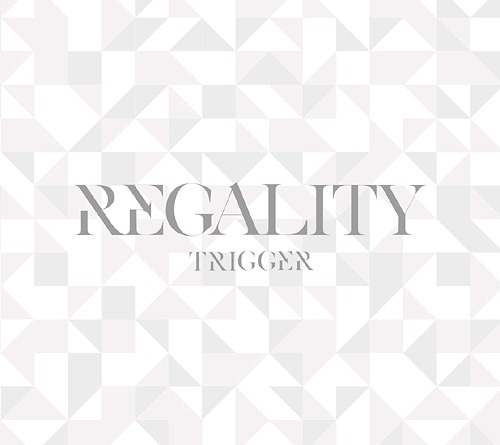 TRIGGER [Ten Kujo (Soma Saito), Gaku Yaotome (Wataru Hatano), Ryunosuke Tsunashi (Takuya Sato)]
TRIGGER [Ten Kujo (Soma Saito), Gaku Yaotome (Wataru Hatano), Ryunosuke Tsunashi (Takuya Sato)]