Tetsuya Kakihara & Koutaro Nishiyama's Choimo TV visited Guam is going to receive a special DVD and Blu-ray release.
"Choimo TV in GUAM" is going to be released on 25/07/2018 on DVD and Blu-ray. Choimo TV's hosts, Tetsuya Kakihara and Koutaro Nishiyama,visited Guam in February with Nobuhiko Okamoto as their guest.
柿原徹也&西山宏太朗『ちょいもTV』with…?😎😎😎#ちょいもTV #ちょいも #3人でどこへ🤔 pic.twitter.com/OFIOp4IB24

— 柿原徹也&西山宏太朗『ちょいもTV』 (@choimo_info) 5 de fevereiro de 2018
The cover art is the following for each edition:
Both editions come with footage from the trio's stay in Guam. The Blu-ray edition comes with exclusive bonus footage.
"Choimo TV in GUAM" is available for pre-order at CDJAPAN.
Tetsuya Kakihara, Kotaro Nishiyama, Nobuhiko Okamoto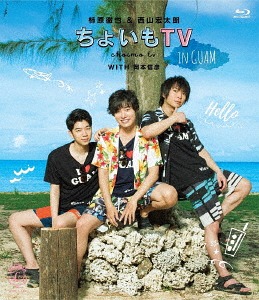 Tetsuya Kakihara, Kotaro Nishiyama, Nobuhiko Okamoto
SOURCE: Amazon Japan