Takuma Terashima marks his return to the music business with "REBOOT", a strong album that explores new avenues and manages to deliver a close to perfect experience.
Title: Reboot 
Label: Lantis
Release date: 22/03/2017 
Genre: Pop/Rock
Tracklist:
1 overture III (INST)
2 evolve
3 sunlight avenue
4 life goes on
5 kaleido phantom
6 INNER STAR
7 interlude III (INST)
8 climber
9 0+1
10 flow
11 tiny adventure
12 landscape
Track by track analysis (disclaimer: we don't review instrumental tracks):
1 – overture III (INST)
2 – evolve
"evolve" is the track chosen to promote this album. It goes back to Terashima's rock roots, well present in releases like "NEW GAME" and "SCARLET SIGN". The guitars are heavy, the drums are mostly focused on adding some sharpness to the instrumental and the bassline is memorable. We're not that fond of the piano melody playing in the background in the intro and chorus, it seems out of place in the middle of a song that had the makings of a heavy punk-pop song. The verses blend a mix  of acoustic guitars with gentle piano melodies and the contrasting heavy guitar riffs and bassy drums. Kudos to the edgy guitar solo we were presented with on the bridge. Terashima's vocals show a little bit of improvement. He sounds more polished and his vibrato is peeking here and there throughout the song. Bonus points for his rather good english pronunciation. 5/5
3 – sunlight avenue
[As previously reviewed] Already well known to his fans as well as those that have been watching vampire anime "Servamp" is sunlight avenue. This track is bright which is a bit different from what we're used to from Terashima. Smelling like summer, this track displays a pop-rock sound in which guitars are funky and complimented by acoustic guitars. The bass is funky and the drums are minimal. The guitar solo in the bridge is a must listen. In this playful instrumental Terashima's performance is a stable as ever, mainly resorting to his mid tones to tackle this laidback track. Fun, entertaining, surprising but lacking something. 4/5
4 – life goes on
"life goes on" showcases Terashima's bright side. We can't help but to feel at ease with the laidback instrumental. A jazzy piano melody leads the way alongside wthe entertaining brass and mid-tempo snary drums. The guitars are a delight to listen to; the acoustic guitar makes up for a lot of the instrumental piece whereas the electric guitar is always ready with melodic licks thatbright to life a loungy afternoon. His vocal performance is not the greatest, at least in the verses. We understand that, at times, he likes to perform his songs in a preppier, upbeat tone but the fact that it sounds forced put us off. "life goes on" has a simple, enjoyable instrumental but the vocal performance was lacking. 4/5
5 – kaleido phantom
When acoustic guitars take the front seat and the contrabass becomes the best mood setter you find "kaleido phantom", a surprising find in the middle of a pop-rock tune assortment. A bit alike "life goes on", this song embraces a bit jazz and blues and makes us feel at home with its laidback mood. The electric/acoustic guitar combo plays a major role in this song with the melodies, licks and exciting solo, the contrabass makes this whole jazz/bluesy incursion worth it and authentic whereas the drums set a mix of slow and mid-tempo for this song. The vocal performance on top of this entertaining song is really consistent. Terashima makes the best out of the quiet verses and then powers up to the chorus in what is a great performance. 4.5/5
6 – INNER STAR
[As previously reviewed] Putting aside the heavy guitar riffs and strong drums, "Inner Star" already shows a way more alternative rock sound coming from this single. Easier to the ears with its melodic guitar riffs, technical drumming and driving bassline, the song seems to exude a hopeful and a the same time excited aura, managing to grab the listener's attention. The highlight in the instrumental piece is provided by the guitar that while battling out with the buiding up drums, is still in a daring high note solo (just WOW at this moment). Vocally we have to say that it's almost as if Terashima hadn't take a one year break from the music business. He sounds right on point with his mid-toned vocals, often grabbing low notes just to keep things interesting. 4.5/5
7 – interlude III (INST)
8 – climber
A playful melody courtesy of the brass opens up "climber". Expect to dance along to this song. This is the first time that ska has been a part of Terashima's sound. The mix of reggae guitar riffs, the jazzy bass, latin brass and simple rock drums isn't a surprise in itself but the fact that it was him embracing this mix caught us off guard. With a fun instrumental can we expect an equally engaging performance from him? Terashima was more than up to the task, delivering an energetic, melodic and highly entertaining performance. 4.5/5
9 – 0+1
[As previously reviewed] Summer is here and Terashima presents us with 0+1, a funky dance pop track in which synths are at the core. With guitar parts set at a minimum, being mostly replaced by seesaw synths, this track showcases a different kind of mood and feel with its laid back instrumental. The funky slap bass is a major highlight in this track bringing danceable grooviness to this track. So are all rock elements out? Yeah, that's right. Terashima made a risky bet releasing and penning a dance track but surprisingly it panned out well. The track mixes house and dubstep elements with the funkiness of the 70's boogie disco – whoever said Terashima could only sing rock songs will be surprised with 0+1 (Love and Peace). Vocally Terashima is as expected: steady and energetic, kudos for his bridge performance that blew us away. On our end we feel that this single starts off with the right foot. 5/5
10 – flow
To diversify a little bit, Terashima decided to try something new (although he's not new to the music genre) and went for a minimal EDM song. The pace is slow but grows quicker as we get closer to the chorus. The instrumental manages to be ethereal in the verses and is unexpectedly addictive and dreamy in the chorus. Keeping the instrumental simple paid off. Melodic guitar riffs blend in the background with the slow paced synthetic drums and the see saw synths, the synth pads in the background add that ethereal vibe we talked about earlier making this listening experience worth it. Terashima might not pull off his best with this song but he's an essencial part of this song's ambience. A different song with a really good outcome. 5/5
11 – tiny adventure
"tiny adventure" blends a little bit of what we got in previous songs. Starting from Terashima's slightly hyper performance to the mix between electric guitars, bright piano and synth melodies and a funky bass, the listener gets a little bit of everything from this song (minus his powerful low vocals). "tiny adventure" tries to deliver an overly exciting song while blending all the elements mentioned before. The final result is this upbeat pop-rock song that lacks a bit in all departments but doesn't stop being entertaining from start to finish. 4/5
12 – landscape
We complete this album with "landscape" a song that winks at "SCARLET SIGN". Strings, heavy guitar riffs and powerful drums gather to deliver a complete alternative rock experience. In the verses we can't help but to praise the bassline. Even in the middle of the emotional piano melody and the heavy guitar riffs it managed to stand out and lead the song. The chorus is slow paced, mixing the brightness from the piano and strings with the contrasting darkness from the synths and guitar riffs. The vocal performance is the best we could find on this album. Terashima finishes this album in the best way possible. 5/5
Final rating:
"Reboot" is a complete album that brought to the table some of the best things in Terashima's solo career. We have exciting guitar riffs as well a whole lot of electronica, elements that are close to him since debut. "evolve" opened the album in an edgy way, grabbing our attention as soon as the first notes were played.
Even if the album kicked off in such a good fashion, it's best not to forget that this album has its hiccups here and there. "sunlight avenue" and "life goes on" are two songs that lack a lot, one of them has a weak instrumental whereas the other lacks in the vocal department.
One thing we throughly enjoyed were the jazz/blues/ska influences this time around. Songs like "kaleido phantom" and "climber" are a breath of fresh air in Terashima's repertoire. We'd love to hear him embrace those music genres in future releases. On another good note, we find Terashima revisiting his "magic words" days in which a good electronica song was always a treat to his fans. If we're talking about revisiting past sounds then we have to talk about the final song on this album. "landscape" is a softer version of the headbanger "SCARLET SIGN", song that shocked many when it was released back in 2014.
"0+1" and "flow" are two of the best dance tracks he's ever performed. Both are addictive in their own distinctive ways. "flow" has dark undertones whereas "0+1" is funky and exciting.
It's almost unnoticeable but his vocals have improved, if he was steady before then, now, he's rock solid in all performances. Nice to hear these improvements throughout the album.
In the end, Terashima managed to open and close the album strongly, in the middle we found tunes that appealed to a wide array of listeners with the most varied tastes. From preppy to dark, heavy rock to dance tunes, he covered almost everything with this release. "Reboot" is a clear improvement from "NEW GAME" and "PRISM", if only some songs weren't poorly performed or failed to deliver something memorable, this could have been a perfect album.
"REBOOT" is available for purchase on CDJAPAN for all overseas fans.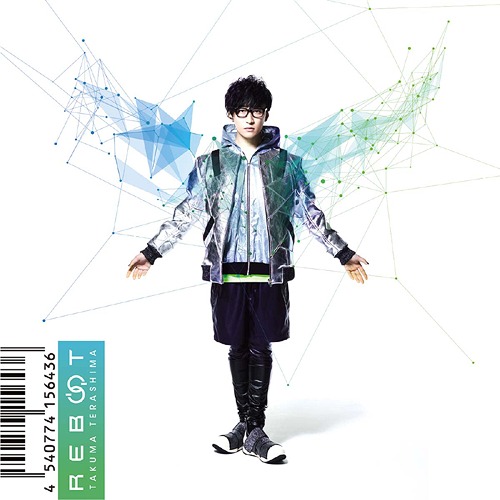 Takuma Terashima