Takuma Terashima is back with a new single. "Inner Star" promises to be a befitting follow up to PRISM. One year out of the music business was enough to polish his sound? What changes can be found in this release? This and more under the cuff.
Single: Inner Star
Label: Lantis
Release date: 18/11/15
Genre: J-Rock/Alternative
Tracklist:
1.INNER STAR
2.君の季節
3.ビビッドナイトフィーバー!
4.INNER STAR (Instrumental)
5.君の季節 (Instrumental)
6.ビビッドナイトフィーバー! (Instrumental)
Track by track analysis:
1.INNER STAR
Putting aside the heavy guitar riffs and strong drums, "Inner Star" already shows a way more alternative rock sound coming from this single. Easier to the ears with its melodic guitar riffs, technical drumming and driving bassline, the song seems to exude a hopeful and a the same time excited aura, managing to grab the listener's attention. The highlight in the instrumental piece is provided by the guitar that while battling out with the buiding up drums, is still in a daring high note solo (just WOW at this moment). Vocally we have to say that it's almost as if Terashima hadn't take a one year break from the music business. He sounds right on point with his mid-toned vocals, often grabbing low notes just to keep things interesting. 4.5/5
2.君の季節
Strings lead the way in this tender pop track. Although Terashima's repertoire clearly consists of powerful rock tracks, from headbangers to slower tracks, it's nice to listen once in a while to this kind of bright track, a type of track that is best for his boyish voice. Acoustic guitars, piano and strings are the core of the instrumental piece, keeping things simple but pleasing at the same time. It's a joyful track that seems to be a bit out of place in this single but still is a nice change of pace for him. 4/5
3.ビビッドナイトフィーバー!
In a funkier way  ビビッドナイトフィーバー!comes as a surprise in this release. No one would have been thinking about Terashima releasing a funky dance pop track. Dirty synths, splashy drums, fast, melodic guitar riffs are the essence in a track that seems to be completely out of Terashima's playground. With a partying mindset you'll probably enjoy this track. It's playful and has that hooky chorus that will make you join the chorus with "light your fire" chants. An interesting twist in this single, a must for your friday nights. 4/5
Final rating:
Terashima's hardrock was replaced by alternative pop-rock with hints of electronica. This is the reality with this new single. Not even PRISM's funky sound remains. This new sound is not quite "Star Tail" nor "Special day" but more like a crossover between both.
Looking at this single "Inner Star" is the automatic winner of best track – it's a powerful, engaging and delicious title track. From there on, things got a little "different". While ballads and bright pop songs are two things that are far away from Terashima's alley, it's nice to once in a while, listen to him sing those. Pop-rock or even hardrock with his mid-toned unique vocals is what makes Terashima shine in comparison with other seiyuu in the business.
Now having Terashima go for a higher pitched tone and sing his solo songs just like how he sings his "Uta no Prince sama" Otoya songs is a big no for us. With this sound we start to see his power and energy fading away. This single in comparison with the previous ones is mellowed out. Mid-tempo tracks fill this release and leave no space for exciting tracks.
If it's a one time experience, then it's an interesting experiment that we hope has served well to polish some of his skills and bet for a sound that is befits for his vocal capabilities.
And why criticize this single when it is rated 4 stars? Because this is far away from Terashima's capabilities – he's had many great releases over the years and this one is far from being featured in that list.
"Inner Star" is available for purchase on CDJAPAN for all overseas fans.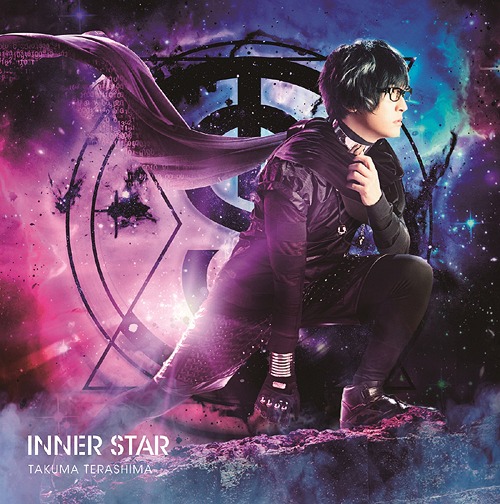 Takuma Terashima
Takuma Terashima