Sacra Music released details today on the pre-screening of the music video for "Date", song part of Soma Saito's 3rd single.
Saito's 3rd single is titled "デート" (Date) and is scheduled to be released on 20/06/2018, available in two editions: regular and limited.
The cover art is the following for each edition:
Saito has taken further control over his music, composing the music as well as writing lyrics to all the songs included on this release. According to himself, this release counts with three songs, ranging from "pop to cute and poisonous".
The tracklist is the following:
1 - デート (Date)
2 - レミニセンス (Reminiscence) 
3 - C  
4 - デート (Instrumental)
Sacra Music announced that the music video for "Date" is going to be pre-screened at specific locations and during a limited period of time. From 29/05 to 04/06, the music video for "Date" is going to be available to watch at all Animate stores in Japan. In addition, during the screening period, the customers who've made a reservation for the regular and / or limited editions (at Animate) will receive a special bonus postcard.
The postcard is going to be different depending on the edition purchased. Those who purchased the limited edition basically will know what they got when they receive it at the store. Sacra Music didn't unveil the design for that specific bonus postcard, mentioning that it's a surprise.
For those that happen to have pre-ordered the regular edition of "Date" at Animate's physical stores and happen to visit it during screening (29/05 to 04/06), the bonus postcard is the following:
http://www.sonymusic.co.jp/img/common/artist_image/70008000/70008800/images/3rd_date/saito_postcard_sample-02.jpg
Unfortunately, overseas fans will have to wait for music video previews/teasers to be released at a later date, and hope Sony Music/Sacra Music won't make those impossible to watch outside of Japan (again).
The contents for each edition are the following:
Regular: CD only
Limited: CD + DVD (music video) + 12 page Booklet
More details on this release – music video and song previews – are going to be unveiled in the upcoming weeks. Be on the look out for more updates from us.
"デート" (Date) is available for pre-order on CDJAPAN.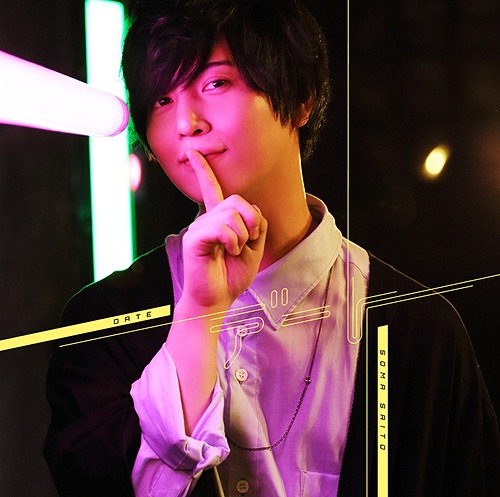 Soma Saito
Soma Saito
SOURCE: Soma Saito official website