Soma Saito's "Date" dominated this week's Billboard Hot Animation chart. Aside from that he's got Top 10's on Billboard Hot 100 & Top Singles Sales chart, Tower Records and Oricon Weekly charts.
Soma Saito made his long awaited comeback with the 3rd single "デート" (Date). Despite completely revamping his sound, straying away from mainstream pop music, the single has climbed Billboard's Hot Animation chart to claim the coveted #1.
The Hot Animation chart doesn't measure sales of a single/album but sales for individual songs. It features seiyuu/2.5D units and music featured in anime.
"Date" topped this week's chart, followed by IDOLiSH7's "Nanatsuiro REALiZE" at #2, BRBRookies!'s "GOLDEN ENCORE" at #3, Nagi Rokuya "June Is Natural" at #6, IDOLiSH7's "Viva! Fantastic Life!!!!!!!" at #8, Miyu Irino's "FREEDOM" at #13 and Mamoru Miyano's "EXCITING!" at #18.
At the same time, Saito impressed with success on Billboard's Hot 100 & Top Singles Sales charts, Tower Records and Oricon Weekly charts, all top 10 ranks.
On Billboard's Hot 100, chart that features the hottest music in Japan (regardless of music genre), "Date" occupies a surprising #10 with 2.540 points.
On Billboard's Top Singles Sales chart, "Date" holds its own at #6 with 13,646 copies sold during its first week.
On TOWER RECORDS Weekly chart, "Date" ranked #8. Sales figures weren't disclosed.
On Oricon Weekly chart (results from the third week of June), "Date" claimed its spot at #7, matching his record of highest charting single in his career – set last year with "Yoake wa mada/Hikari Tatsu Ame". "Date" sold 13,502 copies (different sales figures from the ones featured on Billboard's charts) during its first week of sales.
Congratulations are in order for Saito's impressive performance on the charts.
It seems that "Date" is Saito's most successful release to date (despite sales numbers being slightly different from previous releases'), claiming a total of 5 top 10's, one of those being in the highly competitive Billboard Hot 100 chart.
If you're curious as to why this single is charting within top 10 in almost all major charts in Japan, check our review of "Date" – HERE.
"デート" (Date) is available for purchase on CDJAPAN.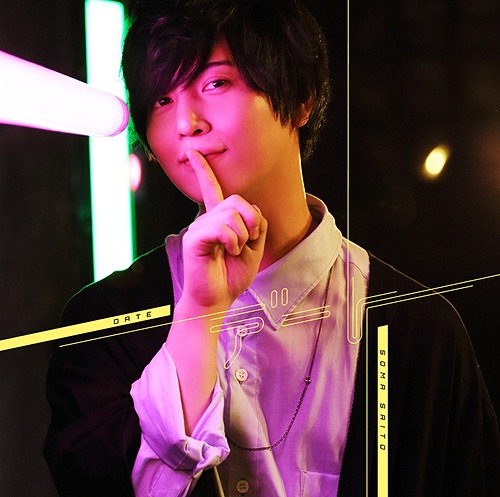 Soma Saito
Soma Saito
SOURCES: Billboard Japan – Hot Animation Chart, HOT 100 & Top Single Sales Chart / Tower Records Weekly Chart / Oricon Weekly