SolidS make their comeback as a group with the third and final part of their "Color" series. With Red and Black already complete, it's time to release the much anticipated White.
More details below.
"White" is scheduled to be released on 30/09/2016, available in a single edition.
Although it wasn't revealed, it's already known that the tracklist will count with a total of six tracks. Two main tracks, two instrumentals, one mini-drama and a "Soriraji" program.
As soon as tsukino-pro releases more information regarding this single we'll update this news.
"White" is already available for pre-order on CDJAPAN for all overseas fans.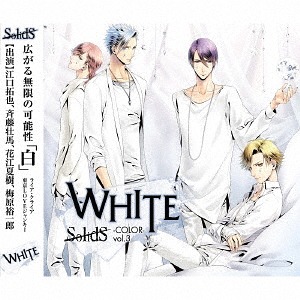 SolidS (Shiki Takamura (Takuya Eguchi), Tsubasa Okui (Souma Saito), Rikka Sera (Natsuki Hanae), Dai Murase (Yuichiro Umehara))