Natsuki Hanae (SolidS) and Shugo Nakamura (QUELL) bring melancholic songs to the table to tackle X Lied's 3rd volume.
Title: SQ X Lied Vol.3
Label: Tsukino-Pro
Release date: 

28/07/2017


Genre: J-Pop/Rock
Tracklist:
1. Undefined
2. 星空
3. Undefined -off vocal-
4. 星空 -off vocal-
Track by track analysis:
1. Undefined
"Undefined" is not your typical SolidS song. "Undefined" brings to the table a jazzy touch with mellow piano melodies, an overall quieter and more delicate sound that fits perfectly with Hanae's angelic vocals. Leaving behind the synths and replacing it with the rhodes piano was a perfect choice. The rhodes piano added hints of melancholy in the intro, job that is later taken over by the piano, setting the song's wistful mood perfectly. We had high expectations for this song's performance and those were met with flying colors with Hanae's powerful, all-rounded vocal performance. A treat of a song. 5/5
2. 星空
Shugo Nakamura takes on the solo challenge with the acoustic rock ballad 星空, a song that is unusual even by QUELL's standards. QUELL are all about making an impact with highly skilled singing through their addictive trademark sound. This song goes in the opposite direction although the intentions remain the same: to impress the listener. Its slow tempo set by the drums leaves a melancholic mood in the air colliding with the bright, hopeful touch courtesy of the acoustic guitars; while this combination might sound odd for some, we're actually fond of the contrasting colors that fit with Nakamura's duality as a performer. His versatility allows him to have a sorrowful tone but still irradiate brightness with his vocals, that alone is one of the things that sets him apart from the rest of QUELL and makes this performance all the more engrossing. Slow tempo ballad packed with emotion and lots of skill, the song that Nakamura was in need to showcase his vocals. 5/5
Final rating:
Natsuki Hanae performed "Undefined", a song that managed to exceed our high expections. Fans know that SolidS have a more alternative approach to their rock sound than one could expect among Tsukipro's groups. They are known for their mix of fancy synths, piano melodies and edgy guitars but this time around, a bit alike what we got from Hanae's previous solo song "Lily" from the Katchofugetsu hen series, this song strays away from their trademark sound.
His performance was flawless once again. It sounds like we favor him by saying this over and over again, but it's the reality. His angelic vocals have no match right now among seiyuu. There's not a single seiyuu that can match his vocals, especially when he delves into his higher register mainly because his tenor range is beyond impressive. He can go really deep into high notes, even those in the women's register and deliver solid mid-tones with lots of melodies and intricate bits and ad-libs. With this song he put to test most of his skills, although he didn't delve too much on the high notes because this song didn't require them.
We're used to his vocal performances being explosive and energetic while, at the same time, they have a gentle touch that lingers. This time around he surprised us with his falsetto in the chorus – not because we never heard him using that technique. The way he attacked those notes plus his tone when performing them, made us wonder for a couple of seconds if Shouta Aoi had made his way into SolidS. In a solo setting, Hanae is starting to be a force to be reckon with.
On the other side we find Shugo Nakamura, one of the "not so hidden" gems in QUELL. For those that might not remember him or can't tell his voice apart from others in QUELL, he's the one that hits amazing high notes in the second chorus of "時を越えて" (and steals the show with Takeuchi), on QUELL's debut single "Believer – Inori".
Nakamura has shown before that, much alike Takuya Eguchi (SolidS), he's the glue that holds everyone together in QUELL. We might mention often that Shunsuke Takeuchi is their trump card, which he is, but we can't discard that, behind him, Nakamura is doing the heavy work, he's the one that levels everyone, the high and low notes, he puts them together and is really skilled at it. He holds great control over his vocals which can be easily noticeable with his "星空" performance, showcasing his falsetto and skillfully hitting high notes as well as he holds his mid-tones in the verses. His versatile and unique voice color certainly is one thing we trully appreciate and that sets him apart from all the talented seiyuu under Tsukino Production. "星空" might be a quiet song with nothing much happening in the background which might put off some people. Still, we believe that it's the perfect outlet to have his vocal register put to test and that's exactly what he did. His high notes are a treat as well as his stable falsetto. His performance was surpringly good.
In the end, after the messy SQ X Lied vol.2 (Soma Saito VS Sho Nogami), this one managed to raise the bar again for the last release in the series. Both Hanae and Nakamura were beyond impressive with two quiet, melancholic songs that weren't as easy as it seems to perform. It is also a fantastic answer to ALIVE's X Lied Vol.3 released last month.
SQ "X Lied" vol.3 is available for purchase on CDJAPAN for all overseas fans.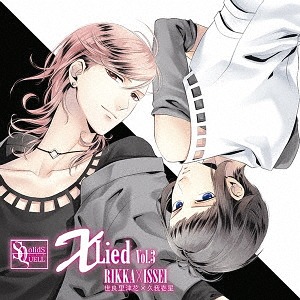 Rikka Sera (CV: Natsuki Hanae), Issei Kuga (CV: Shugo Nakamura)