SolidS's Shiki and Tsubasa kick off SQ's RE:START series with "LADY JOKER", song that is all about its uptempo, funky bass lines, exciting guitar riffs and jazzy piano melodies. This is yet another exciting addition to their repertoire.
Title: SQ RE:START series vol.1 Shiki&Tsubasa "Lady Joker"
Label: Tsukipro/Movic
Release date: 25/05/2018
Genre: Pop-Rock
Tracklist:
1 - LADY JOKER
2 - LADY JOKER (instrumental)
Track analysis:
1 – LADY JOKER
SolidS open the SQ's RE:START series with a theme that fits them like a glove: liquor. The song kicks off with muffled vocals and playful guitar riffs, making way for the jazzy piano melody and groovy bass line to create the whole "bar / lounge" soundscape that envelops the listener. At the same time, past and present cross paths. Perhaps this might go unnoticed to some – especially because there's no major focus on it – but this instrumental has drum & bass elements, one of the trademarks of SolidS' earlier sound.
This instrumental, however, didn't put focus on drum & bass like it did in past iterations, instead everything was invested into creating a rich and groovy bass sound. The funky bass line, bass-y drums and even those low piano notes enhanced the instrumental, giving it depth and a playful yet alluring touch. Drum & bass elements join in primarily as accents in the pre-chorus, and have little spotlight in the verses and chorus. For those of you that enjoy SolidS' songs but never quite liked their earlier experiences with drum & bass (back in 2015), this song isn't even remotely close to sounding weird like those did. One thing you should highly anticipate is the bridge. What happens there is far from being fancy but it sounds pleasant to the ears, being a natural transition and build up to the last chorus.
On the vocal end, SolidS' Shiki Takamura (Takuya Eguchi) and Tsubasa Okui (Soma Saito) teamed up. This is far from being a surprising duo, especially given how many times they are the lead vocals/centers for SolidS' songs, yet at the same time people can't help but to have high expectations for their performances. Unlike the past 4 songs released for TSUKIPRO THE ANIMATION, "LADY JOKER" doesn't require technical singing, harmonies or fancy ad-libs to impress the listener. The chemistry and balance between Eguchi and Saito's vocals is one of the things that stands out in this performance. While Saito's singing was as breathy as ever, being the main responsible for taking the song to suggestive territory, Eguchi added a melodic touch, be it with his versatile mid-toned vocals or resorting to his lower registry. Their performance was as energetic and alluring as you'd expect from any duo within SolidS.
All in all, "LADY JOKER" is all about its uptempo, delivering an entertaining performance that puts emphasis on exciting guitar riffs and funky bass lines, however never forgetting to add a classy jazzy twist. In its essence, it's a powerful, passionate and extremely suggestive song, yet nothing alike what the unit has released in the past year. Here's hoping this quality can continue with the next entry in the RE:START series.
Final rating: 
SQ SolidS [RE:START] Series Vol. 1 is available for purchase at CDJAPAN.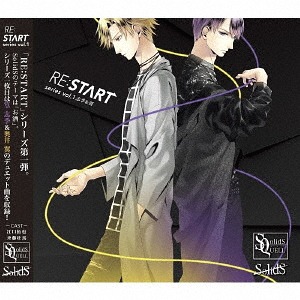 Shiki Takamura (Takuya Eguchi), Tsubasa Okui (Soma Saito)