The X Lied series is back again. Natsuki Hanae (SolidS) and Shugo Nakamura (QUELL) represent their groups in what is the third volume in the series (out of 4).
SQ "X Lied" vol.3 is set to be released on 28/07/2017. As per usual, this volume is only available in regular edition.
The cover art is the following:
The tracklist is the following:
1. Undefined
2. 星空
3. Undefined -off vocal-
4. 星空 -off vocal-
The digest video is already up on Tsukipro's official youtube channel.
SQ "X Lied" vol.3 is available for purchase on CDJAPAN for all overseas fans.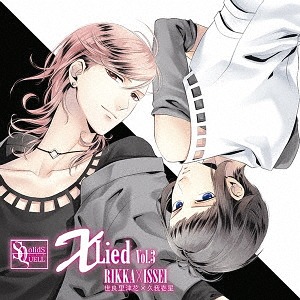 Rikka Sera (CV: Natsuki Hanae), Issei Kuga (CV: Shugo Nakamura)
SOURCE: Tsukino Pro official twitter account