Tsukipro unveiled today the cover art for SOARA's new single "ALIEL".

The first taste of "ALIEL" was given through a short CGI animated video that was released after this years' ALIVE-PARTY 2017 SUMMER-.
"ALIEL" is set to be released on 13/10/2017, available in a single edition.
The cover art is the following:
The tracklist is the following:
1 - エリアル -ALIEL-
2 - エリアル -ALIEL- off vocal

According to Tsukipro, in a couple of days it will be released a new CM – much alike those that were released today with SolidS and QUELL – that will feature a new snippet of the song as well as Toshiyuki Toyonaga's narration.
SOARA版、Growth版CM、
もちろんBGMはそれぞれの主題歌&ナレーションは空(CV:豊永利行)と昂輝(CV:土岐隼一)です
こちらもご期待くださいね♪
♯プロアニ

— プロアニ公式 (@tsukipro_anime) 8 de setembro de 2017
"エリアル -ALIEL-" is available for pre-order on CDJAPAN for all overseas fans.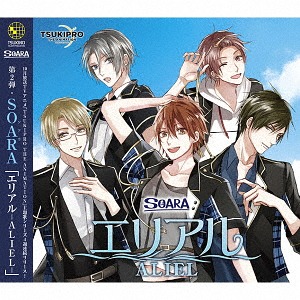 SOARA
SOURCE: TSUKIPRO ANIMATION official twitter account / Tsukipro anime official twitter account