SOARA are back with a new single. It's our first time listening to something going wrong for this unit. そよかぜの唄 (Soyokaze no uta) has a lot of potential and quality but manages to stumble momentarily, thanks to the sloppy arrangement.
This single is part of the "ALIVE SOARA Kachofugetsu Hen" four part series.
Single: そよかぜの唄 (Soyokaze no uta)
Label: Tsukino-Pro
Release date: 16/09/2016
Genre: J-Pop-Rock
Tracklist:
| | |
| --- | --- |
| 1 | |
| 2 | |
Track analysis:
1 – そよかぜの唄
Things didn't pan out like we were expecting for SOARA this time around.
Soyokaze no uta joins SOARA's list of traditional sounding songs, once again making good use of traditional japanese elements and instruments to create the instrumental piece we're ultimately presented with. A soothing melody provided by the koto serves as the main loop playing the background, set for all other elements to blend in. Despite how beautiful the instrumental piece actually is, or just how the koto makes the song standout naturally, we found issues in the vocal side of this track.
SOARA is mainly comprised of experienced singers, and even those that only now started to be active in the music business are pretty close to them in terms of quality. So the issue is not with the vocal performances – that once again dazzled us in the verses, be it with Toyonaga's vibrato, Furukawa's low notes or even with Sawashiro's sweet, smooth performances. The issue lies with the chorus.
What is going on with that chorus? What were the composers/arrangers thinking when they decided that "maybe it's best to have a backup track that is actually high enough to disrupt the whole thing"? This chorus is by far the worst SOARA has performed so far, once again not because of the actual quality of the performance, but because of how it was arranged in the end. Overcrowded is an understatement as soon as you listen to the chorus. If this was intended in the first place, maybe having the backing vocal track with lower volume would have helped. This loud and alongside the main lines in chorus that are already loud enough (normal for a chorus) makes it sound awful. It almost like the backing track is trying to surpass the main track. A shame because the rest of the track is actually well executed.
Final rating:
そよかぜの唄 (Soyokaze no uta) is available for purchase on CDJAPAN for all overseas fans.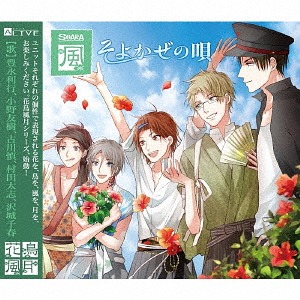 SOARA (Toshiyuki Toyonaga, Yuuki Ono, Shin Furukawa, Taishi Murata, Chiharu Sawashiro)