Tsukipro unveiled today the promised CM for SOARA's new single "ALIEL".

The new CM is already out on Tsukipro's official youtube channel.
SOARA's first key visual was released this past week.
The first taste of "ALIEL" was given through a short CGI animated video that was released after this years' ALIVE-PARTY 2017 SUMMER-.
"ALIEL" is set to be released on 13/10/2017, available in a single edition.
The cover art is the following:
The tracklist is the following:
1 - エリアル -ALIEL-
2 - エリアル -ALIEL- off vocal

According to Tsukipro, in a couple of days it will be released a new CM – much alike those that were released today with SolidS and QUELL – that will feature a new snippet of the song as well as Toshiyuki Toyonaga's narration.
SOARA版、Growth版CM、
もちろんBGMはそれぞれの主題歌&ナレーションは空(CV:豊永利行)と昂輝(CV:土岐隼一)です
こちらもご期待くださいね♪
♯プロアニ

— プロアニ公式 (@tsukipro_anime) 8 de setembro de 2017
"エリアル -ALIEL-" is available for pre-order on CDJAPAN for all overseas fans.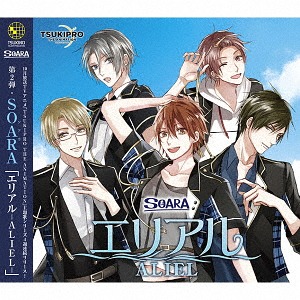 SOARA
SOURCE: TSUKIPRO ANIMATION official twitter account / Tsukipro anime official twitter account