SOARA has a new single in the works to be released this summer. This is part of the "ALIVE SOARA Kachofugetsu Hen" four part series. "Kaze" is the theme for this new release.
More details below.
Still untitled, the new single is scheduled to be released on 26/08/2016, available in a single edition.
The tracklist is still unknown but it's set to have 2 tracks (one of them is an off vocal).
This single comes with:
6 page booklet
Illustrated cover
2 tin badges
As for the cover art, title and snippets, those will be available in the following weeks.
The new single is already available for pre-order on CDJAPAN for all overseas fans.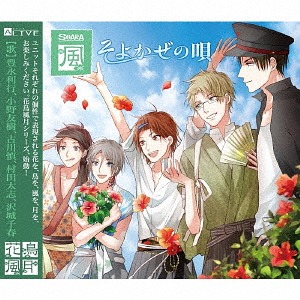 SOARA (Toshiyuki Toyonaga, Yuuki Ono, Shin Furukawa, Taishi Murata, Chiharu Sawashiro)
SOURCE: Tsukino-Pro official website / Animate