SOARA bring to the table another quality song with the upbeat and catchy pop-rock tune "ALIEL".

Title: ALIEL
Label: Tsukino-Pro
Release date: 13/10/2017
Genre: Pop-Rock
Tracklist:
1 - エリアル -ALIEL-
2 - エリアル -ALIEL- off vocal

Track analysis:
1 – ALIEL
SOARA's bright and upbeat sound shines through ALIEL. Listeners are presented with bassy goodness, exciting vocal performances and an overall complete instrumental that will get stuck in their heads. The instrumental goes straight to business, putting aside fancy intros. SOARA's simplicity and straightforwardness are what makes this song standout for us. Their fresh pop-rock sound rooted in fast paced, bassy drums set the song's addictive pace, and the thunderous bassline, delicate strings, bright piano parts and simple guitar riffs contributed to create this youthful and laidback instrumental. ALIEL impresses alone with its exciting instrumental but it's the vocal performances that take it to another level. Toshiyuki Toyonaga's versatile vocals and control play a big role on this song as he's the center piece, performing close to 60% of the lines alone. We would have loved to hear more from the other members though – Yuki Ono, Makoto Furukawa, Taishi Murata and Chiharu Sawashiro – especially when all have unique and rich singing tones (all proved their worth during the X Lied series), and usually bring a lot of talent to the table. This is just wishful thinking from our side but it would have been great if the lines had been better distributed between members (i.e Furukawa's vibrato was well needed in the spotlight but he was mostly stuck as a backing vocal), although we're well aware that as the band leader, it's normal for Toyonaga to monopolize the performance. Of course, the fact that we mentioned this doesn't mean that it hinders in any way the song's quality or appeal to the listener. SOARA sure know how to brighten someone's day. ALIEL is an exciting and addictive song to listen to. The trademark high quality vocal performances are there and the instrumental is certain to put a smile on your face. Easily one of this band's best songs.
Final rating: 
"エリアル -ALIEL-" is available for purchase on CDJAPAN for all overseas fans.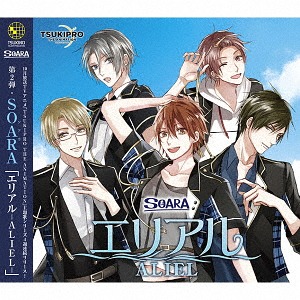 SOARA