An unbalanced lineup and a questionable take on Indian music make IDOLMASTER SideM WORLD TRE@SURE 11 fall short.
Title: THE IDOLM@STER SideM WORLD TRE@SURE 11
Label: Lantis 
Release date: 04/12/2019 
Genre: Pop
Tracklist:
1 - もくろみインディアNight
2 - MEET THE WORLD!(India Ver.)
3 - もくろみインディアNight (Off Vocal)
Track by track analysis:
1 – もくろみインディアNight
Welcome to charming India. Mokuromi India Night mixes traditional rock elements with Indian instruments.
While this song is mainly powered by the exciting tabla percussion and magical sitar melody, there are also electric guitars, live drums and a bass lending power to this track, straying a bit away from traditional Indian music or, from a different perspective, giving it a modern, contemporary sound, easier for those unfamiliar with Indian music to quickly get acquainted with some of its core aspects. There are other Indian instruments in the mix but those are mostly used as small hits and accents throughout than given proper spotlight.
The instrumental goes by insanely quickly if you completely focus on it. It has a fun and mysterious vibe that really suits well the country's music.
Now, on the vocal end we can't say the same thing. While Takuma Terashima is doing a pretty solid job on the vocal end, Daiki Yamashita and Yuko Sanpei are crowding the vocal parts in a fashion that makes the chorus sound ridiculously overwhelming, and not on a good side.
Mokuromi India Night had the potential to be a strong track but it was needed some sort of balance and quality on the vocal end that could not be found. 
2 – MEET THE WORLD!(India Ver.)
Built around a playful piano melody and groovy bass line, MEET THE WORLD! takes pride in its upbeat and danceable sound. Atmospheric synths, strings and simple bass-driven drums add the finishing touches to this instrumental, creating an addictive and, at the same time, inspiring sound.
Paying close attention to this song, it actually sounds like a throwback 80's pop tune – mainly due to its piano melody.
On a different note, India team's take on this track was insanely balanced. The peppy beat and youthful sound easily fit with the team's vocals, leading to an exciting performance that you'll want to sing along to.
Final rating:
THE IDOLM@STER SideM WORLD TRE@SURE 11 is not the strongest entry in the WORLD TRE@SURE series.
The unbalanced lineup lead to some issues – overcrowding mostly – in the India representative track, Mokuromi India Night.
The instrumental is nice to listen to, blending rock with traditional Indian instruments, making it more accessible for those unfamiliar with Indian music. However, it would have been interesting if the representative song would follow closer the traditional aspects and deliver a truly immersive, fitting representation of Indian music – in general at least.
What we got was essentially the instrumentalization that is most commonly used whenever an artist wants to have a "mysterious", "refined" or "middle-eastern" touch in their songs.
The fancy rhythms, the emotions, the drama, all went a bit down the drain in favor of a "friendly" take on the country's music. Indian music is much more than sitar-centric music. It is more than tanba-centric music.
For instance, if you made someone – without prior knowledge of the concept and country – listen to this song, the first thing that would be said when the sitar makes its entrance would be that this song has a "middle-eastern" vibe.
It already shows how miserably this concept was pulled off.
For what it is, I felt that this song is highly entertaining however, when it comes to truly representing India, it simply fails to achieve it.
MEET THE WORLD! is a great song in itself. By now I have already listened to 11 renditions of it. India team's not the best take on it but is certainly an entertaining one.
On the vocal end we have Takuma Terashima (Jupiter), Daiki Yamashita (Sai) and Yuko Sanpei (F-LAGS). They are not the most balanced lineup and that showed in Mokuromi India Night. Interestingly enough, they fit insanely well in MEET THE WORLD!, upbeat and youthful tune.
With that being said, the final score does not fully reflect how bad the concept was grasped by the producers or how messy the vocals sound in the representative track.
All in all, THE IDOLM@STER SideM WORLD TRE@SURE 11 is an entry that you can check if you are a die hard fan of the franchise. If you aren't, skip it.
THE IDOLM@STER SideM WORLD TRE@SURE 11 is available for purchase at CDJAPAN.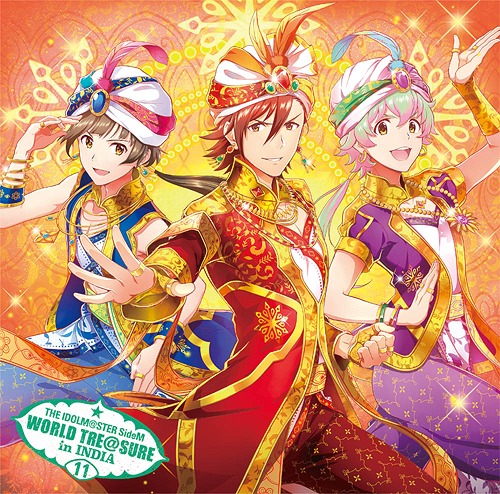 Toma Amagase (Takuma Terashima), Kirio Nekoyanagi (Daiki Yamashita), Ryo Akizuki (Yuko Sanpei)