Shunichi Toki makes a solid debut as a solo artist with the fancy single, 約束のOverture (Yakusoku no Overture).
Title: 約束のOverture
Label: PONY CANYON
Release date: 15/05/2019
Genre: Pop
Tracklist:
01. 約束のOverture
02. 僕らには有ったよなぁ
03. 約束のOverture TV edit
04. 約束のOverture 

(Instrumental)


05. 僕らには有ったよなぁ 

(Instrumental)
Track by track analysis:
01. 約束のOverture 
Yakusoku no Overture is an interesting debut song. It has a danceable twist that results from the mix of catchy pop music structures with classy, slightly alluring touch of strings – mainly the cello -, Latin-percussion by the hand of the timbales and bongos, simple piano melodies and some rock touches give it a bit of power. This isn't an uptempo song but it has a comfortable, playful tempo that you can dance along to. The song counts with two important solos, one by the cello and the other by the electric guitar. The cello solo easy sets itself apart for how fancy it sounds within the song. Its addition does not sound forced and the song ends up benefiting from featuring it.
When it comes to the vocal performance we can say that Shunichi Toki does not disappoint, however this song is not that challenging for his register – as many of his fans might already know, his range is rather wide and his technique is incredibly solid -, this song went more on a playful route, leaving technicality behind in favor of a fun, simple performance. Solid performance in an entertaining debut song. 4.5/5
02. 僕らには有ったよなぁ
To wrap up this release we have Bokura ni wa atta yo na. This song strays a bit away from the previous one, embracing an Pop meets R&B ballad sound. Delicate piano melodies, inspiring strings, a sweet bass line, simple bass-driven drums and laidback guitar riffs make this song the definition of "feel good". Its relaxing, warm vibe is welcoming, grabbing the listener's attention.
On the vocal end, Toki delivers a performance filled with emotion, breathing life into the melancholic lyrics found in this song. It is, once again, a safe performance, not risking much from the get-go and simply showing that sometimes, simple is a good formula. Those fans of slower tempo, sweet songs will certainly enjoy this performance however those expecting Toki to pull some of his tricks and showcase his range will be a bit disappointed as he played it safe from start to finish. Solid performance. 4.5/5
Final rating:
Shunichi Toki made a safe solo debut with Yakusoku no Overture.
This single is comprised of two songs, the leading track, Yakusoku no Overture, brought Latin-inspired melodies and mixed it with Pop structures, a bit of classical music and rock. While the mix, on paper, might sound disastrous, the song was well crafted. There are no overcrowded sections in the song, the chorus and verses flow well and transitions are seamless. The vocals aren't in the far back but in front and center while all the instrumentalization is still well easy to understand. This is a fun song that has its only letdown in the fact that Shunichi Toki didn't tap into his insane range and showcase the stunning vocals that have mad most people fans of his work in TSUKIPRO's baroque-pop group, Growth.
This song is followed by Bokura ni wa atta yo na, song that embraces a slower paced and quieter tone, befitting of his sweet mid-toned vocals. While the instrumental and vocal performances are consistent and attention gripping, it is, once more, odd as to why Shunichi Toki didn't showcase his range.
The idea we get with this single is that he wanted to play safe, deliver something fun, radio friendly and catchy. It also sounds like distancing himself from the image he brings with him from Growth, however not completely disregarding it. He presented as Shunichi Toki, the solo artist, a different entity from what fans know him for.
Yakusoku no Overture is a consistent debut release that kept things simple, not locking Toki to a specific genre or style. It will be interesting to see where he will take his solo career in the future.
約束のOverture (Yakusoku no Overture) is available for purchase at CDJAPAN.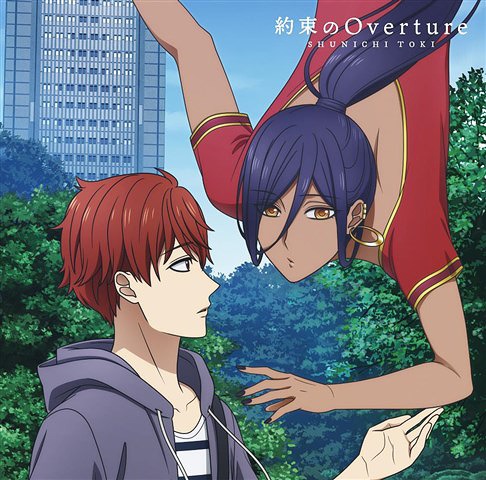 Shunichi Toki
Shunichi Toki
Shunichi Toki