Shouta Aoi is back with a new single. After the thunderous "DDD", what does "Flower" bring to the table? More than you would have expected.
Title: Flower
Label: King Records 
Release date: 25/01/2017
Genre: J-Pop
Tracklist:
1 - Flower
2 - RUN!!RUN!!
3 - Checkmate
Track by track analysis:
1 – Flower
"Flower" kicks off with a beautiful piano melody, slowly building up into a minimal, mid-tempo electronic pop tune that will grab your attention – if not right from the start, then from the stunning chorus. The instrumental by itself is a hit for us.
Everything was well crafted for this tune and the piano parts are just incredibly beautiful and addictive. Then we have Aoi's vocals… His vocals… What can we say if we're struck by his mesmerizing falsetto as soon as we enter the chorus?
His vocals are once again fascinating and his flawless technique leaves us in awe. This song is the embodiment of beauty. 5/5
2 – RUN!!RUN!!
Synths lead the way in this dancefloor-driven tune. "RUN!!RUN!!" displays a bright mood that might catch some people off guard – especially those that are expecting more songs like the ones in DDD.
This song is fairly close to "True Hearts". The vibe is exactly the same and the chorus progresses in a similar fashion.
In the middle of this happy-go-lucky song, Aoi's vocals sound "cute" instead of the usual fierceness he tends to display.
For some this might seem like a good change for him, showcasing yet another music genre but for us this whole "cute" approach is a no-go for us. It is far from being the ideal way to showcase his talents, far away from ideal. 3.5/5
3 – Checkmate
"Checkmate" is a mid-tempo emotional pop tune driven by acoustic guitars and gentle piano.
Like most of Aoi's songs, there's room for synths and synthetic drums to enrich the song, slowly building up tension for the chorus.
This song has everything to be a hit. From the gentle intro and verse parts that rely on the acoustic elements, to the danceable chorus and, of course, to the vocal performance – clearly sounds more mature than in the previous track.
Listening to the intro to this song might give the wrong idea to the listener. It sounded like it would be a ballad but, all of a sudden, we're facing daring, alluring lyrics and a danceable tune. Talk about a guy who can be cute in one second and sexy in the other. 5/5
Final rating:
"Flower" is not as fantastic as "DDD" was but certainly really close to it in terms of quality. We dare say that this single would have been his best to date if only "RUN!!RUN!!" wasn't featured on it.
People might argue that it's actually good that he is once again venturing toward his debut bubbly dance pop. We beg to differ. It was exactly that music genre that made him sound just like every single pop artist in Japan.
Shouta Aoi's change from the SHOUTA. days was a major step towards getting away from his bland pop tunes. His change from Broccoli (sub label) to King Records (main label) in 2016 was a step towards sounding mature, getting away from the nowadays overcrowding mess that is the whole ELEMENTS GARDEN producing team. And we got a more mature Aoi in return.
The music quality improved significantly now that he was away from ELEMENTS GARDEN's reins. Bringing back the music genre that made him irrelevant isn't going to be a good strategy for him, especially when the Japanese market is overcrowded with bubblegum pop music.
Putting our focus away from this we need to point out that both "Flower" and "Checkmate" showcase two different charms. "Flower" is ethereal and minimalistic, displaying stunning vocal work whereas "Checkmate" is daring, and sexy right from the bat with its opening piano melody and acoustic guitar riffs. These two charms, delicate and sexy, managed to snatch our attention.
"Flower" might have gone easy on the guitars this time around, nevertheless it was a solid high-quality release. Recommended if you're looking for seductive dance-pop or gentle dance tracks without cheesy and overcrowded elements.
"Flower" is available for purchase on CDJAPAN for all overseas fans.
Shota Aoi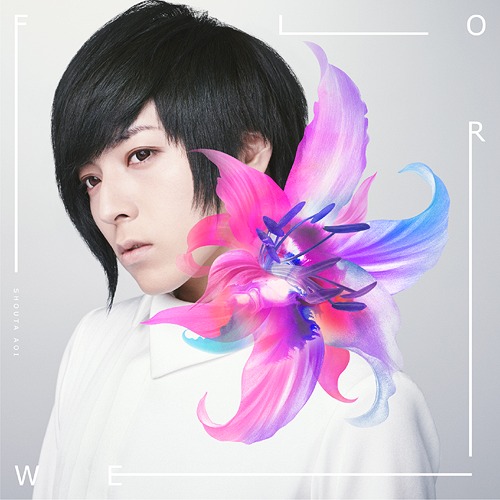 Shota Aoi