Seiyuu Men gave a sneak peek of Shouta Aoi's feature.
Nobunaga Shimazaki and Yuma Uchida will be featured on the cover and head feature. They were interviewed about the anime "Fruits Basket". The cover is the following:
A couple of sneak peeks were released.
昨日発売の「声優MEN vol.13」では、再放送も始まっているアニメ『明治東亰恋伽』からKENNさんが本誌初登場。8Pのグラビア&インタビュー、そしてピンナップの付録もチェックを。8年間関わっている本作への熱い思いを語ってくださいました。必見です!#めいこい pic.twitter.com/Bn2MRryAE1

— 声優MEN (@seiyumen) 9 de abril de 2019

現在発売中の「声優MEN」最新号で、蒼井翔太さんを12Pで特集。美麗なグラビアとピンナップはもちろん、10thシングル『Tone』についてのインタビューを敢行。さらに2月の『蒼井翔太 LIVE 2019 WONDER lab. I』の模様をライブレポート。是非お近くの書店やアニメイトさんで!#Tone pic.twitter.com/qpmVLQzlJB

— 声優MEN (@seiyumen) 10 de abril de 2019
A couple of previews were released. Please note that these previews are from bonuses included with pre-orders at Animate and are different from the magazine's contents.
【書籍】4月8日発売「声優MEN(13)」予約受付中!#アニメイト特典 は 本日画像公開☆#島﨑信長 さんと #内田雄馬 さんのツーショットブロマイド付♪
ご予約はコチラ↓https://t.co/j7pdFdqYYV pic.twitter.com/eDjCry4ZO3

— アニメイトオンラインショップ (@animateonline) 29 de março de 2019
This issue counts as well with a 12 page featured with Jun Fukuyama about "Mayonaka no Occult Koumuin".
Other features include interviews/gravures with Makoto Furukawa, Shouta Aoi, KENN, Toshiyuki Toyonaga and Miyano Mamoru.
Seiyuu Men Vol.13 hit stores on 08/04/2019. This issue is available for purchase at CDJAPAN.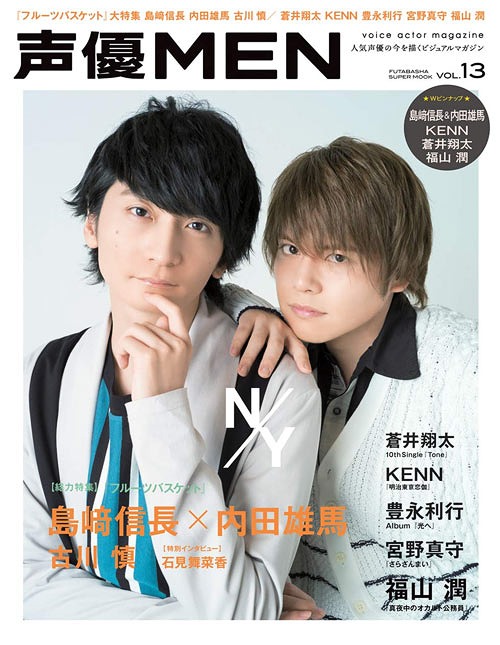 Futabasha

Source: Seiyuu Men official Twitter account / Animate