Seiyuu Grandprix unveiled today the cover of the upcoming special "NEXT Boys" issue featuring Yuma Uchida.
The cover is the following:
Seiyuu Grandprix NEXT Boys is a special issue that brings to fans a special gravure and extended interview with specific young male seiyuu about their childhood stories, personal details, dreams and favorite seiyuu.
The main subject of this special issue is none other than the talented Yuma Uchida. Seiyuu Grandprix recently added a couple of other young, up-and-coming talents in the seiyuu business to this issue's lineup.
Taku Yashiro (featured on the another cover), Makoto Furukawa, Chiharu Sawashiro, Tomohito Takatsuka + Star Revo (Keito Okuyama, Taichi Ichikawa, Genki Okawa, Tsubasa Sasa, Takuma Nagatsuka, Shogo Yano and Kenta Zaima) complete the lineup for this issue.
This special issue is scheduled to be released on 14/02/2018.
Seiyuu Grandprix NEXT Boys is available for pre-order on CDJAPAN.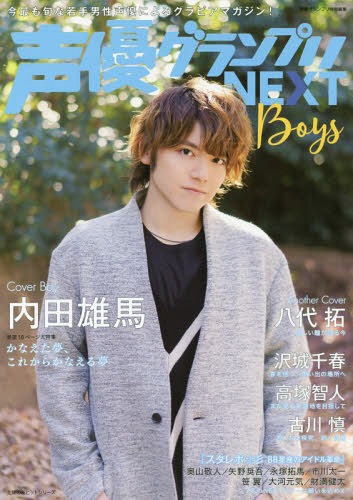 Seiyu Grandprix Henshu Bu
SOURCE: Seigura official twitter account