Seiyuu Grandprix unveiled the cover for its upcoming issue.
A3ders! – Kodai Sakai, Takuya Eguchi, Chiharu Sawashiro and Atsushi Tamaru – grace the cover of the April issue of Seiyuu Grandprix. It is the following:
A preview of A3ders! B2-size poster included with this issue is out.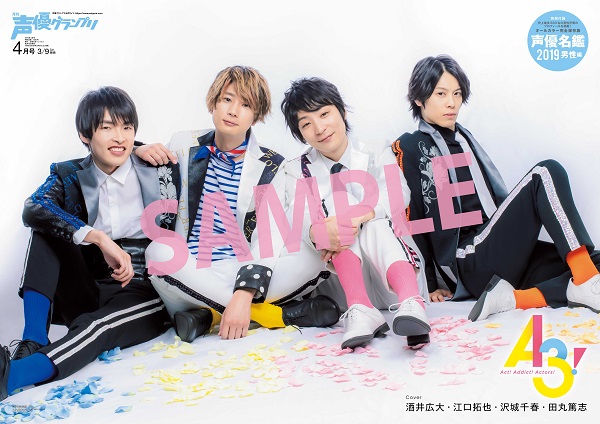 Included in this issue are interviews/features with:
Hiro Shimono
Kenjiro Tsuda
Shouta Aoi
Takuma Terashima
Kaito Ishikawa
Makoto Furukawa
Ryota Suzuki
This issue counts as well with a Voice Award Book 2019 Men's edition feature – counting with a total of 580 male seiyuu -, a report on A3! BLOOMING LIVE 2019 as well as a Spring Anime VOICE DATA FILE 2019 appendix.
The serialization corners of Daisuke Ono, Hiro Shimono, Yuma Uchida, Yuichiro Umehara, Koutaro Nishiyama and Tomoaki Maeno are also included.
This issue is scheduled to be released on 09/03/2019.
Seiyuu Grandprix's April 2019 is available for purchase at CDJAPAN.
Source: Seigura