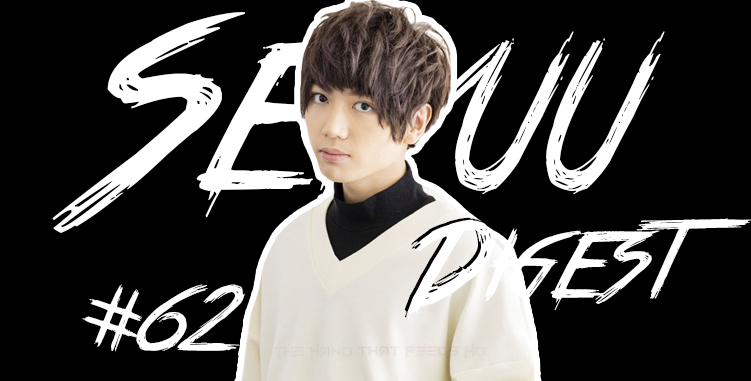 After a rocky career start, Shoya Chiba has grown into one of the most talented and exciting seiyuu talents of his generation.
Updated as of June 13, 2022
Shoya Chiba
KANJI: 千葉翔也
BORN: August 29, 1995
OCCUPATION: seiyuu, singer, songwriter, actor, radio personality
HEIGHT: 165cm
---
Shoya Chiba was born on August 29, 1995, in Tokyo, Japan. He was signed with Sanno Production before moving to Sigma 7e in 2014.
Seiyuu
2004 – 2011
A troubled debut
Shoya Chiba made his debut as a seiyuu in 2004 with a leading role as Coburoux in the kid's anime, Curry no Kuni no Coburoux. However, after this role, Chiba was nowhere to be found in the anime industry until resurfacing in 2011.
After 7 years away from working in regular anime series, Chiba was back. His comeback role was in Happy Seven: The TV Manga (2011).
However, it seemed the Chiba was on and off of the seiyuu industry without leaving much notable work for people to remember him by. After the 7 year hiatus from 2004 to 2011, another hiatus followed, from 2011 until 2015.
2015 – 2020
A new beginning
2015 was a turning year in Shoya Chiba's career as a seiyuu. He was to return for the 2nd time to the seiyuu industry and this time around more determined than ever to make everything work well.
During this year he had secondary roles in Owari no Seraph and Gakusen Toshi Asterisk, Koufuku Graffiti.
The most notable role Chiba got in this year was as Johzenji High's carefree middle blocker, Kazuma Bobata in Haikyuu!! Second Season.
2016 kicked in and with it, Chiba was raking up more roles in anime. He voiced Kenji Gion, the protagonist in the sports anime, ALL OUT!!.
Kenji Gion is a passionate and confident character although with a height complex that often makes his short temper out.
Due to his short height, Gion often was not chosen to be a part of sports teams until he decides to join his school's rugby team and show everyone that he is as capable a player as taller and more gifted ones. This role provided to be a great intro for the amazing year 2017 would end up being.
Although with few roles in 2017, Chiba was able to have all of those as main roles.
He voiced Koutaro Azumi in the original romance anime, Tsuki ga Kirei.
The anime was praised for how well developed the characters had been as well as how different and more natural this series felt – no forced drama, the main characters living and interacting with their family outside of school, and how that helps character development.
It is a hidden gem in 2017 and Shoya Chiba managed to deliver what was his best performance at that time.
Following that role was Kiyotaka Ayanokouji in the slice-of-life anime, Youkoso Jitsuryoku Shijou Shugi no Kyoushitsu e.
The series itself was initially well-received but due to the producers straying out from the original light novel story, it was met with a boycott by fans in Japan as well as end up getting mixed reviews overseas.
For many, it was Ayanokouji and Shoya Chiba's performance that kept the series going, making for an entertaining watch.
To wrap up the year was the main role in the anime adaptation of the IDOLM@STER SideM franchise, The iDOLM@STER SideM.
Shoya Chiba reprised his role from the smartphone games as Hayato Akiyama, HighXJoker's energetic leader, and guitarist.
2018 welcomed a wide variety of roles with varying degrees of importance. The most notable ones include Su Rin Sing in BANANA FISH and Yuto Aoi in Irozuku Sekai no Ashita kara.
Su Rin Sing is easily Shoya Chiba's most popular role. The character is part of BANANA FISH, 2018's hit action/drama anime.
Su Rin Sing is a cunning gang member, taking over the role of uniting forces for the gang war that unfolded mid-way through the series.
Chiba's performance brought to life the young yet ruthless and intelligent Sing, making the character one of the dearest to fans of BANANA FISH.
Still in the same season, Chiba was cast as Yuito Aoi in Irozuku Sekai no Ashita kara. The romance/drama/magic anime was one of the hidden gems of that year, with a storyline and character development that were satisfactory to the wide majority of viewers.
Aoi is a rather quiet character with rare bouts of emotion pouring out however, as the series progresses, Chiba's performance as Aoi begins to tackle certain events and emotions stood out to the viewers.
Although Chiba has been voicing Fudo Akane since 2017, it was only in 2019 that fans of the idol and KiLLER KiNG leader.
B-PROJECT's 2nd season – B-PROJECT Zeccho Emotion – premiered in January 2019 and it brought once again a slice-of-life, episodic take on each of the franchise's groups.
Enthusiastic and polite, Akane is one of the fans' favorite characters in the franchise.
Still in the same year, Shoya Chiba joined the main cast of the action/supernatural anime, Dororo. He voiced one of the heirs of Daigo Kagemitsu.
Although not a character that demanded a dramatic change of voice tone, it is noticeable in Tahomaru his rank and status among the people, with Chiba capturing perfectly that and, throughout the series, showcase a broader spectrum of emotions on an otherwise cold character.
2020 kicked off with a leading role comedy/supernatural anime, Jibaku Shounen Hanako-kun. He voices Kou Minamoto.
Other anime he's voiced characters in include:
Mai Mai Shinko to Sennen no Mahou (2009),
Colorful (2010),
Idol Memories (2016),
Nejimaki Seirei Senki: Tenkyou no Alderamin (2016),
Monster Strike (2016),
Mitsuboshi Colors (2018),
Hataraku Saibou (2018),
Ken En Ken: Aoki Kagayaki (2018),
JoJo no Kimyou na Bouken Part 5: Ougon no Kaze (2018),
Hoshiai no Sora (2019),
Bokutachi wa Benkyou ga Dekinai (2019); and
Gundam Build Divers Re:Rise (2019).
2021 –
Shot to fame
Chiba's popularity in the seiyuu industry would skyrocket in 2021 with his casting as the protagonist of the popular military/drama anime, 86 (Eighty-six).
He was cast as Shin, leader of the Spearhead Squadron and operations commander of the Eighty-Sixth Strike Package.
Known as kind to everyone despite h
is background of being constantly wronged by those he cares about, Shin stands out even while being stoic, a result of how he deals with the toll his abilities have on him.
I won't be spoiling much of this anime series as it is, easily, the best anime series of 2021, but be ready to have your heart torn into pieces more than once, with Shoya Chiba's performance turning a lot of heads his way.
Another buzzworthy role in Chiba's repertoire in 2021 was Yuki Ange, the passionate member of O★Z, in the music anime, VISUAL PRISON.
Still in the same year, Chiba was cast as the serious yet gentle Kazuma Arashi in Project Scard: Scar on the Praeter.
The series' main cast was comprised of all members of 8P – group that Shoya Chiba is a part of.
Chiba's role as Shin in 86 was the one that put the spotlight on him. All of a sudden, Chiba started to be cast in multiple projects, joining big anime projects.
And Yuki Ange in VISUAL PRISON brought attention from the otome side of the anime fanbase towards him, making his singing stand out.
2022 kicked off with a main role as Kazuki Aoyama in the anime series Tribe Nine.
The series itself wasn't that well-received due to the quality of its story and even lack of depth of some of the characters but it was still another outlet to make himself be noticed.
Was then cast as Kabe Tajin in the comedy/music anime series Paripi Koumei.
Other anime he's voiced characters in include:
Skate-Leading☆Stars (2021)
Fushigi Dagashiya: Zenitendou (2021)
Horimiya (2021)
NIGHT HEAD 2041 (2021)
Genjitsu Shugi Yuusha no Oukoku Saikenki (2021)
Platinum End (2021)
Kaijin Kaihatsu-bu no Kuroitsu-san (2022)
Acting
Shoya Chiba made his debut as a live-action actor in 2004 in the TBS drama, Daisan no Jikou.
Daisan no Jikou spanned several TV drama series, all inspired by the series of police novels of the same name written by Hideo Yokoyama.
Minor roles in TV drama series Okasan, motto ikitakatta!〜 Iryo misu, wagako ubawa rete 〜 (2004), Tantei jimusho 5 2nd season (2007) and Shinu n janai!〜 Jitsuroku dorama Miyamoto keibu ga nokoshita mono 〜 (2008) followed before young Chiba decided to stop acting, focusing on his studies instead.
It would take 11 years until fans would get to watch Chiba acting again.
In 2019, Shoya Chiba was cast as one of the main characters in Kiramune + WOWOW's original supernatural/mystery drama series, Super Tuner.
The drama featured his fellow SparQlew members as well as some veterans from Kiramune, through a series of paranormal cases.
In 2021, Chiba starred in the music video for Hiroyuki Sawano's "Avid", song featured as the ending theme for the military/action anime 86 (in which Chiba voices Shin, the series' protagonist), one of the buzzworthy anime of the Spring 2021 season.
Stage/Reading plays
Chiba's first work in a reading play was for Honto wa abunai Mozart (2018), he then set out to work in reading plays such as Koro (2019), Bungo, soshite satsujinki (2019) and Genji monogatari 〜 okuyukashiki koi no hate 〜 (2019).
In 2019 he joined the cast of the reading play, FRANKENSTEIN. He is set to act this year alongside Daisuke Ono, Wataru Hatano, Takuya Sato, Daisuke Hirakawa and Kenta Miyake.
Radio
Since 2016, Shoya Chiba is active as a radio personality.
He has been a guest to many radio shows closely connected to the anime series he has voiced characters in but also has had the opportunity to host his own radio show and other group radio shows. He is a man of few words but whenever he pitches in, it is always a witty and comedic remark or an insightful take on something he loves.
IDOLMASTER SideM Radio 315Night! (2016)
Alongside DRAMATIC STARS' members Shugo Nakamura, Yuma Uchida, and Taku Yashiro, Chiba was a guest on the radio show IDOLMASTER SideM Radio 315Night! in 2017.
As per usual with this radio show, it was entertaining and filled with a great, warm vibe, fun corners, and a lot of crazy shenanigans.
Kiramune Presents Our Music Park (2017-)
Kiramune Presents Our Music Park is hosted by SparQlew's members and it was the first platform from which fans would end up getting to meet the group.
SparQlew consist on Yuto Uemura, Shun Horie, Shoya Chiba, Yuuya Hozumi and Takuto Yoshinaga. The episodes air twice a month. The radio show follows the group's growth as artists.
MAN TWO MONTH RADIO Chiba Shoya no Romantic Millefeuille (2017)
In 2017, Shoya Chiba had the opportunity to host, for a whole month, his own radio show.
MAN TWO MONTH RADIO 千葉翔也のロマンチックミルフィーユ (MAN TWO MONTH RADIO Chiba Shoya no Romantic Millefeuille) featured Chiba's shenanigans while trying to tackle his dislike for house chores.
Showhuku Showrai (2017 -)
In 2017, Shoya Chiba and fellow seiyuu Sho Nogami teamed up for a radio show. Showhuku Showrai is currently Shoya Chiba's longest-running radio show.
In 2019, he started hosting his own radio show, 千葉翔也のトゥー・ビー・ナイト (Chiba Shoya To Be Night).
Other radio shows he has been a part of include 8P Radio (2018) and Unisong! Generation (2018).
Games
Shoya Chiba has a consistent repertoire when it comes to lending his voice to in-game characters.
His first role in games was as Boku in Boku no natsu yasumi 3 – kitaguni-hen – chisana boku no okusabara (2007). Since then he has lent his voice to characters in a wide variety of genres but still with a major focus in the female demographic.
Here are some of the most notable roles in games:
Hayato Akiyama in THE IDOLM@STER SideM (2015 -) and SideM LIVE ON ST@GE! (2017 -)
In 2015, Shoya Chiba joined the cast of the popular idol franchise, THE IDOLM@STER SideM.
The game, of the same name, was released in 2017 and mixed elements of music, story (incredibly toned down), and idol nurturing/farming.
Hayato Akiyama is HighXJoker's leader and guitarist, energetic youth with a creative mind and charisma that pulls other characters in.
---
Fudo Akane in B-PROJECT (2017 -)
KiLLER KiNG only joined B-PROJECT's smartphone rhythm game of the same name in 2017. Chiba voices Fudo Akane, KiLLER KiNG's passionate leader.
---
Hibiki Nanahoshi in Op8♪ (2018 – 2019)
SHINE★彡 is a unit part of Op8♪ , idol raising smartphone game that launched in 2018 on iOS and Android. Shoya Chiba voiced Hibiki Nanahoshi, leader of SHINE★彡, group that included Shohei Komatsu, Junta Terashima, Kentaro Kumagai, Kento Ito, and Yusuke Nagano.
The game stopped distribution in September 2019.
Shiro Ukima in On Air!/Hoseki Gaoka (2018 -)
In 2018, Chiba joined Coly's On Air!. He voices Shiro Ukima in the ambitious voice actor-raising game.
Other games he's voiced characters in include: Comepuri (2016), Grand Summoners (2016), Star Revo (2017), Crank In (2017), LibraryCross∞ (2018), Grimms Notes (2018), Namu Amida Butsu! Rendai Utena (2019), Engage souls (2020) and more.
Dubbing
Chiba has been active in dubbing since 2014. He got experience dubbing foreign movies, TV series, and even animation.
Some of those credits include Night Museum (as Nick Daily for the 3 movies in the franchise), World Trade Center, Maze Runner, Charlie and the Chocolate Factory, Snow Buddies, The Hate U Give, TITANS (as Jason Todd), Lost Child (as Lucian), Kronk's New Groove, Lethal Weapon Season 2 and The Ant Bully (as Lucas Nickle).
Drama CDs
If we take into account that Chiba only started to be active in almost all seiyuu-related fields back in 2014, it is no surprise that he has few drama CD credits under his belt.
He's voiced characters on B-PROJECT's KING OF CASTE series (2018), THE IDOLM@STER SideM ST@RTING LINE volumes 3 and 4, Uta no Prince-sama Theater Shining Pirates of the Frontier (2015), Uta no Prince-sama Theater Shining Every Buddy! (2015), Uta no Prince-sama Theater Shining Polaris (2016), Watashi no Concierge Part.1 Kaede (2019) and more.
Music
Music is one of the fields in which Shoya Chiba is the most active.
Since 2015 he has joined various music/idol-related projects, and even his own seiyuu unit projects.
Although not all projects have experienced the same level of success, truth is that Chiba always made sure to showcase his talents on the vocal end as well as a composer and musician.
Chiba is known for his versatile vocals – best tailored to pop-rock music -, having a soothing yet powerful singing tone.
He plays guitar and likes to compose music, something that easily puts him one step ahead of other seiyuu in the industry with no prior knowledge or experience in playing/performing music.
In a live setting, Chiba overflows with energy and often tries to engage with the public or band/group mates. He is not afraid of doing fanservice for the sake of delivering an exciting performance.
Below are some of the most successful and or interesting music projects he is a part of.
HighXJoker (2015 -)
In 2015, Chiba joined the cast of THE IDOLM@STER's male version, IDOLM@STER SideM.
He was cast as Hayato Akiyama, leader and guitarist for HighXJoker. Yusuke Shirai, Sho Nogami, Takuma Nagatsuka, and Hiroshi Watanabe complete the lineup for this unit.
The band's lively and upbeat pop-rock sound is addictive.
Since their debut, HighxJoker has released multiple singles, collaborations, and cross-unit CDs. Chiba is the heart of this band, leading the way on the vocal end.
Up until now, the quintet has released two singles, THE IDOLM@STER Sidem ST@RTING LINE-04 High×Joker (2015) and THE IDOLM@STER SideM ANIMATION PROJECT 06 "Sunset★Colors" (2018).
Aside from these singles, HighXJoker has participated in several cross-unit and solo song projects within the franchise.
The quintet has participated so far in four IDOLMASTER SideM stages: 1st STAGE 〜ST@RTING!〜 (2016), 2nd STAGE 〜ORIGIN@L STARS〜 (2017), 3rd STAGE 〜GLORIOUS ST@GE!〜 (2018) and THE IDOLM@STER SideM 4th LIVE STAGE 〜TRE@SURE GATE〜.
KiLLER KiNG (2016 -)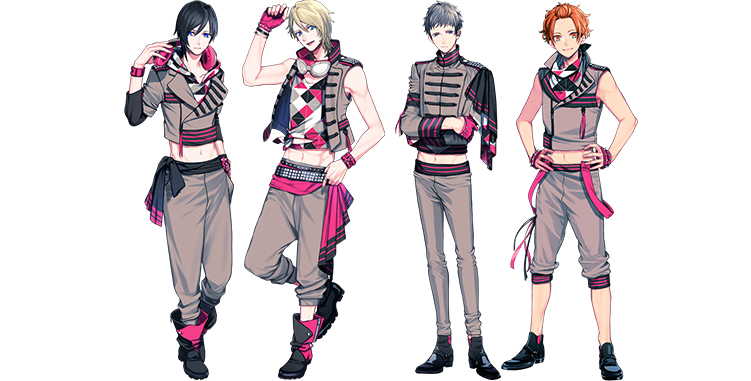 In 2016, Chiba joined the cast of B-PROJECT. He was introduced as KiLLER KiNG's leader, Fudo Akane.
KiLLER KiNG consists of Shoya Chiba, Koutaro Nishiyama, Taku Yashiro, and Takuya Eguchi.
Since their debut, the group has released 4 singles – Kira Kira Smile (2016), Hungry Wolf (2016), Break it down (2017) and Jyubyo Mirai (2019) – and 1 mini-album – Phantom of Love (2018).
KiLLER KiNG has performed live thrice: B-PROJECT Kodou Ambitious BRILLIANT PARTY (2016), B-PROJECT Summer Live 2018 – Eternal Pacific – and THRIVE's first live tour (2019).
8P (2016 -)
The mixed media project, 8P kicked off in 2016, leading to a creation of a radio show, a variety series that has spanned several DVDs and even music, when the group decided to start releasing their own music.
8P consist on Tasuku Hatanaka, Sho Nogami, Taku Yashiro, Junya Enoki, Arthur Lounsbery, Atsushi Kousaka, Takeaki Masuyama and Shoya Chiba.
In 2018 the group released the album, CV, featuring subunit songs.
In 2019, 8P kicked off a solo series, with each member composing and or writing lyrics for a song of theirs. Shoya Chiba composed and performed the song Kissing heart for his solo entry.
Later in the same year, 8P released the full-length album, Happy Glitter, featuring the solo tracks as well as a new group song.
In 2020, 8P kicked off their duet series. Each CD included drama tracks and 1 song performed by 2 of the members of the group.
Shoya Chiba teamed up with Junya Enoki to perform the song "Trick Mirror Requiem" in 8P Unit Song Drama CD Vol.4.
A year later, 8P was back in full force, bringing not only their 2nd full-length album "CV:2" but also a new single "Course of my fate".
8P performed the opening and ending songs for the otome game "Paradigm Paradox", otome game by Otomate and available on Nintendo Switch in which all eight members of 8P voice characters.
Luna Lore (2017 – 2018)
In 2017, Shoya Chiba joined the cast of the ambitious idol project, Star Revo. He joined Luna Lore, pop outfit consisting of Yoji Ikuta, Shoya Chiba, and Yoshitaka Yamaya.
The group never got to release their CDs but contributed with songs for the several Best Off albums that wrapped up the franchise as distribution of the game was announced back in 2018.
The song, Ikenai Himitsu was instantly a favorite among fans.
SparQlew (2018 – 2021)
SparQlew originally consisted of Yuto Uemura, Shun Horie, Shoya Chiba, Yuuya Hozumi and Takuto Yoshinaga.
The group made its debut under Kiramune in 2018 with the single ハジマリノソラ (Hajimari no Sora). SparQlew made their first performance at Kiramune Music Festival 2018.
Bring it on!, the group's first full-length album released in 2019, achieved #1 on iTunes' chart.
Aside from their successful album, the group released the upbeat single, Shori no Uta (2019).
The group went for a change in their visuals and concept and, in 2020, brought a more mature vibe to the spotlight with their 2nd full-length album, "evergreen".
However, this wasn't the easiest album release the group has experienced. Due to Covid-19 and the sudden closings of factories across Japan, the album had to be postponed from its original May 2020 release date to July 2020.
Still, the group had everything about the album already wrapped up. Music video was recorded, cover art shot, songs recorded, so it was just a matter of time until fans got their chance to experience the group's reborn identity.
Upon release, SparQlew repeated the feat of their 1st album and topped iTunes' Album charts with "evergreen", claiming #1 in the genre chart.
Soon after, the group announced the release of a new single "HELVETICA".
For this single, the group mixed their new, refreshing mature visuals with their trademark upbeat peppy pop music and delivered a single that is a fan favorite.
The single's music video nodded at the new world circumstances with social distancing and a homey feel being key for the music video for Helvetica.
In 2021, SparQlew announced big changes to their concept and sound, doing a 180 of their looks and everything fans were familiar with.
And that's how, early in the year, the quintet announced the release of its first mini-album "Daybreak".
This mini-album included the leading track "Dance in the Twilight" as well as solo tracks by all members (some even composed by or with lyrics by its members).
Shoya Chiba penned the lyrics to "Criminal", solo song that instantly stood out in this mini-album, with lyrics written in perfect English by Chiba himself.
The mini-album was a massive success, being praised left and right by Japanese music reviews outlets – as well as here at The Hand That Feeds HQ -, something that, allied to the group's K-pop inspired nu-disco sound, started to attract attention even of those that don't know what seiyuu are.
However, SparQlew's fantastic 2021 would be marked by Shoya Chiba's announcement in December.
Shoya Chiba decided to graduate from SparQlew and leave Kiramune, not being part of any of the music label's activities from January 1, 2022, onwards.
SparQlew decided to continue activities as a 4-piece group.
Kashicomi (2018 -)
In 2018, Showhuku Showrai's radio hosts, Sho Nogami and Shoya Chiba, decided to join forces and debut as a duo.
Since then, the duo released Chance! (2018), Am (2019), us (2019), and Dusk (2020). They have a muscled rock sound that is, more often than not, aggressive.
Both Nogami and Chiba are tenors with wide ranges – Nogami is a high tenor and Chiba a low tenor – and have a lot of passion for music, especially rock and that shows in their music.
The duo made their debut with the single "Chance! / Breakout", introducing fans to their exciting brand of rock.
A year later, the duo made their comeback, this time around with their 1st mini-album "Am".
This mini-album expanded upon their already robust pop-rock sound and brought as well interesting surprises to the table.
Still in the same year, the duo released their 2nd single "us".
This time around the duo showcased their emotional side with the rock ballad "Ame ga yamu made" and blew everyone away with their aggressive and fast-paced rock sound in "us".
The dynamic between Chiba's rough vocals and Nogami's incisive mid-tones packing a punch was a winner, with the duo surpassing their quality with this release.
In 2020, the duo announced their comeback with their 2nd mini-album "Dusk".
"DUSK" is a highlight reel of a mini-album.
Every song you choose to listen in this CD is a sure-fire winner. Rock is king for Kashicomi, taking the spotlight for 4 out of the 5 songs in this CD.
Jazz makes its appearance in "Arigato" and the duo throws it out of the park, delivering a performance that makes me wish they were actually exploring that type of music from now on.
In 2021, the duo announced the release of their 3rd single "fight, fire with fire/ Kimi ni Utau Refrain".
Op8♪ (2018 -)
Alongside the other in-game leaders, Shoya Chiba performed キラメキHeartBeat! (Kirameki HeartBeat!).
The song was featured as the game's opening theme. Unfortunately, the game stopped distribution in 2019.
NOISE NOVA (2020 -)
In 2020, Shoya Chiba joined the PERFECTION NOISE franchise as one of NOISE NOVA's main vocals and centers, Narumi Kurazuki.
The group counts as well with Soma Saito (with whom he shares the main vocal and center duties), Ryohei Kimura, and Kaito Ishikawa.
NOISE NOVA is dubbed as a "dance and vocal unit" well versed in EDM, rock, hip-hop and ballads.
The group has a double-center formation that takes advantage of the faces of the group and powerful vocalists, Narumi (Shoya Chiba) and Sena (Soma Saito).
In 2020, the franchise counted with 1 single release "True Place" as well as 4 solo CDs (one for each character).
Chiba's character Narumi participated in the first solo CD in the franchise "PERFECTION NOISE Vol.1 Kurazuki Narumi".
He performed "Deep", an acoustic, slow-paced R&B song with a nostalgic undertone that guides the listener through a distant, melancholic soundscape.
Shoya Chiba delivered a flawless performance for this song.
From the sweet, gentle vocals in the verses lullabying the listener, to the intensity in his performance in the chorus, Chiba hit all the right spots and did some more to impress the listener.
It was an emotional performance worthy of a group's center and main vocal.
In 2021, the PERFECTION NOISE franchise released its first compilation/soundtrack album titled "PERFECTION NOISE Original Soundtrack".
EROSION (2020 -)
CARNELIAN BLOOD is a mixed media – voice comics, music, radio, etc – project created by Rejet. EROSION stems from the franchise as its representative group, a rock band with 5 vocals.
EROSION consists of Shoya Chiba (leader), Arthur Lounsbery, Ryota Suzuki, Toshiyuki Toyonaga and Yuya Hirose.
Shoya Chiba voices TOXIN, EROSION's leader.
Since its inception in 2020, EROSION has been simultaneously a 2D and 3D group.
Rejet always releases 2 types of videos for each new song: a short teaser featuring the characters and a full music video featuring the seiyuu cast.
In the first season of CDs, EROSION released 3 singles: "From a Spicy Peak", "Aspiration" and "RAD HEAD". All singles were released in 2020.
Right off the bat, in "From a Spicy Peak", EROSION doesn't shy away from a darker, heavier approach to their sound, which I love.
I feel like rock bands in 2D music projects seldom get courageous enough to embrace a heavier sound because they feel like regular 2D music fans will certainly avoid it at all costs.
So, it is a breath of fresh air to find EROSION doing their thing and being cool about their rock sound and, at the same time, really comfortable while performing it.
From "Underdogs" to "From a Spicy Peak", this single was overflowing with an aggressive and daring rock sound that the 2D industry hadn't been graced with for a couple of years.
At the same time, the group showed that there's no need to have an "all popular/star" seiyuu lineup to sound good.
With Toshiyuki Toyonaga and Arthur Lounsbery's vast experience as singers, all members sounded incredibly well, ushering a new era of singers among seiyuu as young talents Yuya Hirose, Shoya Chiba and Ryota Suzuki showcased their skills in quite an impressive fashion.
Shoya Chiba impressed me with a complete performance that brought a lot of power and charisma to EROSION's performances.
He went the extra mile by even performing screamo parts in "Underdogs", something that ended up being a pleasant surprise that further highlighted his skills as a versatile singer.
Soon after, the band released its 2nd single "Aspiration".
This CD was a departure from the band's debut sound, shifting from high-octane rock with some hits and bits of hardcore, to easy-listening pop-rock.
"Aspiration" has its moments of brilliance although the band is sounding more and more like an idol group instead of a rock band, which as some of you may be aware of, is the band's selling point.
For a band that started out with a considerably heavy sound as their debut song, with each song in this CD, EROSION gradually toned down their aggression.
In November 2020, EROSION wrapped up its first season of CDs with electrifying "RAD HEAD".
"RAD HEAD" is powerful, intimidating, and overflowing with energy and quality. The title track brought a lot of grit and intensity back to EROSION's sound.
"Get Out!!!!!" brought a bit of electronica into the mix, creating a tasteful blend of their gritty rock sound and dirty electronica.
And "Sham'ing" introduced electronica to the band's sound, a first however something that worked incredibly well with the vocals that EROSION has at its disposal.
EROSION kicked off 2021 with its 1st live show "EROSION 1st LIVE「UNDERDOGS」from CARNELIAN BLOOD".
The music video for "What is mine" was recorded during this live show.
EROSION released its 1st full-length album "What is mine".
The CD featured all songs released up until then and added 4 new tracks – with 3 of those spread across the CD's 3 editions – "What is mine", "Vigrante", "The Sun Also Rises" and "CRIER!! CRIER!!".
The band kicked off their 1st solo CD series "EROSION with YOU from CARNELIAN BLOOD" in December 2021.
The first entry was "EROSION with YOU from CARNELIAN BLOOD Vol.1 CREHA", album that included the orchestral-rock-meets-nu-metal banger "Firemind".
Orchestral elements made their way into "Firemind", breathing life into it, making it resonate with the listener, leaving a mark as those dramatic strings find their way through the song, contrasting with the melancholic vocals by the band members.
That was the song that showcased all members finally on the same page vocally, going for powerful canon and unison sections, all harmonizing in perfect sync.
This was a song that showed that EROSION can be pretty raw in its emotions with all members making sure you'd scream along, that you'd feel those emotions all over.
That song was followed by "Devil's Dinner" in the 2nd entry in the solo CD series "EROSION with YOU from CARNELIAN BLOOD Vol.2 BYAKUYA".
As far as live performances go, EROSION performed live for the very first time in 2021. The only footage available of this live show is the live music video for "What is mine",
Rejet later announced that EROSION's 2nd live show is going to take place at TACHIKAWA STAGE GARDEN on 10/09/2022.
O★Z (2021 -)
In 2021, Shoya Chiba joined the cast of O★Z, a visual-kei group part of the Visual Prison franchise. He's the leader of the group and the face of the Visual Prison franchise.
The group includes as well Makoto Furukawa, Nanami Hiroki and Shun Horie.
Gambét (2021 -)
In 2021, Shoya Chiba joined the cast of GAMDOL, an original mixed-media project that puts on the same stage idols and gambling. The project follows the idol groups Gambét and Raise through voice dramas + music releases.
Character illustrations are by CHIMOTA, script is by Hanan Koi (ARGONAVIS from BanG Dream, FAIRY TAIL, PSYCHO-PASS), and the world-building is by Yanio Nakamura.
Gambét consists of Junta Terashima (face and leader of the group), Shoya Chiba, Yuki Sakakihara, Jin Ogasawara, and Taito Ban.
He voices Hibiki Tougo, one of the members of the idol group, Gambét.
In that same year, the group released its debut single "Boku x Kimi Checkmate".
The single had compositions and lyrics by Honeyworks, featuring an interesting contrast between a sweet and bubbly tone and an aggressive, intense vibe in it.
Chiba impressed with his rapping skills in the song "STAYBACK". He went for a lower-toned performance with quite a strong "attack" to it and a flow that was genuinely impressive.
In 2022, the group released its 2nd single "Tokimekiss LOVE". The title track has lyrics, composition and arrangement by Saku (best known as Soma Saito's arranger and guitarist).
Bremen (2021 -)
Still in the same year, Chiba joined the cast of Bremen, 2D music + drama CD project by Orangette that follows the adventures of the members of the rock band "Bremen".
The band is fronted by Kanato Hanajima (CV: Junta Terashima) who's simultaneously the guitarist, and drummer Kyohei Koga (CV: Nobuhiko Okamoto), bassist Hikari Amamiya (CV: Shoya Chiba), and keyboardist Ritsu Inui (CV: Makoto Furukawa).
The project has drama CDs – group and individual ones – in which Shoya Chiba participates. When it comes to the songs, up until now, only Junta Terashima performs.
Photobook
In 2021, Shoya Chiba released his 1st photobook in collaboration with KIKI-VOICE titled 千葉翔也のバッチリしようや 1stフォトブック ~Home~(Chiba Shoya no Bachiri Shoya 1st Photobook ~Home~).
Variety
Real Treasure Hunt (2017)
In 2017, Shoya Chiba participated in Marine Entertainment's variety show, Real Treasure Hunt.
The cast of Real Treasure Hunt "Challenge From Fuma" in Odawara included Yoshiki Nakajima, Yuto Adachi, Yuichiro Umehara, Daiki Yamashita, Yusuke Shirai, Junya Enoki, Makoto Furukawa, Taishi Murata, Daiki Kobayashi, Yoshiki Nakajima and Hiroki Yasumoto (narrator).
He was paired up with fellow actor and singer, Yuto Adachi in a quest to find the treasure.
Although off to a great start, the duo easily got lost doing everything but finding the treasure, which led to funny shenanigans. When things got serious, it was Chiba that pulled the duo with his quick wits, solving tricking riddles.
Santaku (2017)
Chiba was invited to Santaku, a variety show hosted by Takuya Eguchi and Taku Yashiro.
He guested alongside Yoshiki Nakajima on the show's 4th episode. From the various "taku nickname" attempts to a furious game of Super Bomberman R, there was no shortage of fun moments.
Steal Treasure Run!! (2019)
Marine Entertainment's treasure hunt variety returned in 2019 under a new format, with a different lineup and dynamic.
Shoya Chiba participated in Steal Treasure Run!! along fellow Marine Supernova members: Kouhei Amasaki, Taichi Ichikawa, Takeru Kikuchi, Tatsuya Tokutake, Takuma Nagatsuka, Sho Nogami, Daiki Hamano and Taku Yashiro.
Chiba would go on to be a last-minute winner after running like crazy for the duration of the chase and search sections of the event, leaving everyone in shock by how smart his strategy had been.
Futsal Seiyuu (2019)
Shoya Chiba joined the cast for Marine Entertainment's newest variety show, Futsal Seiyuu.
Shoya Chiba joined Yoshitaka Yamaya, Taichi Ichikawa, Reona Irie, Takeru Kikuchi, Kodai Sakai, Yusuke Shirai, Yusuke Nagano, Daiki Hamano, Shugo Nakamura, Toshinari Fukamachi and Takuya Masumoto for a wide variety of futsal-themed mini-games.
MARINE SUPERNOVA 2018 and 2019
As part of Kashicomi, Shoya Chiba has participated in Marine Entertainment's annual variety + live performances event, MARINE SUPERNOVA.
Project SCARD Prosuka TV (2020)
In 2020, Shoya Chiba teamed up with Arthur Lounsbery to co-host the promotional talk show プロスカTV (Prosuka TV).
The show was created by FRONTIER WORKS to promote the otome game PROJECT SCARD in which all members of 8P were cast.
Chiba and Lounsbery showcased a lot of comfort between themselves, being naturally funny and sassy for the 3 episodes they were set to host.
From testing if Chiba would respond to being tickled to dubbing challenges, drawing their characters, and even giving sassy opinions about other characters, those episodes were a lot of fun.
Mr. Toshi Densetsu (2021)
In 2021, Shoya Chiba was invited to BS TV's show, Mr. Toshi Densetsu.
Alongside fellow seiyuu and SparQlew member Shun Horie, Chiba acted out a live reading play and showcased both his vocal and emotional ranges.
His performance was spine-chilling, with him taking it to a whole new level by facing the camera for some of his lines, putting his live-action acting skills to the test.
Facts
Chitakun nickname
In 2017, Shoya Chiba was, alongside Yoshiki Nakajima, a guest on Takuya Eguchi and Taku Yashiro's Santaku.
As it is a rule for the show, the guest has to have a "Taku" name and, given that Shiba Shoya is not a name with the sound "taku" anywhere, the hosts and guests had to create one from the ground up for Chiba.
Turns out Taku Yashiro, half-jokingly came up with the name Chitakun (mixing Chiba with kun), however, it sounded like a play with words for cheetah, prompting everyone to laugh much to Chiba's demise.
---
Not a fan of house chores
For his MAN TWO MONTH RADIO show in 2017, Chiba created a corner to tackle housework, something he has mentioned several times that he is not fond of.
Trying to change himself, Chiba tackled ironing, cooking, sewing, peeling fruits, and a whole lot of tasks, leading to funny situations in the studio.
---
Intelligence first
In 2019, on an episode of the talk show "Seiyuu Kenyu Club" hosted by veteran seiyuu Kenyu Horiuchi and assistant Junta Terashima, Shoya Chiba was asked about what type of woman he's attracted to.
He mentioned that he looks for, first and foremost, intelligence and only then looks. He says he much rather date an intelligent person than just someone that looks good.
---
Singer-songwriter
Shoya Chiba is known for singing but he also plays guitar and composes songs.
Although he still has gotten many chances to showcase his talents, he is slowly showing his skills be it during live performances and recording songs for group releases.
In 2022, on a public recording of B-PROJECT's radio show, Chiba mentioned that he now has a mini-studio in his apartment and has been writing and composing his music.
---
Loves fortunes and tarot
In April 2021, Shoya Chiba guested on Anige ☆ Eleven!'s episode 287 to promote the anime series 86 (Eighty-Six) in which he voices the main character Shinei Nouzen.
At the same time, he talked about his passion for tarot and fortunes (omikuji). He went as far as give a tarot reading to the show's host.
---
Wanted to be friends with Soma Saito, ended up being surprised by how fast he cut to the chase
It is well known since 2020, that Shoya Chiba is a big Soma Saito fanboy. Both were cast alongside each other in several drama CDs in 2020, leading to them working pretty closely for the very first time, and are even sharing center duties for NOISE NOVA, the new 2D idol group by the creators of DIG-ROCK.
But his fanboy self dates back to 2016 when he still hadn't personally come across Saito in the seiyuu industry.
Apparently, a blog post that Saito wrote on his official blog mentioned that he liked the anime Tsuki ga Kirei (in which Shoya Chiba starred). Chiba's mother – apparently a Saito fan – immediately contacted his son, telling him that Saito liked the work Chiba had done for the anime.
And thus, Shoya Chiba started to admire Soma Saito, wanting to get closer to him.
On Washizaki Takeshi and Chiba Shoya's radio Imantoko Yaya Suki #18 (2020), Chiba mentioned that, as of late, he's been cast with Saito in the same drama CD projects. Working closely could provide an opportunity to hang out and eat together but, unfortunately, Covid-19 made it impossible for them therefore, instead of going to eat together, they chose to go for a walk.
Much to the amusement of Takeshi and the rest of the radio staff, Chiba continued to document his – rather shy, clumsy yet endearing – efforts to get closer to Saito, who he admires a lot.
One day, it happened that both were heading in the same direction. However, Chiba noticed midway through that the specific route they were taking was a massive detour for Saito.
However, he couldn't bring himself to say anything, afraid that Saito would notice that he was no longer following the way he had to and would ditch him as a result (had he known that he was going the wrong way).
Saito was, it would seem, unconsciously following Chiba's route, keeping him company.
He actually meant it, as you can tell by the end of the story Chiba told on the radio and later on by Saito's reply to this story being made public on his radio show, Strange DayS.
Chiba mentioned that they ended up walking together for an hour.
During that walk – apparently silently enjoying each other's presence -, Chiba mustered the courage to talk to him and brought up the topic of him liking glamb – the Japanese apparel brand with which, coincidently, Soma Saito has a collab line of clothing -, however, deep down, Chiba also wanted Saito to give him something from that collaboration so he tried a roundabout way of asking it.
"Soma-san, I've heard you're collaborating with glamb…"
Saito stared at him and bluntly said "Yeah… can I get you something from the collab?"
Chiba recalls on the radio that the topic was brought primarily to the conversation to see if he could get closer to Saito – they weren't saying a word to each other during the walk – but he was startled that Saito read him like an open book, quickly cutting to the chase, asking him what he wanted and in what colors.
A couple of weeks later, and after a fan mentioned the situation on Saito's radio, Shoya Chiba proudly wore the knit that Saito gave him.
Chiba continues to hype up anything Soma Saito that comes across his timeline on social media, being the loudest and most endearing fan by commenting on drama and song previews plus sharing stories.
On camera, they have a budding relationship in which Chiba can't help but gush about Saito's skills and voice, whereas Saito finds his behavior kind of cute, being a nice and supportive senpai for fanboy Chiba.
---
With this, THTFHQ wraps up another Seiyuu Digest. In the meantime, don't forget to check past Seiyuu Digests (some of those recently updated) – HERE.