Creative, versatile, massively talented, and yet underappreciated, that's Yoshiki Nakajima in a nutshell.
Yoshiki Nakajima
KANJI: 中島ヨシキ
BORN: June 26, 1993
OCCUPATION: seiyuu, singer, director, songwriter
HEIGHT: 174cm
---
Yoshiki Nakajima was born on June 26, 1993 in Kanagawa, Japan. He's the oldest of three siblings (has a younger brother and sister).
After graduating from technical school, he enrolled at Yoyogi Animation Academy in Yokohama in its voice acting department.
While attending Yoyogi Animation Academy he was doing work as a reporter for the radio show YAG Animelab. and soon after he joined 81 Produce as a junior talent.
As part of 81 Produce he took classes at 81ACTOR'S STUDIO for a whole year, later debuting as part of Soffive – a group created to promote the company's young talents.
Easily one of the most versatile talents that debuted in the past 8 years, Yoshiki Nakajima is not your average seiyuu, he's also a skilled illustrator, actor, singer, lyricist, radio personality, presenter, scriptwriter, and movie director. This month we explore his eclectic career.
Seiyuu
2012 – 2016
Debut and strive for recognition
As it is common with rookie seiyuu, Nakajima found his first four years as a seiyuu filled with minor and rare secondary roles. However, no matter what role was in his hands, he made sure for it to be his best performance.
He made his debut as a seiyuu with minor roles in the anime SKET DANCE (2012) and, in the same year, he scored his first supporting role as Takumi Inaba in the mecha anime, Chousoku Henkei Gyrozetter (2012).
During this period of time, he got secondary roles in Gingitsune (2013) as Seigo Kamio, Dragon Collection (2014) as Koppu, and Endride (2016) as Beopetle.
Other anime he voiced random/background characters in include:
Cross Fight B-Daman eS (2012),
Tamagotchi! Yume Kira Dream (2012),
Medaka Box (2012),
Metal Fight Beyblade Zero G (2012),
Jormungand: Perfect Order (2012),
Kill la Kill (2013),
Zettai Karen Children: The Unlimited – Hyoubu Kyousuke (2013),
Duel Masters Victory V3 (2013),
Tokyo Ravens (2013),
Bakuman 3 (2013),
Beast Saga (2013),
Kaitou Joker (2014),
Psycho-Pass (2014),
Zankyou no Terror (2014),
Hamatora (2014),
Pripara (2014),
Yowamushi Pedal (2014),
Kyoukai no Rinne (2015),
Classroom☆Crisis (2015),
Ajin (2016),
Future Card Buddyfight Triple D (2016),
Magi: Sinbad no Bouken (2016), between many others.
2017 –
Hitting his stride
Things changed around for him when 2017 arrived. Although with fewer roles in that year, he was able to earn his first leading role and from there, he gradually stacked an interesting set of roles under his belt.
The anime adaptation of the smartphone idol-raising game The IDOLM@STER SideM was greenlit and with it came the insanely popular anime The iDOLM@STER SideM.
Nakajima reprised his role from the games as Jiro Yamashita, S.E.M's member, a former science teacher that enters the idol industry with only one thought in mind: money. Nakajima's performance was thoroughly praised as he perfectly brought to life the lax yet bashful Jiro.
This role might have changed everything in Nakajima's career. The massive popularity of the SideM franchise as well as Jiro's popularity put him in the spotlight.
After that, it was noticeable that Nakajima started to be in many more anime and getting more leading or at least supporting roles with some degree of importance in their respective stories.
Still in the same year, Nakajima got to reprise another role from yet another popular gaming franchise: DYNAMIC CHORD. However, contrary to what happened to The iDOLM@STER SideM anime adaptation, DYNAMIC CHORD was an utter failure.
Nakajima reprised his role as UK or Yuki Aoi, apple-polisher's guitarist.
The anime adaptation ended up failing to hit the fans' expectations by having a new story set after the events of all 4 games (one for each of the rock bands in the franchise), lazy, recycled animation, character designs that completely deviated from the original art and little to no time for almost every character in the franchise to make an appearance
To wrap up 2017, Nakajima was cast in the anime adaptation of the otome game, Sengoku Night Blood.
This was yet another failed adaptation that cast away prospect fans and made a lot of fans of the original game wonder how everything went wrong with it. He voiced Masakage Yamagata, a small yet fierce soldier working for Takeda's army.
A year later he was cast in the popular comedy/supernatural anime, Hinamatsuri. He voiced Yoshifumi Nitta, a yakuza with a heart of gold that finds himself having to take care of Hina, a girl with supernatural powers. This was Nakajima's first leading role.
The anime was highly praised domestically – being ranked as one of the best anime in the Spring 2018 season – as well as overseas.
His voice acting was commended by how befitting it was for Nitta as well as how he was able to make certain straight-faced situations shine in the comedic department.
Nitta turned into one of Nakajima's most popular roles.
He then joined the cast of the fanservice-y anime series, Amai Choubatsu: Watashi wa Kanshu Senyou Pet voicing Yamato Higa in the anime's "clean" version.
In the last quarter of 2018, Nakajima was cast in the ambitious sci-fi anime, INGRESS THE ANIMATION.
He voiced the lead character, Makoto Midorikawa, a special investigator employed by the Metropolitan Police Force that is gifted with psychometry, allowing him to read the memories of objects he touches. The anime has a solid plot – for the most part – even if it is a game adaptation.
However, despite the initial hype surrounding this game adaptation, the anime ended up not being as popular due to how the storyline ended up developing mid-way through. Even though, Nakajima's performance was praised for his natural acting that fit the anime's mature, serious tone.
He reprised his role as Jiro Yamashita in the chibi anime The iDOLM@STER SideM: Wake Atte Mini! (2018) and had supporting roles as Karuna in Gundam Build Divers Prologue (2018), Yukimura in Senjuushi (2018), and Seimei in BAKUMATSU (2018).
2019 already sounds like it'll be a good year for Nakajima. He's going to reprise his role as Tetora Nagumo, a member of Ryuseitai, in the anime adaptation of Ensemble Stars! that is going to premiere this summer.
He's also cast in the comedy/slice-of-life anime, Doukyonin wa Hiza, Tokidoki, Atama no Ue. as Yuugo Oukami and in the romance movie Ashita Sekai ga Owaru toshitemo as Jin.
The anime adaptation of the puzzle game Stand My Heroes is greenlit however it doesn't have a set date of premiere. Nakajima voices Koya Kirishima, the muscle in the Kujo family.
Acting/Directing
Nakajima has been active as a scriptwriter, director, and actor since he joined 81 Produce.
He's part of the theater troupe Hatsukoi Project, that also counts with Koutaro Nishiyama and Daiki Kobayashi. After debuting as a seiyuu, he's been part of several acting and directing projects, showcasing his talents and versatility in both fields.
As part of the Hatsukoi Project, Nakajima participated in 4 plays, all of those in which he put his skills as a script writer, director, and actor to the test.
The First Project Hatsukoi Project ran from 21/04/12 to 22/04/12, The Second Project Tenshi ga Yonderu ran from 13/10/2012 to 14/10/2012, The Third Project Koitsubaki / Ao to kibinago ran from 10/05/2013 to 12/10/2013 and Hatsukoi Project 3. 5 Kouen! only ran from one day – 10/11/2013.
Bokukoe (2017)
Perhaps the first acting project that fans got to watch from Nakajima was his role as the quiet, popular guy in the first season of Bokukoe.
Machibito (2018)
Nakajima Yoshiki no The Create Presents Short Movie "Machibito" is a short movie directed by Yoshiki Nakajima, his first experience as a movie director.
The leading role in Machibito was given to Fumiyoshi Shioya, seiyuu, and member of IDOLM@STER SideM's Legenders.
『中島ヨシキのザックリエイト ショートムービー「待ち人」上映会&DVD先行発売イベント』が11/17にスペースFS汐留で開催!出演は中島ヨシキさん、汐谷文康さん、他
チャンネル会員向けチケット先行申込は9/7 22時よりスタート。詳細はこちら→ https://t.co/x4C0AcFc7l #ザックリ8 pic.twitter.com/hgdXVZHM8z

— 中島ヨシキのザックリエイト公式 (@thecreate8) 17 de agosto de 2018
The movie was released on DVD in December 2018.
Bokukoe 2 (2019)
In 2018 Bokukoe announced its return with a 2nd season in January 2019, bringing a new cast, as well as some old faces from the first season plus a whole new skit selection for fans to enjoy.
Yoshiki Nakajima returned for the 2nd season however not with a secondary role but as a main character in a skit about embracing your embarrassing self.
恥ずかしがり隊 -「僕たちと一緒にもっと恥ずかしいことしようよ!」(Shy party – "Let's be more embarrassed with us!") features Kento Ito, Yoshiki Nakajima, and Takuma Nagatsuka.
Radio
Even before his debut as a seiyuu, Nakajima was already working on the radio as a reporter.
He was a reporter for the radio show YAG Animelab from 2009 to 2010. After debuting as a seiyuu, it took him 4 years to work once more in radio shows.
Nakajima Yoshiki no Fuburaji (2016 – )
In 2016 Nakajima made his comeback to radio with his flagship show, Nakajima Yoshiki no Fuburaji.
For this radio show he invites seiyuu he's friends with to engage in a variety of ad-lib corners and candid conversations. The show has been airing on CBC Radio every Saturday night since 2016.
Additionally, several variety events have been held since the start of the radio show as well as a two variety DVDs have been released.
Ito Kento to Nakajima Yoshiki ga anata o muchunisaseru radio 〜 yumeraji 〜 (2016 -)
Paired up with fellow 81 Produce talent, the calm and collected Kento Ito, the duo hosts Ito Kento to Nakajima Yoshiki ga anata o muchunisaseru radio 〜 yumeraji 〜 on Radio Tomo.
Nakajima and Ito's chemistry shows with ease on their broadcasts as they have comfortable casual conversations or tackle more complex themes. This show is the catalyst for UMake's debut.
IDOLMASTER SideM Radio 315Night! (2017)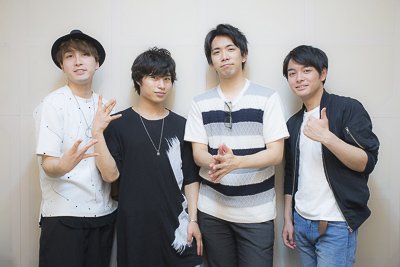 Alongside fellow S.E.M's members Kento Ito and Junya Enoki, Nakajima hosted the radio show "IDOLMASTER SideM Radio 315Night!" in 2017.
For this show, the trio invited members of the franchise's cast for an entertaining show filled with a great, warm vibe, fun corners, and a lot of crazy shenanigans.
Arthur, Daiki, Yoshiki no Kaleidoscope Party (2016 – 2018)
Arthur Lounsbery, Daiki Kobayashi and Yoshiki Nakajima, co-hosted the radio show Arthur, Daiki, Yoshiki no Kaleidoscope Party from 2016 up until 2018.
The concept revolves around the three hosts living under the same roof and the listener being the guest to their party.
Aside from these radio shows, Nakajima has also guested on Magical Days the RADIO parade (2016), BAR DEAR+ (2017) and Wataru Hatano and Sato Takuya's SCAT BABYS SHOW!! (2018).
Live Reading
This is a field of work in which Nakajima has been more active since 2017. He's been part of numerous recitation/reading plays some of those created and promoted by 81 Produce.
Some of the recitation plays he's been cast in include:
Dubbing
Nakajima has a solid repertoire when it comes to dubbing. Foreign movies, dramas, and animation have enabled him the opportunity to show his range and skills as a seiyuu.
He's got more than 25 dubbing credits under his belt.
Some of his credits include:
Point Break,
Teen Beach Movie,
Ted 2,
Devil's Knot,
Shepards and Butchers,
Boychoir,
Mad Max: Fury Road,
Monsters: Dark Continent,
CSI Cyber,
PERSON of INTEREST,
Marvel Luke Cage,
JUSTIFIED,
Continuum,
How to Get Away with Murder,
Teen Wolf,
Minions,
Big Hero 6, between many others.
Games
Nakajima has been active in this field of work since his debut in 2012. He's slowly been building up his repertoire in this field.
Otome games are the majority of works in which he gets roles however, most recently, Nakajima been a name often tied to rhythm games or games with music at its core.
Some of his most important roles include Tetora Nagumo in Ensemble Stars!, Jiro Yamashita in THE IDOLM@STER SideM, U.K in Dynamic Chord, Minato Ushiwaka in DREAM!ing.
Ensemble Stars! (2014 -)
In 2014 he joined the cast of Ensemble Stars!, an idol grooming game that quickly turned into one of the most popular games that involve 2D idols.
Ensemble Stars! is a story-driven game that easily shot to popularity with its solid story and rich music released outside of the game. Nakajima voices Tetora Nagumo, Ryuseitai's energetic and passionate member.
THE IDOLM@STER SideM (2015 -) and SideM LIVE ON ST@GE! (2017 -)
An avid fan of the original IDOLM@STER franchise, Nakajima decided to audition for its male version and ended up being given a role in this franchise.
He voices the 30-year-old former Chemistry teacher and member of S.E.M, Jiro Yamashita.
The character is featured in THE IDOLM@STER SideM and SideM LIVE ON ST@GE!, the two game iterations stemming from the SideM franchise.
DYNAMIC CHORD feat.apple-polisher (2016) and feat.apple-polisher V edition (2018)
In 2016, Nakajima joined the cast of DYNAMIC CHORD feat.apple-polisher. He voiced UK or Yuki Aoi, a character known for its womanizing, sly, cynic, and jealous personality.
While UK might rub people off in the wrong way, especially early on in the game, the character has depth and a solid story that explains his demeanor and gives way to explore something more personal about him.
It was right there that Nakajima impressed with his performance.
Not only did he perfectly capture those personality traits, but he also was able to slowly open up the character, and give it more depth and emotion, showing concern or care beyond his rather "obsessive" ways of protecting his safe haven.
DREAM!ing (2018 – 2020)
In 2018, Nakajima joined the cast of DREAM!ing, smartphone that features music as one of its selling points.
The game features a fantastic cast that includes:
Nobunaga Shimazaki, 
Toshinari Fukamachi, 
Yoshiki Nakajima, 
Naru Hamano,
Yuto Suzuki and 
Tomohiro Yamaguchi.
Nakajima voices Minato Ushiwaka, a free-spirited supermodel that isn't that good in studies.
Other games that Nakajima has voiced characters in include:
E.X. Troopers (2012),
White Cat Project (2015),
Net High (2015),
SOUL REVERSE ZERO (2016),
Stand My Heroes! (2016),
Magical Days the Brats' Parade (2016),
Paranormal Kiss (2017),
Quiz RPG: The World of Mystic Wiz (2017),
LibraryCross∞ (2018),
Shadowverse (2018),
Dash! (2018),
Palette Parade (2018),
Choice×Darling (2018), between many others.
Drama CDs
Nakajima has been active in drama CDs since his debut. Regardless of genre, he always brings to the table gripping performances.
He's reprised his role as UK in the DYNAMIC CHORD series' drama CDs: DYNAMIC CHORD vocalCD Series vol.4 apple-polisher (2015), DYNAMIC CHORD documentaryCD feat.apple-polisher (20015), DYNAMIC CHORD love U kiss series vol.14 ~UK~ (2016), DYNAMIC CHORD shuffleCD Series 2nd vol.4 Mr.Perfect (2017) and DYNAMIC CHORD Vacation Trip CD series apple-polisher (2017).
Aside from his extensive work in the DYNAMIC CHORD franchise, Nakajima has roles in drama CDs such as E.X.TROOPERS (2012), THE IDOLM@STER SideM ST@RTING LINE 06 S.E.M (2015), SolidS vol.4 (2015) and Otodoke Kareshi (2018).
Nakajima made his debut in the BL drama CD industry in 2016 and since then he's been making a name for himself in that industry. His characters are often paired up with Soma Saito's.
Some of the BL drama CDs he's had roles in include:
Given 2 (2017),
Koi suru Yankee (2017),
Crack Star (2017),
Watashi no Shiranai Karera no Himitsu (2017),
Neon sign · Amber (2017),
Akai Ito no Shikkou Yuuyo (2018), among many others.
Music
Nakajima is well known for his skills as a singer as well as songwriter however, he still has yet to make a solo debut. His vocal range is pretty wide however, when freely singing in his own voice, he shines with his slightly nasal tenor range as opposed to the faux baritone range he uses for music projects such as SideM.
Nakajima is pointed by many – both fans as well as his peers – as one of the biggest talents when it comes to his singer-songwriting skills.
He's skillful and in total control of his tone. That is noticeable in his one-shot recordings of songs (GHOST CONCERT) as well as when he dances and sings at the same time, his voice never falters and he's always in control of his performance.
After making his debut as a seiyuu, he's been part of several music projects, some of those incredibly popular and he keeps showing his cards as one of the most versatile and complete singers among male seiyuu.
soffive (2013)
81 Produce debuted soffive in 2013. The unit was created to promote their rookie talents.
soffive consisted of Kento Ito, Yoshiki Nakajima, Arthur Lounsbery, Koutaro Nishiyama and Shunya Hiruma.
They performed live and featured three of their songs in the motion comic, Voice Acting Sentai Boy's tome 7 that aired on Fuji TV in the last quarter of 2013. Soon after debuting, the unit disbanded.
apple-polisher (2015 -)
Nakajima was cast in DYNAMIC CHORD as UK, apple-polisher's guitarist.
apple-polisher consists of Shouta Aoi (vocals), Yuichiro Umehara, Yoshiki Nakajima, and Takahiro Sakurai. Nakajima only participates in the drama parts of this project. The band dons a groovy mix of R&B, rock, and electronica.
The band has released 4 singles – Against the Rules (2015), real sensation / this song is dedicated to you. (2016), BACK 2 SQUARE 1 (2017) and beat goes on/what have you done for… (2017) – and 1 mini-album everytime i see your face (2018).
Ryuseitai (2014 -)
In 2014, he joined the cast of Ensemble Stars! to voice Tetora Nagumo, Ryuseitai's member.
The group features vocals by Yuichi Jose, Takumi Watanabe, Anju Nitta, Koutaro Nishiyama and is known for their passionate pop tunes that channel the hero in them.
The quartet has released 3 singles so far – Vol.1 "Ryuseitai" (released in 2015), Vol.1 "Ryuseitai" 2 (released in 2016) and Vol.6 "Ryuseitai" 3 (released in 2017) – and a full-length album "Ensemble Stars! Album Series Ryuseitai" (released in 2018).
Ryuseitai performed live for the first time Ensemble Stars! Starry Stage 1st ~in Makuhari Messe ~ in 2018.
S.E.M (2015 -)
In 2015, Nakajima joined the cast of THE IDOLM@STER's male version, IDOLM@STER SideM.
He was cast as Jiro Yamashita (far left in the above picture), currently one of the most popular groups from the IDOLM@STER SideM franchise. Junya Enoki and Kent Ito complete the lineup for this unit.
The talented trio is known for their explosive live performances, chemistry, and rich vocals.
Since their debut, the group has shown a massive improvement in their vocals, with the major difference being felt in Nakajima and Ito's performances of ∞ Possibilities.
Nakajima is the group's middle ground, the all-rounded that can dance, sing and has a charisma that makes it hard to shift your attention to the other members.
His polished vocals that shift between tenor (his natural tone) and baritone (faux) make him a threat on the vocal end.
Up until now, the trio has released two singles, THE IDOLM@STER Sidem ST@RTING LINE-06 S.E.M (2015) and The IDOLM@STER SideM ANIMATION PROJECT 03「From Teacher To Future!」(2017).
Aside from these singles, S.E.M has participated in several cross-unit and solo song projects within the franchise.
So far, the trio participated in four IDOLMASTER SideM stages: 1st STAGE 〜ST@RTING!〜 (2016), 2nd STAGE 〜ORIGIN@L STARS〜 (2017), 3rd STAGE 〜GLORIOUS ST@GE!〜 (2018) and THE IDOLM@STER SideM 4th LIVE STAGE 〜TRE@SURE GATE〜 (2019).
They also participated in the fan meeting tour "GREETING TOUR 2017 ~BEYOND THE DREAM~" in 2017 and THE IDOLM@STER SideM's Five-St@r Party!! in 2018.
UMake (2017 -)
Alongside fellow 81 Produce talent and S.E.M member Kento Ito, Yoshiki Nakajima is part of the self-producing duo, UMake.
Since their formation in 2016 as the hosting duo for the radio show Ito Kento to Nakajima Yoshiki ga anata o muchunisaseru radio 〜 yumeraji 〜, the duo has released one mini-album "Setsukashou – first" in the summer of 2017.
This mini-album impressed a lot of fans of both members with both their self-producing skills and their singing.
Yoshiki Nakajima was in charge of the lyrics for all songs and Kento Ito showcased his composition skills, composing all tracks on that release.
Still in the same year, UMake participated in Artsonic's Double Dare Covers, album that dazzled everyone with the duo's renditions of GACKT's Vanilla" and 君の声に恋してる by Tatsuro Yamashita.
In particular, their cover of Vanilla earned a lot of praise, with Nakajima's vocals completely stealing the show, making this vocal performance sound like an upgrade to the original version – which isn't an easy feat (after all we're talking about singing better than GACKT).
In 2018, UMake were back with exciting news for their fans.
The duo made their official debut, announcing their first live show and single release. SUMMER☆MONSTER premiered during that show, showcasing UMake's music sensibility through a variety of music genres that range from acoustic to pop or rock.
The duo released their first full length album Make up a dream in 2018.
The album featured 14 songs written, composed, and produced by the duo that explored pop, rock, ballad, jazz, and electronica. This eclectic album showcased the duo's talents in a way that previous releases hadn't been able to.
The album debuted at #31 on Oricon's Weekly Album Chart.
After holding their first live during the summer of 2018, UMake announced the release of a new single as well as a new live show that was held in January 2019.
UMake's 2nd single is titled "HOME" showcases a different side to their musicality.
DREAM!ing (2018 -)
Nakajima joined the DREAM!ing franchise in 2018. He performed alongside the game's main cast in the franchise's first single, "TAKE A DREAM!!".
He's also going to perform on BLACK OUT/HAPPY ENTERTAINER Yume Live CD Kuro Ryo VS Shiro Ryo, single scheduled to be released in March 2019.
GHOST CONCERT (2018 -)
In 2018, Nakajima joined the cast of GHOST CONCERT, music project created by Elements Garden's Noriyasu Agematsu (worked closely with the Utapri franchise and Mamoru Miyano) that pities ghosts of historical or fictional characters against each other in a singing battle.
The project counts with a mixed cast. Male and female seiyuu are part of it. The cast currently includes Shouta Aoi, Yoshiki Nakajima, Kouhei Amasaki, Megu Sakuragawa, Azusa Tadokoro, and Yuiko Tatsumi.
Nakajima voices Dracula. The first single "GHOST SONG 04." was released in December 2018.
Catharsistage! (2018 )
In 2018, Yoshiki Najima joined the cast of DMM games' new mixed-media project, Catharsistage!. He's the leader of jolly-doggy, group that consists of Yoshiki Nakajima, Yuma Uchida, Shouta Aoi, Yuki Ono and Kousuke Toriumi.
WAVE!! (2018 -)
In the last quarter of 2018, Nakajima joined the cast of Wave!!, mixed media project that puts focus on surf – a sport that is included for the first time as an Olympic sport at, the postponed 2020 Tokyo Olympics – through music releases, anime, radio, apps, events and other media.
The cast counts with Tomoaki Maeno, Nobuhiko Okamoto, Yoshiki Nakajima, Takuya Sato, Yusuke Shirai, Shunichi Toki, Showtaro Morikubo and Jin Ogasawara.
Nakajima performs alongside the main cast of the franchise's theme song "Ride the WAVE!!".
Sir Vanity (2020 -)
In 2020, on April Fools, Sir Vanity was announced. This project puts Nikukai's members Yuichiro Umehara and Yoshiki Nakajima in the same place, sharing their love for rock music.
Sir Vanity consists of Yoshiki Nakajima (vocals and guitar), Yuichiro Umehara (vocals and guitar), Arte Refact's Satoru Kuwabara (on bass), and taisei (VJ & Creative Director).
Writing
Yoshiki Nakajima started writing his first serialization corner Nakajima Yoshiki no Kyo yori Ashita motto ii Koto for KIKI-VOICE in 2017. The corner doesn't have a fixed theme or topic explored so each entry is something completely new.
Variety
Since 2017, Nakajima has had several variety show appearances and has even hosted his own shows. He's known for his wordplays, loud laughter, total comfort as a host, and also craftiness – that he shows if and when necessary.
Here are some of the variety shows he's been a part of.
Real Treasure Hunt (2017)
In 2017, Yoshiki Nakajima participated in Marine Entertainment's variety show, Real Treasure Hunt.
The cast of Real Treasure Hunt "Challenge From Fuma" in Odawara included Shoya Chiba, Yuto Adachi, Yuichiro Umehara, Daiki Yamashita, Yusuke Shirai, Junya Enoki, Makoto Furukawa, Taishi Murata, Daiki Kobayashi, Yoshiki Nakajima and Hiroki Yasumoto (narrator).
He was paired up with fellow 81 Produce talent Daiki Kobayashi in a quest to find the treasure.
Despite the duo's slow start, they quickly caught up and eventually were close to winning if only there hadn't been 2 issues on their side: losing one item and stopping to go to the bathroom., Nakajima shows off his quick and logical thinking while solving most of the challenges.
Sokuboku (2017)
Still in the same year, Nakajima guested on Koutaro Nishiyama's variety show, Sokuboku. The duo exercised together through boxing and then made healthy juice mixes. His feature was split into 2 episodes.
Ito Kento & Nakajima Yoshiki ga anata o muchunisaseru DVD (2017)
In 2017, Yumeraji's duo, Yoshiki Nakajima and Kento Ito. teamed up for the radio show's first-ever variety DVD.
The DVD counted with a cooking section in which Nakajima "saved" everyone from Ito's lack of cooking skills. The show counted with games and casual talk, all with a comfortable and friendly vibe.
Stamy channel (2017 – 2019)
In the summer of 2017, Coly opened a youtube channel to promote the puzzle/romance game Stand My Heroes.
Chosen to host Stamy channel were Yoshitaka Yamaya and Yoshiki Nakajima. The show focused on promoting the game and its features by having the hosts play some levels of the game with specific gimmicks, and draw some of the game's cards, among many other things.
After hitting certain subscriber thresholds, the show received upgrades such as the background, table, microphones, sofa, pillows, and the famous "Chikapi" as well as welcoming guests on the show.
Stamy channel was so popular that it counted with a second season before wrapping up in the summer of 2019.
Santaku (2017)
Nakajima was invited to Santaku, variety show hosted by fellow 81 Produce talent Takuya Eguchi and fellow seiyuu and Nikukai member, Taku Yashiro.
He guested alongside Shoya Chiba on the show's 4th episode. From the various "taku nickname" attempts – Takuki, Takuyoshi, Takujima -, to a furious game of Super Bomberman R, there was no shortage of fun moments.
Nao ON AIR (2017- )
Stemming from his radio show Nakajima Yoshiki no Fuburaji came the なうON AIR (Nao ON AIR) DVDs.
Through these DVDs, fans get a closer look at the recordings of his radio show, all through an eye-level camera in both Nakajima and his guest. So far, two DVDs have been released. The first counts with guest Shugo Nakamura and the second with Koutaro Nishiyama.
Nakajima Yoshiki no The Create (2017 – )
Nakajima's flagship variety show, Nakajima Yoshiki no The Create is more than what people perceive.
Nakajima, alongside special guests, will undertake a creative activity – drawing, photography, music composition, movie directing, etc -, learning how to perform it and then do a project.
Ensemble Stars! (2016 and 2018)
Yoshiki Nakajima has been a guest twice on Ensemble Stars!'s monthly broadcast. In 2016 he guested on the show, at that time hosted by Shintaro Asanuma, alongside fellow Ryuseitai member and 81 Produce talent Nitta Anju.
Two years later, in 2018, he guested on the show, co-hosted by Yuki Ono and fellow 81 Produce talent Shinichiro Kamio.
As per usual with guests on the show, Nakajima couldn't have their original tea – that he'd suffered with back in 2016 -, there were a lot of interesting topics on the table and the chemistry between hosts and him made the show an enjoyable watch.
Ito Kento & Nakajima Yoshiki ga anata o muchunisaseru DVD (2017)
In 2017, Yumeraji's duo, Kento Ito and Yoshiki Nakajima. teamed up for the radio show's first-ever variety DVD. The DVD counted with a cooking section in which Nakajima got to showcase his cooking skills while Ito miraculously managed to fail to cook rice.
Ito Kento & Nakajima Yoshiki ga anata o muchunisaseru DVD also features games and casual talk with the duo, all with a comfortable and friendly vibe.
Ito Kento to Nakajima Yoshiki ga Muchu ni Naru DVD (2018)
After staying at home for their first variety DVD, Yumeraji's hosts Yoshiki Nakajima and Kento Ito visited Chinatown in Yokohama for Ito Kento to Nakajima Yoshiki ga Muchu ni Naru DVD. The duo tried delicacies and suffered through a foot massage, among other things.
Gaku tomo Channel (2018)
In October 2018, Yoshiki Nakajima guested on Gakuto Kajiwara's variety show "Gaku tomo Channel". Kajiwara dedicated the whole episode to "Yoshiki-kun's Hospitality".
The show is originally laidback but with this duo, the environment was even more relaxed. Nakajima showcased his cooking skills and both engaged in sharing impressions on cooking, among other topics.
DREAM!ing Live Broadcast (2018 -)
Alongside Yuto Suzuki, Yoshiki Nakajima he's one of the seiyuu cast in DREAM!ing that has been tasked with hosting, reporting, and promoting the smartphone game released in 2018.
Between co-hosting some of the live broadcasts, guesting on others, and even going to karaoke to promote the franchise's first collaboration, Nakajima has been working actively for this franchise since the last quarter of 2018.
Facts
Hobbies: Cooking, drawing and driving
Cooking is one of Nakajima's favorite hobbies. He's mentioned several times that he used to cook for his younger siblings and actually likes doing it since then.
He's keen to learn and try new recipes. He showed a few of his skills during Ito Kent & Nakajima Yoshiki ga anata o muchunisaseru DVD (2017) when he had to help his helper (Kento Ito) save the ruined rice or cook other dishes out of the ingredients that were given to them.
On Gakuto Kajiwara's "Gaku tomo Channel" he showcased once more his skills.
He also mentioned that since he was young he's liked to draw.
His skills are good to the point that he can observe a picture for a couple of seconds and, in a rough sketch, grab the main points and have the drawing as close to the original. He's shown multiple times his skills, however, fans can watch those more frequently on Stand My Heroes' youtube show, Stachan.
Nakajima is also passionate about driving. He often goes on trips in his car, sometimes even with other seiyuu, and posts about it on his social media accounts (Twitter and Instagram).
Curly hair issues
Nakajima often complains about his naturally curly hair and how troublesome it is to maintain it.
Between mentioning that his hair makes him look like a Super Sayajin (Dragon Ball reference) when he wakes up, to the issues it is to straighten his hair and how long it takes, Nakajima has made it clear that his natural curly hair is troublesome.
In a special promotional video for INGRESS THE ANIMATION when asked about a superpower he wanted, he immediately said that he wished he had been born with straight hair.
Owns a piece of the moon
On a special IDOLMASTER SideM broadcast in 2018 (アイドルマスター SideM 理由あって、ニコ生!~Side Animation~ EX.), Nakajima got an unusual gift: a piece of the moon from a fan of the franchise.
Charm point: his neck
According to Nakajima himself, one of his favorite features is his neck.
He put emphasis on it once when hosting episode #27 of Stamai Channel in 2018, leading to his co-host Yoshitaka Yamaya completely ignoring him and proceeding with the show.
Nikukai member
According to fellow seiyuu and 81 Produce talent Soma Saito, Yoshiki Nakajima is the one often responsible for planning most of the outings for the Nikukai, a group of male seiyuu that usually hang out outside of work that consist of Yuma Uchida, Kaito Ishikawa, Soma Saito, Taku Yashiro, Yuichiro Umehara and Tasuku Hatanaka.
Nakajima mentioned in an interview with Numan that these are the seiyuu that he's closest with.
Seiyuu he admires
In an interview with Numan in 2018, Nakajima mentioned that he admires Mamoru Miyano. He mentioned that he respects him as a seiyuu, singer, and dancer. According to him, Miyano is a great entertainer that he looks up to.
Favorite singer
Nakajima mentioned on an IDOLMASTER SideM interview around 2016 – 2017 that he's a big fan of GACKT.
When paying closer attention to Nakajima's singing, especially when making use of a faux baritone skills, it is uncanny the similarity of his singing to GACKT's, the best example being – ironically – his stunning performance of GACKT's vanilla for Double Dare Covers.
He's also mentioned that he's a fan of the rock band BUMP OF CHICKEN.
---
With this, we wrap up another Seiyuu Digest. In the meantime, don't forget to check past Seiyuu Digests (some of those recently updated) – HERE.