Toshiki Masuda delivers an elegant performance in the mysterious and emotional 1st single "Midnight Dancer".
Title: Midnight Dancer
Label: TOY'S FACTORY
Release date: 26/01/2022
Genre: Latin-Jazz/Acoustic rock
Tracklist:
1 - Midnight Dancer
2 - ひび
Track by track analysis:
1 – Midnight Dancer
"Midnight Dancer" kicks off with pizzicato strings – cello – leading you into the elegant soundscape that is going to unfold in front of your eyes (and ears).
The warmth in this instrumental is serious and the intimate yet slightly mysterious vibe takes over in the verses.
The verses have a danceable Latin jazz sound, having a chaotic yet incredibly groovy vibe that is tasteful. Drums are played in a mix of jazz and pop style sounding almost like someone is chasing something or another while, at the same time, adding a danceable twist to the instrumental.
On top, the bassline cranks up the emotions while keeping the song grounded at all times. Guitars are funky although far from being the highlight in this song (surprisingly).
The piano work is off the charts in this song with little accents and beautiful runs in the background adding a layer of beauty to this song. Fully fleshing out that Latin Jazz sound come the trumpets, trombone, and saxophone, playfully adding more color to this song.
The chorus is extremely addictive and completely different from anything Toshiki Masuda has released before. The focus is put on having a good time – ultimately – as that mystery unravels in this close, intimate soundscape.
As such, Toshiki Masuda's performance is all about sounding as melodic as you could dream.
He put a lot of focus on his vibrato, complementing the bassy instrumental while sounding strangely alluring and classy (in equal amounts). This is a charming performance although far from being insanely technical. And it suits this song like a glove.
Strong opening to this single.
2 – ひび
Wrapping up this single is "Hibi", song that explores a dramatic acoustic rock ballad.
The tone is somber and melancholic, with the verses kicking off stripped down, with only an acoustic guitar leading the way, slowly being joined by slow-paced snary drums and a deep bassline.
An organ adds an old-school touch to this instrumental, arriving as an accent yet leaving quite the mark, being the element needed to help build up the tension in this track.
Emotions build up to the chorus, with the addition of beautiful piano melodies and strings signaling an increase of tension and thus, leading you to the emotional chorus.
The strings are delicate, going for those higher notes to add drama to the performance
And what is a ballad if it doesn't have a guitar solo, am I right? Well, "Hibi" does bring out a heartfelt, screaming guitar solo to the spotlight, being joined mid-way by Toshiki Masuda's heartwrenching performance.
Toshiki Masuda is in his element for this performance. He slowly trails through the emotive lyrics and does so with so much emotion in his voice that is gripping. As soon as he hooks you in, Masuda takes you through a nostalgic trip, putting your emotions to the test.
Once again do expect a lot of vibrato – a staple in his performances – and consistency as he raises and lowers his tone throughout the song however, and while this is just but a simple detail, his final long note, crystal clear, emotionally raw is what struck me as the most impressive. The climax of what is an engaging performance by Masuda.
---
Final considerations
If you've been following Toshiki Masuda's career as a solo artist so far, you'll know he's all about his rock sound and only on very specific occasions has he strayed away from that sound (to funk or jazz).
Well, in this single, Masuda got to experiment with a couple of new things.
A massive focus was put into sounding melodic and "Midnight Dancer" arrives as a danceable Latin-jazz tune that is all about its brass – which I absolutely love – and on having Toshiki Masuda tap further into his warm mid-toned baritone vocals, delivering an intimate, vibrato-filled performance that will make you swoon at times.
In a way this song strays away from Masuda's sound so far yet, at the same time, it doesn't. This sort of fusion rock, Latin-jazz-inspired sound is found in some albums by Porno Graffiti – a band that has heavily influenced Masuda's music so far.
So that's why in a way this song hasn't really strayed away that much from what you can say is Toshiki Masuda's "sound".
The b-side brings an acoustic rock ballad to the spotlight. While Toshiki Masuda has already tackled ballads before, he'd never released one that felt like this one: emotionally raw. Gentle. Warm. Unguarded. Melancholic.
"Hibi" may appear to be your generic acoustic rock ballad however it ends up being much more than that and that's mostly due to how its composition was handled to add a glimpse of hope in the bridge with a guitar solo that screams but of happiness in the middle of such melancholy and nostalgia.
While most people checking this single will be all over the title track, it is worth noting that "Hibi" is the closest to the sound that Masuda has in his solo career, it is his "roots" and easily the song in this single in which he sounds the most natural in (not to say that he didn't sound in "Midnight Dancer" but the nuance in comfort on both performances is noticeable to trained ears).
Once again it is nice to hear Toshiki Masuda tapping into his gentle, warm baritone range and not force things. He does have a unique tenderness to his performances that touches the listener and leaves a mark. At least, I feel like he does have that quality to his voice and his performances reflect that.
Further embracing his vibrato, blasting it to increase the drama in "Hibi" or to add a bit of allure to "Midnight Dancer" added depth to his performances.
And if you're not that big on vibrato, don't worry, he's not a powerful vibrato singer like Makoto Furukawa or even Kenji Nojima, Masuda's vibrato is really sweet and even fickle at times (the latter just in the emotions it carries, not the quality of the vibrato itself, that one is quite solid).
All in all, "Midnight Dancer" may initially sound like a massive change in tone and sound for Toshiki Masuda but it is ultimately him exploring the limits of his rock sound. The limits of his roots as an artist and rock music fan.
At its core, nothing has changed in Toshiki Masuda's sound. It is still familiar, comfortable, gentle and emotional at all times. Simplicity is still key in leaving an impression and Masuda still keeps on delivering performances that instantly grab your attention.
"Midnight Dancer" is a fantastic entry in Toshiki Masuda's repertoire.
---
"Midnight Dancer" is available for purchase at CDJAPAN.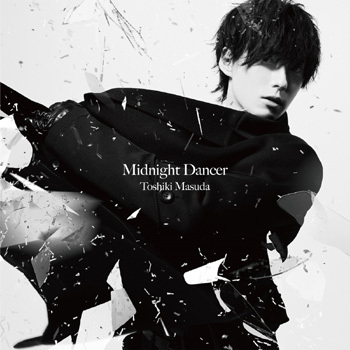 Toshiki Masuda
Toshiki Masuda
Toshiki Masuda
---
"Midnight Dancer" is available for streaming on Spotify.
---
Do not support piracy. Remember to support Toshiki Masuda by streaming via official outlets.