Shunichi Toki is all about a funky, playful sound that will put a smile on your face in "Magokoro ni Kanade".
Title: 真心に奏
Release date: 17/11/2021
Label: PONY CANYON
Genre: Funk-pop
Tracklist:
1 - 真心に奏
2 - all well and good
3 - 真心に奏(Instrumental)
4 - all well and good (Instrumental) 
Track by track analysis:
1 – 真心に奏
Funky guitar riffs, perky piano, and organ melodies work together strings and snary drums to create the core old-school sound to "Magokoro ni Kanade".
On top of those elements comes a punchy bassline, adding a lot of groove to this tune.
The verses have a playful edge, being bouncy almost like you're watching someone happily skipping their way on a street. You can feel the happiness.
The chorus is simple, carrying over from the verses however the piano and strings work in this section is quite intense, a bit more than I would have enjoyed though.
On the bridge, listeners will come across a nice section in which, more than the instrumental shining, it is Shunichi Toki that shines with steady, powerful long notes.
Throughout the song, Toki spreads good vibes, delivering his performance with a mix of warm mid-tones, technical falsetto, and a pinch of vibrato on top.
Rock solid opening for this single, made to put a smile on your face.
2 – all well and good
Wrapping up this release is "all well and good", song that brings forward a summer-inspired funky sound that you'll want to bask in.
The tone is loungy, the instrumental is elegant at all times, nodding to 80s citypop but giving it a modern twist.
The verses bring wah-wah guitars to the spotlight while keeping things simple, with a simple beat and bassline leading the way.
As awesome as the instrumental is, your focus should be on Shunichi Toki's fancy performance instead, believe me. He went for a charismatic performance that capitalizes on his technique and consistency, with both his pitch vocals and main vocal track is a delight to listen to.
You will find a rhodes piano solo on top of a simple, high-pitched synth melody. This was unexpected but such a nice touch to this song.
I love the mapping for the drums in this song. It's almost like you are on drums, playing for Shunichi Toki, watching smiling on stage for this groovy performance.
So, if you're listening to this song with ear/headphones, you'll be in for a treat because the sound mapping for this track is really awesome.
---
Final considerations
Shunichi Toki brings good vibes with "Magokoro ni Kanade".
After a set of releases that weren't really this perky, it is nice to have Toki back to exploring a playful sound while keeping it much in line with what suits his vocals and, of course, never sounding cheesy.
As a result, everything about this single is pure fun.
The title track, even if a bit overwhelming at times – the chorus being particularly intense with the strings being a bit touch much in that part -, is still a blast to listen to and will get into your head.
And its b-side "all well and good" is the perfect complement, standing out as the best song in this single with its addictive and bouncy funk sound.
In both songs, listeners can expect Shunichi Toki to showcase his control and reliability as a singer. There are no misses, no suboptimal performances.
Each performance of his precise and technical, there is a lot of emotion going on – something he absolutely nails with every performance of his, as his singing is quite expressive – and he ends up bringing vibrato and even a bit of head voice to his performances as an extra treat.
When "Magokoro ni Kanade" wraps up, you're left with a massive grin on your face.
It is that good of a single and certainly one you'll want to play whenever you're feeling down and need someone to cheer you up.
---
"Magokoro ni Kanade" is available for purchase at CDJAPAN.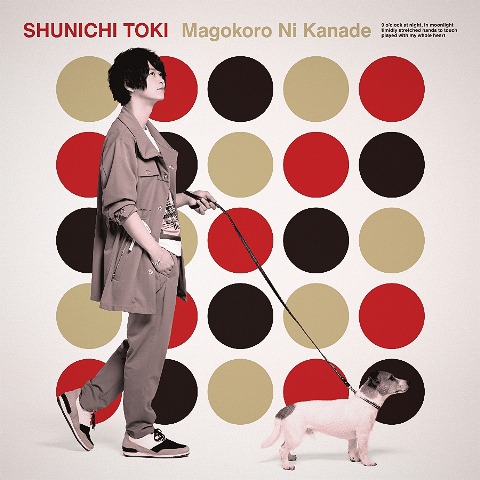 Shunichi Toki
Shunichi Toki
Shunichi Toki
---
"Magokoro ni Kanade" is available for streaming on Spotify.
---
Do not support piracy. Remember to support Shunichi Toki by streaming via official outlets.