Ruka Nadumi's shines in with his mix of rock and eurobeat in "morganite×peridot".
Title: 名積ルカ-morganite×peridot-
Label: MOVIC
Release date: 27/03/2020
Genre: Electro-Rock
Tracklist:
1 - ドラマ「そうだ、舞台を観にいこう」
2 - ドラマ「いつか」 
3 - In the World(CV:Keisuke Komoto) 
4 - Heartbeat(CV:Keisuke Komoto & Shun Horie) 
5 - In the World -off vocal- 
6 - Heartbeat -off vocal-
Track by track analysis:
3 – In the World
Shredding, overdriven guitar riffs make a grand opening for "In the World". The drums pick up the pacing and the dynamics change, leading the way into the first verse.
The focus on the drums is on bringing out a strong bass sound, with bass drum and toms adding a lot of power to this song.
The chorus is fast-paced and explosive, with the guitars going full-throttle alongside synths in the background.
Keisuke Koumoto delivers a comfortable performance riding on top of his mid-tones now, more than ever, consistent.
4 – Heartbeat
Wrapping up this CD is "Heartbeat", song with strong Eurobeat influences in its progressive beat, synth stabs and fast paced piano melodies.
Electric guitars add an edge to this danceable tune much in an early 00s J-pop fashion.
The chorus is simple, not changing much the dynamics from the verses, as a matter in fact the tempo is consistent and its intensity does not change.
Where you can notice change is in the vocals, with Keisuke Koumoto and Shun Horie changing key – to a higher one – in order to add more excitement to the chorus.
---
Final considerations
Ruka Nadumi's entry in the 2nd bi-color series brought to the spotlight rock and 00s Eurobeat pop.
On a first listen this is quite the contrasting pair of music genres and, indeed, "In the World" and "Heartbeat" are polarizing songs showcasing different charms for Nadumi Ruka as well as Keisuke Koumoto's improving singing skills.
It's hard to pick a song that stands out the most. The shredding rock "In the World" is an awesome greeting card at the same time that the intense, almost euphoric beat in "Hearbeat" is enjoyable for a fair number of times.
Keisuke Koumoto sounded really good in this CD, having improved his singing skills since his last outing in the VAZZROCK franchise. Here he was confident, delivering a consistent set of performances that make the songs all the more enjoyable to listen to.
All in all, "-morganite×peridot-" is a strong entry in the 2nd bi-color series and the best entry by Ruka Nadumi in the franchise.
---
Nadumi Ruka-morganite×peridot- is available for purchase at CDJAPAN.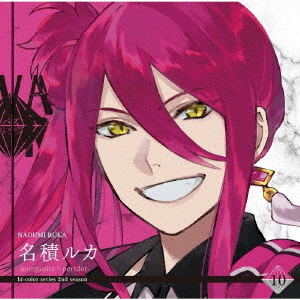 Ruka Nazumi (Keisuke Komoto) & Yuma Shirase (Shun Horie)