The change of seasons' decadent vibe is perfectly captured on pioniX's Autumn-themed song "Henshin".
infinit0 consists of Rei Sukigawa (CV: Hinata Tadokoro) and Roa Mikaze (CV: Mizuki Chiba). The duo is signed with the fictional label, Tsukipro.
TOBARI is a rock duo comprised of Shio Amagi (CV: Yoshiki Nakajima) and Kuroi Hashiba (CV: Tetsuei Sumiya). The duo is signed to the fictional label, SUNPRO (home to the pop-rock duo, ZIX).
As pioniX, they participated in the Neo X Lied series in 2020 – early 2021, counting with 4 outstanding entries. In 2021, the group is back to tackle the "Seasons" CD series.
---
Title: pioniX Seasons 天高し 
Release date: 26/11/2021
Label: Movic
Genre: Jazz-pop
Tracklist:
1 - 変身
2 - ドラマ「天高し」:前 
3 - ドラマ「天高し」:後 
4 - 変身 -off vocal-
Track analysis:
1- 変身
pioniX arrives with their Autumn-themed song "Henshin". Under the theme of "transforming", what happens to the instrumental is quite interesting.
The tempo is slow, the song is moody right off the bat. Autumn is all about that and this composition immediately captured that decadent vibe that comes with the change of the seasons from the fun in the summer to the rainy days of Autumn. The verses bring a simple, warm jazz sound that adds a unique elegance to this track.
The jazz piano, minimalistic atmospheric synths, punchy bassline, and electric guitars take over the chorus and what follows is one of the most unique choruses in pioniX's songs.
And that guitar solo in the bridge? Even if heavily processed (gated and quite possibly overdriven behind all that) it rocked and added the final strokes of paint to this melancholic soundscape. It's perfect.
I'm particularly fond of the intro to this song with the long, flourish-filled vocals. That part ends up repeating itself after the 1st chorus and it simply takes the song a step further from the group's previous songs. The harmonies in the chorus also stand out for me as you can – clearly – listen to each member while they are performing in harmony.
And then I believe it is worth mentioning that this song, although with 4 vocals, Tetsuei Sumiya absolutely took over this song, with him fully embracing that decadence and going for a performance that is in-between slightly alluring – quite honeyed, I must add – and emotional – yet contained. This was the most control and consistency I've heard from him.
Tadokoro embraces his lower range while Nakajima brings his vibrato to the spotlight and Chiba lowers a bit his tone to match the emotional yet cool performance.
All in all, "Henshin" captures that decadent feeling that comes with the change of seasons and does so in a subtle way, with an instrumental that isn't flashy and vocals that are careful and emotional at all times.
---
pioniX Seasons "Ten Takashi" is available for purchase at CDJAPAN.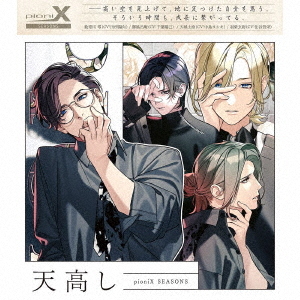 pioniX
---
"Henshin" (Transform) is available for streaming on Spotify.
---
Do not support piracy. Remember to support pioniX by streaming via official outlets.