"BRIGHT" looks at the past with fondness and as it faces forward, looking at the future with a hopeful and inspiring tone.
Title: ぶらいと 
Release date: 24/11/2021
Label: Lantis
Genre: Rock/Jazz
Tracklist:
1 - いとの予感 (Instrumental)
2 - 開け!
3 - くものいと
4 - HIDE-AND-SEEK
5 - brand new
6 - リズム
7 - 月のうた
8 - 太陽のうた
9 - My Life Summer Life
10 - turn on a radio
11 - また会える
12 - ねがいのいと
13 - 先へ
Track by track analysis:
1 – いとの予感 (Instrumental)
Dramatic cellos lead the way in "Ito no yokan" almost in a staccato fashion, with each hit setting the tone for this album. Slowly, a harpsichord joins in, giving this instrumental track a slightly theatrical and refined edge. Distant guitars and emotional strings add the final details to this song.
2 – 開け!
"Ake!" doesn't carry over from that elegance, instead going the epic, stadium rock sound that Suzumura is best known for. The excitement is palpable in the intro chants, carrying over to the fast-paced drums, bright piano melodies, and intense guitar melodies that grace the listener in the verses.
When the chorus kicks off, you won't even notice the song had transitioned to that part. It is one of the smoothest transitions I've found so far in seiyuu music, with the song naturally and subtly cranking up the tension. By the time the chants are back, the chorus is already over.
The bridge hints at what could be an awesome guitar solo but it denies the satisfaction of listening to it, leaving just hints of what could have been.
As far as the performance goes, it's so good to have Kenichi Suzumura back with his powerful and emotional vocals, making you want to listen to more and more.
3 – くものいと
After an intense opening comes the jazzy "Kumo no Ito". The song takes you to the elegance and class in the instrumental intro and cranks up the dimly lit jazz bars vibes to a new maximum.
The bassline is massive, blasting in your ears alongside the bassy – and extremely technical – drums as the organ playfully paints the soundscape in the verses. The piano and strings add a layer of beauty to an otherwise surprisingly dark song.
Tension grows and when the chorus arrives, the drums change their dynamics, introducing more of a snary beat that almost completely changes the tone of this song.
The bridge goes dramatic and decadent, with Kenichi Suzumura's vocals impressing. From steady long notes to powerful vibrato sections and his trademark rock-solid mid-tones, Suzumura was set on making a big impression.
What follows is controlled chaos on the instrumental with guitars going on a solo as the piano goes wild on his brighter range.
Easily Suzumura's best song to date.
4 – HIDE-AND-SEEK
With an acoustic guitar leading the way, "HIDE-AND-SEEK" puts its main focus on Suzumura's vocal performance rather than on exquisite instrumental pieces.
Funky bass, playful brass with a country-rock touch on it provided by the acoustic guitars, the instrumental is rendered indispensable for more than half of the song.
When we reach the bridge we're presented with a rather peculiar guitar solo with loads of effects on it followed by a rhodes piano section where Suzumura's vocals shine.
This is yet another feel-good song from him. Laidback instrumental, solid, relaxed vocal performance turning into a playful track.
5 – brand new
"brand new" brings back Suzumura's trademark alternative rock sound, letting go of his ballad sound that marked the last few releases.
This track kicks off with an unusual intro using a vocoder and ethereal guitar licks. With a powerful bassline at the core of the track, the instrumental feels whole and rich adding the heavily bass drum-oriented drums into the mix.
The electric and acoustic guitars build up momentum to the chorus, leading to an emotionally strong chorus delivered flawlessly by Suzumura. The bridge is mesmerizingly beautiful, leading to a strong, clean outro.
As a whole, this is yet another perfect track in his repertoire, a track to listen to countless times. A track that smells like Springsteen or The Killers "battle born" era.
6 – リズム
Playful and laidback, Rhythm brings to the spotlight a mature mix of pop with rock and jazz. The Song kicks off to the sound of claps, with those growing in intensity, leading the way to the verses in which the dynamics completely change.
Acoustic guitars and loungy piano melodies are at the core of the feel-good vibe you get from this song. The bridge features a double solo with the piano and electric guitar going for a really cool bout.
There are bits of organ, the bass line is groovy and steady and the drums flow in a rather lullabyish way, something that you don't often find in Suzumura's music.
The pacing for this track is comfortable, much in the tone of a track you'd listen to in a campfire trip. It is warm, playful, and sounds like something that could come up from a jam session.
The fact that this song, despite having so many elements, does not sound overproducer nor overwhelming, helps enhance that jam session vibe I was mentioning above.
All instruments know their place in their song, all have their time to shine and all fit well with each other.
It has been a while since I last heard Suzumura's music.
What is interesting about his music is that, although it's not really the type I'd go for to listen on a regular basis, it is the type of music that I know that, if I hit that play button, will put a smile on my face while being really bright and hopeful like Rhythm is.
Suzumura has a way with his music and also with his performances that make you always return to his music and have a really good time with it, it's as if you're listening to it for the very 1st time.
7 – 月のうた
"Tsuki no uta" is a slow-tempo ballad resorting to a combination of acoustic guitars, strings, minimal drums, harp, piano, and bass. The instrumental keeps things simple and sweet.
With such a mesmerizing instrumental it's safe to say that it leaves Suzumura with lots of room to showcase his vocals – be it with his vibrato or with his mid-to-low notes.
A perfect blend between a mild instrumental, more focused on bringing out the vocals. The vocals are more than up to the challenge, in the end turning this song into one of Suzumura's most interesting ballads.
8 – 太陽のうた
Looking at the reverse of the coin we find "Taiyo no Uta", a track that picks up everything that the previous track cast aside from what we call "the trademark Suzumura rock".
Electric guitars, splashy drums, strong bass, adding up strings and the piano are back with an extra punch. With everything set in motion, "Taiyo no Uta" shows us a completely different side in this single.
It's clearly livelier than the previous track, resorting to a strong instrumental and sharp melodic vocal. A track that impresses the complete 180 it gives to the single but still fails to impress any more than that.
9 – My Life Summer Life
Distant synths and funky guitar riffs take the lead in "My Life Summer Life", song made to make you sing (or even dance) along.
The verses have a simple rock sound on top of the electronica – mostly atmospheric synths – and some brass accents to flesh out those summer vibes.
The chorus cranks up the danceable vibe, bringing in brass in full blast, with the drums playing in a bossa nova – you can even say, Samba-inspired style – fashion, a lot of cowbell helping out in the percussion, all making this song quite enjoyable to listen to.
Listeners get a cool bridge to dance along to, as the brass takes the lead while the drums make sure you don't miss a beat.
And on top of all that excitement and good vibes comes Kenichi Suzumura with a performance overflowing with energy and a warm that will put a smile on your face.
10 – turn on a radio
Things tone down a bit for the 70s funk-inspired tune "turn on a radio". The guitars are funky, the bassline is punchy, adding a danceable vibe to this song alongside the bassy drums.
The verses tone down that intensity just enough for the song to still be incredibly groovy but now have an elegant twist, embracing a mature and fun sound that will catch your attention.
On the vocals, Kenichi Suzumura goes beyond his comfortable mid-tones to embrace a bit more his melodic self as a singer, bringing falsetto to the spotlight, going for riffing, and even adding fancy vibrato endings to his mid-tones.
This is the kind of song that brings forward those neon-lit nights and good vibes from the 70s and 80s funk and citypop. It's a sound I can't get tired of.
11 – また会える
"Mata Aeru" changes things around, with Suzumura going for an old-school R&B ballad sound. The verses are slow-paced, the instrumental just with a beautiful piano melody and a simple bass beat on top.
There is a gentleness and beauty in this song that arrives and sweeps you off your feet, wrapping you up in a warm, cozy blanket as Suzumura lullabies you. The bridge is an acappella, a beautiful one that showcases Kenichi Suzumura's prowess, bringing head voice, falsetto and even, later on, sweet R&B riffing.
12 – ねがいのいと
"Negai no ito" changes the tone ever so slightly, bringing in dark guitar riffs in the intro, slowly leading the way to the increasingly intense instrumental.
A delicate piano melody joins in, adding a contrasting layer of beauty and dreams to this song. When the chorus arrives, the soundscape opens and what follows is… well, half the chorus is dramatic but what awaits you is actually a hard-hitting rock tune.
Guitars go low and loud, shredding their way through the song as, in the background, minimalistic synths add depth to the soundscape. As a result of that dramatic change in tone for the song in the very first chorus, the 2nd chorus arrives as a completely different thing, being powerful and intense in its delivery, something that will pique the interest of rock fans.
The bridge brings forward dramatic strings, with those leading the way in a surprising turn of events. Things quiet down in preparation for the fun last chorus and outro.
When it comes to the performance, Kenichi Suzumura had to do everything on the vocal end. He started the song incredibly careful and technical and as the song changed its tone, embracing a rougher brand of rock, he shifted to performing fast, with a rawness at his core, a lot of power to his mid-tones while making sure those emotions in the lyrics were felt.
Outstanding performance and crafty little tune that really caught me off guard when it changed its tone.
13 – 先へ
Wrapping up this album is the dramatic "Saki e". Low piano melodies take over, slowly painting the soundscape in a beautiful color. Finger snaps join in, holding you by the hand as this song grows in intensity.
Delicate strings find their way in the instrumental, adding a layer of beauty and excitement for the future that this song thrives in.
The chorus is pretty simple, with strings taking the spotlight as the drums raise the tension and the guitars take on a background role. However do expect the guitars to give you something awesome in the bridge, with a brief overdriven solo opening the bottled emotions in the verses.
But there is even more to this song and what awaits you is something that, at the time I wrote this review, is still making goosebumps all over me: a choir joins in, alongside the now intense strings, and the big wind instruments section and powerful bass-driven drums. On top, Kenichi Suzumura sings his heart out to deliver one of what is now a memorable performance.
Pure brilliance.
---
Final considerations
There is no going wrong with Kenichi Suzumura. Really. He's that singer you can always count on because, day in, day out, he will deliver his utmost best.
"BRIGHT" arrives 7 and a half years since his last album. While not much has changed about Kenichi Suzumura's sound as a solo artist – he's still the awesome pop-rock artist I've been a fan of since 2010 -, there is maturity as an artist that will certainly strike you as different.
That is most noticeable in how his pop-rock sound now has iterations to Jazz or even funk, adding a bit more variety and excitement to his performances. Or even the themes Suzumura explores in his lyrics (he wrote, as always, the lyrics to all his songs) have now changed.
He's a bit more serious in what he talks about, there is a lot of hope and good feelings in his songs. In a way, his lyrics now are a result of growing old, of experiencing new things but also seeing others experience those same things.
When it comes to the music itself, this album brought back a couple of "oldies" releases in the last 7 years but that had yet to make it into an album.
"HIDE-AND-SEEK" and "brand new" have a timeless alternative rock sound, with some influences of country rock in there, "Tsuki no Uta" and "Taiyo no Uta" keep on being two interesting halves of Suzumura's music spectrum and even if far from being his best songs, were awesome to revisit and find in this album.
However, where this album shines the most is in songs like "Ake!", "Kumo no Ito", "Negai no ito", and "Saki e". The emotions overflowing each of these songs, the little details in the composition, the surprises with songs that trick you into thinking it'll be a specific music genre and then go 180 in their sound, the way Suzumura performs those.
I'm quite impressed – yet at the same time, I was expecting something like this from him – with what Kenichi Suzumura pulled off with this album.
While this album may go unnoticed to most people, it is quite easily one of the hidden gems of 2021. This is Kenichi Suzumura's best album release to date.
---
"BRIGHT" is available for purchase at CDJAPAN.
Kenichi Suzumura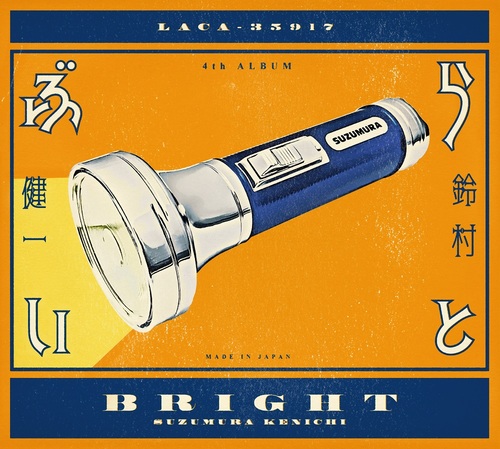 Kenichi Suzumura
---
"BRIGHT" is available for streaming on Spotify.
---
Do not support piracy. Remember to support Kenichi Suzumura by streaming via official outlets.