The Hypnosis Mic franchise wraps up another Division Rap Battle series "CROSS A LINE", album overflowing with stylish and groovy hip-hop tunes.
Title: CROSS A LINE
Label: EVIL LINE RECORDS
Release date: 15/06/2022
Genre: Hip-hop
Tracklist:
DISC 1
1 - CROSS A LINE (Division All Stars)
2 - ヒプノシスマイク -Division Rap Battle- + (Division All Stars)
3 - IKEBUKURO WEST BLOCK PARTY (Buster Bros!!!)
4 - Scarface (MAD TRIGGER CREW)
5 - とりま Get on the floor (Fling Posse)
6 - シンクロ・シティ (Matenro)
7 - 縁 -ENISHI- (Dotsuitare Hompo)
8 - でらすげぇ宴 (Bad Ass Temple)
9 - ヒプノシスマイク -Division Battle Anthem- + (Division All Stars)
10 - ヒプノシスマイク -Glory or Dust- (Division All Stars)
11 - Hoodstar + (Division All Stars)
12 - SUMMIT OF DIVISIONS (Division All Stars)
DISC 2 (limited edition only)
1 - Survival of the Illest + (Division All Stars)
2 - Nausa de Zuiqu (Ichiro & Samatoki)
3 - BB's City (Jiro & Saburo)
4 - Wrap&Rap ~3分バイブスクッキング~ (Hifumi & Doppo)
5 - LESSON (Jakurai & Ramuda)
6 - Private Time (Jyuto & Rio)
7 - Once Upon a Time in Shibuya (Gentaro & Dice)
8 - なにわ☆パラダイ酒 (Dotsuitare Hompo)
9 - R.I.P. (Bad Ass Temple)
10 - Hang out! (Division All Stars)
DISC 3 (limited edition only)
Drama tracks [Mixed Up]
Track by track analysis (only regular edition reviewed):
1 – CROSS A LINE
Old-school synths welcome you to "CROSS A LINE", song that embraces a 90s-inspired hip-hop sound in which organ melodies, brass, and funky guitar riffs are kings.
Yes, despite the tentatively "aggressive" vibe of the title, this song is all about good vibes, and the more you get into it, the cooler and laidback the song sounds like.
The verses are all about a comfortable flow riding on a groovy bassline-driven sound and the chorus brings quite the fun dynamic to this song. Adding up to the rap is a fully harmony-driven melodic chorus featuring clean singing by all members.
As far as addictive, feel-good songs go in this franchise "CROSS A LINE" is up there with "SUMMIT OF DIVISIONS" as one of the best and easily one of the grooviest by Division All Stars.
2 – ヒプノシスマイク -Division Rap Battle- +
Now with the complete Division All Stars lineup, "Hypnosis Mic – Division Rap Battle -" has a different shine.
The groovy tune brings the original charms of all crews to the spotlight in a song that is as much a big fan of fast hi-hats as it is of synth stabs.
The verses have a main melody and beat that are common to all crews however there are always different elements that highlight the tone, vibe, or style of the crew performing in that specific moment.
The chorus brings all crews to the spotlight creating a powerful yet quite overwhelming section. If the original was already quite intense with 12 members, now with 18 members it gets insanely crowded, something that may throw off some people.
The biggest difference from the original version with the original 4 crews is the addition of Bad Ass Temple and Dotsuitare Hompo to this song. And both crews appear to completely change the rhythm and vibe to this song. With their unique style and sound, both crews add a new flavor to this song but seeing as both wrap up the song – leading up to the last chorus – there are a good 40 seconds in which you no longer recall which song you're listening to.
All in all, "Hypnosis Mic – Division Rap Battle -" gets a breath of fresh air but it still continues to be a song plagued with overcrowded vocals in needless unison parts.
3 – IKEBUKURO WEST BLOCK PARTY
Buster Bros!!! takes the stage with "IKEBUKURO WEST BLOCK PARTY", song that channels good vibes right from the start.
A groovy bassline and fancy synth lead the way to this addictive tune with an underlying fighting spirit to it. One thing that instantly clicked with me was the string stabs throughout the song giving a nostalgic 90s sound to this song.
That paired up with the rhodes piano melodies and brass made the instrumental shine a whole lot.
Not only is the main melody insanely addictive but the beat – while minimalistic – is bloody awesome. Everything about this instrumental is tasteful with verses being groovy at all times and the chorus raising the tension, inviting you to shout and sing along.
Expect both rapping and clean singing by all members in a performance that is as intense and assertive as it is melodic and passionate.
Fighting spirit and pride take over and lead the way for Buster Bros!!!'s "IKEBUKURO WEST BLOCK PARTY", song that is, easily, the best the crew has released so far.
4 – Scarface
MAD TRIGGER CREW embraces a fancy Latin-inspired sound for "Scarface".
Believe it or not, this song is all about its fusion between Latin Jazz and hip-hop, creating a danceable sound with plenty of trombone and piano melodies while having a powerful bassline in the background.
The verses are melodic with a jaunty piano melody leading the way, slowly welcoming a mid-tempo bass-driven beat and brass melodies.
Expect timbales to join in the percussion in this part, completing the Latin sound. And despite how fancy the verses sound, the focus is mainly on the vocals.
Take a step into the dancefloor as the chorus hits. The beat flourishes, an electric guitar goes all melodic and the brass and piano shine in what is an unusual display of good vibes and elegance from the – usually – aggressive MAD TRIGGER CREW.
Do expect both singing and rapping in this song, both executed to perfection. I'd say my only issue with this song is how Shinichiro Kamio gets a part fully muffled in the background, barely any spotlight on himself. I believe the song would have heavily benefitted from having his deep vocals clean and clear at center stage.
"Scarface" arrives with a jaunty and classy sound that focuses more and more on Yokohama's good vibes.
5 – とりま Get on the floor
Current Division Rap Battle champions Fling Posse follow with "Torima Get on the floor". The song welcomes you with a retro-style piano melody – emulating an organ – before turning into a bubbly, bass-driven tune.
The tempo is fast, the melodies are bubbly and the bassline is punchy at all times during the verses. Slowly, you start grooving to this song as more and more elements join in.
The additional piano melody that contrasts with the bassline and complements the main tune plus the guitars add a much-needed edge to a song that, otherwise would just be a bubbly pop tune.
The chorus stands out as the best part of this song, bringing in the best out of Fling Posse – their harmonies and vocal prowess when it comes to melodic parts. There is a serious focus on the high notes and those end up making this song quite unique.
For the melodies + high notes, Fling Posse counts on Soma Saito (as Gentaro) in that role, going crazy high on his vocal range during the chorus while bringing a unique faux baritone edge to his groovy melodies in the verses.
It is worth noting that Saito is performing this part in two different keys – thus, two different voice tracks in the chorus – performing the chorus both in head voice for the high notes and also coming forward with melodic mid-tones.
As it is, "Torima Get on the Floor" is a fancy bubbly pop tune that conducts itself in a really mature and fun way, perfectly capturing the laidback and free vibe of Fling Posse.
6 – シンクロ・シティ
Distorted guitar riffs, an atmospheric synth, and cinematic rain welcome you to the dreamy "Synchro City".
The rap is slow-paced and introspective in the verses, blending perfectly with the rhodes piano melody, acoustic guitar riffs, and simple bassy beat. Listening to "Synchro City" feels like experiencing a trippy yet strangely relaxing dream.
The routine, the bonds, and the backstories, all flow like a dream. All pass them by as if they are bystanders, walking without a destination, just taking the mood. It is haunting.
The Chorus is melodic with the guitars getting increasingly intense and passionate as the rap flow by Matenro's members feels like a lullaby.
Everything about this song is about taking you to a unique soundscape, and experiencing how dreamy, distant, and, in a way, empty is a night in Shinjuku.
You can feel the cold and emptiness in this performance, something that ends up staying with you even after the song has wrapped up.
Matenro once again impresses with its introspective rap style – that's when the crew shines the most – and nostalgic, emotional instrumentals.
7 – 縁 -ENISHI-
"ENISHI" brings a melodic sound led by a saxophone to the spotlight.
Dotsuitare Hompo embraces a ska sound for this tune, bringing forth tropical-inspired brass and piano melodies, playful guitar riffs, and a jazz-inspired beat. This is ska at its best.
The tempo is irregular and fun, the guitar stabs and bassline will have you jamming to this track in no time, moving to the good vibes.
The chorus puts all members singing along in the first moment, leaving the 2nd part of the chorus for Takaya Kuroda to take the lead and go for a melodic section.
Good vibes all around are met with Dotsuitare Hompo delivering a mixed performance in which rapping and clean singing coexist perfectly.
Dotsuitare Hompo has upgraded its playful sound to something more relaxing and with what you can call a "classic playful" tone by bringing in ska and its inherent good vibes.
8 – でらすげぇ宴
"Derasugee Utage" is all about big brassy stabs, a fat beat, and a jaunty piano melody, all creating a throwback 90s-inspired sound.
The verses are groovy, counting with a punchy bassline in the lead
When it comes to the chorus, you can for sure expect you'll be singing along to this one in no time. There's a lot of groove going on in this one. Although this is a brief chorus, it is quite the fun and catchy one with the piano and synth stabs leading the way.
On the vocal end, the song is not the most harmonious. The chorus is particularly unique in the way that no one is in harmony – intentionally or unintentionally – which makes it quite strange on a first listen.
As you listen closely, you notice that the mixing focused way too much on Hayama's vocals, completely putting in the far background both Takeuchi and Sakakihara's vocals. Would this song sound better with an evenly distributed focus on the vocals during the chorus? Yes.
There was potential for the chorus to sound truly good and it sort of went out of the window with that excessive focus on Hayama's vocals.
Other than this, Bad Ass Temple continues to showcase a unique sound that adds elements from traditional temple sounds with rockabilly and visual-kei while creating something completely different within the Hypnosis Mic franchise.
9 – ヒプノシスマイク -Division Battle Anthem- +
"Hypnosis Mic -Division Battle Anthem- +" brings aggressive guitar riffs and urgent synths to the spotlight, progressing with power and intensity.
By now this song is already considered a "classic" in the franchise however fans finally get compiled into a CD version with all 6 crews as Division All Stars.
The verses continue to be all about each member leaving a mark basically split into leaders, 2nd in command and 3rd members. That ends up creating interesting battles between members with similar vibes or, in some cases, extremely polarizing tones and vibes (not to mention rap flows).
With the addition of Bad Ass Temple and Dotsuitare Hompo to this track, fans get a couple of interesting trades of blows in the verses.
Although the chorus is still performed in unison – something that is quite common for Division All Stars' songs -, this time around the unison actually sounds tasteful and less crowded than expected.
10 – ヒプノシスマイク -Glory or Dust-
Dramatic strings open the hostilities with a riveting beat marching alongside it, setting an urgent, gritty, and intense vibe to "Hypnosis Mic – Glory or Dust –". Drones and brass help flesh out the battle tone in this song.
Strings soar in the chorus as all elements try to match the powerful vocals with a crescendo.
The song is constantly evolving in its composition. Starting off simple, with a stiffening vibe, a harpsichord joins the later part of the 1st verse, carrying over to the 2nd, heightening the dramatic tone in the song.
The 3rd verse starts off stripped down, with only the strings and beat leading the way, as the song progresses, an eerie choir paints the background.
The rap parts are split in the traditional Hypnosis Mic franchise style – leaders, 2nd in command, 3rd in command -, each group assigned to a battle in the 1st, 2nd, and 3rd verses respectively.
One by one, the members show their colors and stance in this battle, with some pretty interesting face-offs and unique performances found in the Joushi – Gentaro – Hifumi and Hitoya – Rio parts.
My only issue with this song lies in the fact that the chorus is stacked with vocals on top of an already pretty intense instrumental. As a result, the chorus sounds murky even if vocals are split to cover different parts of that section.
All in all, the dramatic, confrontational tone of "Hypnosis Mic – Glory or Dust –" is a nice change from previous songs by Division All Stars.
It counts with cool wordplays going in some of the individual performances and the instrumental is easily among the best the franchise has created.
If you always wanted an incisive hip-hop track performed by Division All Stars with a massive instrumental as their backdrop, this is the thing for you. Awesome entry in their repertoire.
11 – Hoodstar +
"Hoodstar +" brings out a jaunty piano melody, a punchy bassline alongside playful brass and funky guitar riffs.
This song is big on its groovy sound and contrasting tricky vocals and crafty rapping. For this song, each crew is taking turns instead of the sections being split into members within each crew.
With that being said, this sort of organization helps create a mood and showcases the bonds and skills of each crew. What you get is a set of 6 main performances that sound nothing alike.
Expect high notes to feature in the pre-verse/intermission sections, something that puts all tenors taking the lead and delivering a stunning performance.
Out of all crews, Matenro, Bad Ass Temple, and Dotsuitare Hompo appear to disrupt the flow with polarizing approaches to "Hoodstar +". Bad Ass Temple embraces the 80s with a slap bass leading the way in citypop fashion whereas Dotsuitare Hompo takes you to a traditional Japanese sound that is unexpectedly dark before bringing out the summer festival vibes.
All in all, in "Hoodstar +", fans get to experience the different charms of each crew with the new ones – BAT and DH – standing out more for how distinct their sound is.
12 – SUMMIT OF DIVISIONS
Wrapping up this release is none other than one of the grooviest songs in the Hypnosis Mic franchise and the best song performed by Division All Stars up until now.
"SUMMIT OF DIVISIONS" brings all the groove and style to the forefront with a bouncy beat and punchy bassline alongside funky guitar riffs and brass samples.
Each crew takes turns showcasing its unique flow and identity while the instrumental remains the same – something that doesn't happen for other Division All Stars songs. In this way, each crew has the challenge of shining through their performances only.
The chorus is as addictive as ever with its bassline pounding the way through the instrumental as Division All Stars' members perform in unison, one that is surprisingly tasteful and well done considering that there are 18 vocals performing at the same time. The balance in the mixing of the vocals is worth praising, vocals smoothly and swiftly enter and exit the stage avoiding crowding the chorus.
When this song wraps up you'll find yourself singing along to the chorus while shuffling to the groovy bassline.
---
Final considerations
The Hypnosis Mic franchise wraps up another Division Rap Battle series with a compilation album overflowing with stylish and groovy hip-hop tunes.
"CROSS A LINE" arrives with a set of new songs by all crews, the first appearances by Bad Ass Temple and Dotsuitare Hompo in this format of a compilation album, something that changed dynamics to some Division All Stars songs, as well as a drama track.
I've reviewed the regular edition only, which is to say, many of the special songs that were released with the manga were not reviewed.
Still, if you're trying to get into Hypnosis Mic and prefer to check the compilation albums "Enter the Hypnosis Microphone" and "CROSS A LINE", I can assure you that you will not be missing much by getting this version.
If you're into the story, it is certain you're missing out by not getting the limited edition but if music is your thing and you don't mind missing songs that were created exclusively as tie-ups for the manga adaptation, then you're pretty much okay with the regular version.
All new songs brought a lot of groove and good vibes to the spotlight, something I was not expecting. Even MAD TRIGGER CREW, which is a rough and aggressive crew, embraced a smoother, relaxing sound in the Latin-inspired "Scarface".
All this to say that you should put aside some preconceived ideas about the sound that each crew has as in this album there are some crews experimenting with their sound: MAD TRIGGER CREW with Latin-Jazz meets hip-hop, Dotsuitare Hompo with ska, and Bad Ass Temple with an aggressive brand of 90s hip-hop.
As far as best songs go… it's really hard to pinpoint just 1 song. Buster Bros!!!, MAD TRIGGER CREW, Fling Posse and Matenro were on top of their game delivering performances that will either have you dancing along or quietly appreciating the soundscapes.
When you wrap up listening to "CROSS A LINE", you'll be wanting more of this groovy, 90s-inspired sound that most crews have embraced as of late. I certainly know that I'm looking forward to more from all crews and seeing what each one will do with these influences taking into account that all crews have a unique sound/vibe associated with them.
All in all, "CROSS A LINE" is a good place for newcomers to start getting acquainted with the Hypnosis Microphone franchise and its 6 crews. The sound is distinct and the performances unique for each crew – which helps with telling everyone apart. For longtime fans, this is a treat in CD format including previously released songs – now, finally on physical version – as well as new songs by all crews that expand on the storylines going on for each one.
Solid album filled with addictive tunes betting a lot on a classic groovy sound that is infectious.
---
"CROSS A LINE" is available for purchase at CDJAPAN.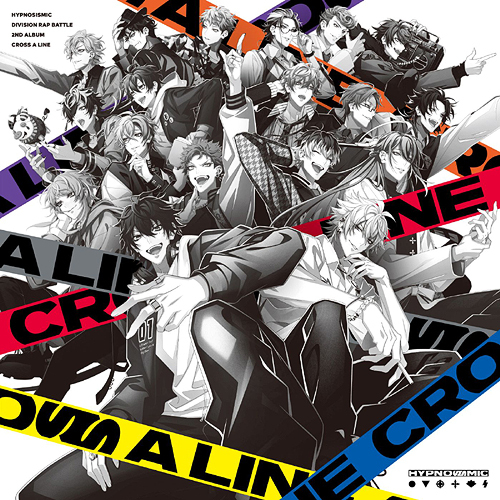 Hypnosismic-Division Rap Battle-
Hypnosismic-Division Rap Battle-
---
"CROSS A LINE" is available for streaming on Spotify.
---
Do not support piracy. Remember to support Hypnosis Mic by streaming via official outlets.