GRANRODEO neatly consolidates the best era in its career with the equal amounts of groovy and shredding rock album "Question".
Title: Question
Label: Lantis
Release date: 23/03/2022
Genre: Rock/Funk-rock/Orchestral-rock/Jazz
Tracklist:
1 - FAQ (Instrumental)
2 - Question Time
3 - 時計回りのトルク
4 - カミモホトケモ
5 - 恋はハチャメチャ
6 - Scorn
7 - 思い通りじゃなくても
8 - セツナの愛
9 - 情熱は覚えている
10 - Treasure Pleasure
11 - Give me your eyes
12 - BEFORE the DAWN
Track by track analysis:
1 – FAQ (Instrumental)
A slow-paced beat gives way to an emotion, bluesy guitar solo, and rhodes piano. The mood is loungy, with warmth and good vibes all around as "FAQ" leads you into this massive album.
2 – Question Time
Fast-paced, funky guitar riffs and an insanely groovy bassline carry over from "FAQ". The verses are a bundle of fun, with ride-driven drums – heavily inspired by jazz music – taking over.
The bass sound in this song is unreal. The bassline is relentless from the start but the bass drum is also a fantastic accent to that punchy, danceable rhythm being set right from the very first seconds into this song.
Although barely noticeable in the verses, do pay attention to those synth runs in the background, adding a playful twist to this song.
Things get crazy good when you arrive at this fancy chorus. All instruments crank up the tension, going louder and splashier. For a couple of seconds, the soundscape seems a bit crowded but, at the same time, all instruments are so clean in the mix that you can really pick them apart without an issue (making the "crowding" only apparent).
The 2nd verse slows down a little bit, channeling ska vibes even if just for a brief time, smoothly transitioning to the addictive jazz-rock sound that has welcomed you to this album.
The build-up to the guitar solo brings an aggressive edge to this song however do not expect the rest of the song to follow that sound. The guitar solo goes by as fast as it arrives, leaving a trail of fun and destruction in its wake.
On the vocal end, KISHOW brought his best for this performance, tapping quite frequently into his head voice, unleashing his powerful vibrato, and going for those high notes like it's the easiest thing ever. The poise and charisma shine in his performance, making this song shine.
3 – 時計回りのトルク
[As previously reviewed] Shredding guitar riffs and intense bassy drums lead the way for "Tokeimawari no Torque" however, things change around just a bit for the verses.
GRANRODEO had a lot of fun with this song, especially on the composition end.
While the song kicks off with a powerful rock sound, the first seconds into each verse had a tiny bit of jazz going on, quickly shifting to an aggressive brand of rock.
The chorus goes all out with the rock sound, with guitars shredding their way, groove-metal-inspired drums setting a cool tone for the song itself as KISHOW powers his way through the song.
Then, the second verse changes things around yet again. This time around extending that hint of jazz in the first verse to fully welcome jazz to the spotlight, then once again shifting for that core intense rock sound.
Basically, at this point, the band wants to have you guessing which crazy and unexpected thing they'll pull off next.
After yet another textbook groove-metal-inspired chorus, arrives the break. And this break brings jazz and blues to the spotlight.
There is a soulful blues-inspired guitar solo in this part, a treat for fans of GRANRODEO's quieter and even more emotional side. That guitar solo is accompanied by downtempo splashy drums that paint a warm and intimate soundscape for those brief seconds.
Then back to hard-hitting rock. Really, GRANRODEO had a blast compositing this song and you can feel it.
With such a "moody" song, it's to be expected that the vocals would be quite challenging yet, this is KISHOW I'm talking about so… there is barely any challenge for him as he powers his way through the rock parts with an intensity and precision that impress, then shifts to clean mid-to-high toned vocals for the jazz parts and even brings an unexpectedly growly screamo bit within the first half of the song, keeping things fresh on the vocal end.
When "Tokeimawari no Torque" wraps up, you're left wanting more, now aware of the sudden shifts in the mood but also knowledgeable of GRANRODEO's greatness as a versatile band that can pull off anything they want to.
4 – カミモホトケモ
[As previously reviewed] "Kami mo Hotokemo" brings in Chinese influences to the spotlight, with a beautiful melody on the erhu as well as a layer underneath it with guzheng.
The verses are pretty clean, with acoustic guitars leading the way as the drums set a comfortable mid-tempo to this track.
As tension rises to the pre-chorus, electric guitars join in and go low, adding a bit of depth to the instrumental.
Groovy drums take the lead in the chorus, making this song quite addictive and surprisingly danceable.
The guitar work in this song is massive, with the intermissions – between chorus and verses – putting the spotlight on the technical and emotional guitar riffs. The guitar screams in those sections and when the bridge arrives, a slow-paced yet insanely technical guitar solo takes the stage and dazzles.
On the vocal end, KISHOW goes for powerful open notes, some vibrato, and even plays around with crescendos – there's one really awesome leading up to the chorus – not to mention his trademark rock-solid mid-tones.
5 – 恋はハチャメチャ
Now, this is a song that you can easily say is inspired by Santana (e-ZUKA once again bringing awesome inspirations to GRANRODEO's songs). That Latin rock sound is distinctive, especially with those guitar riffs, characteristically "Santana".
"Koi wa hachamecha" brings forth a groovy, emotional instrumental in which its rich percussion shines. For those more attentive, the instrumental has guiro/reco-reco (I'm more inclined to say the dragging sound you have in this song is a reco-reco), conga, timbales, shaker, shekere, and bongos.
This deep percussion sound plays along with the drums and bassline that, must I remind you, are absolutely groovy for this track.
And yes, we have a timbales + piano section to enjoy in this song (otherwise this Santana-inspired song wouldn't feel complete) that brings out those Latin vibes – strong Cuban vibes in here –, bringing an extra bit of fun to this song.
The chorus is addictive and certainly danceable, with KISHOW going all out to channel his most elegant and groovy side for this performance.
Absolutely perfect.
6 – Scorn
[As previously reviewed] The sound of revving bikes introduces the listener to a classic rock sound that those big fans of 80s high-octane hardrock will instantly love.
The focus of this track is on its bass sound, with the drums and bass being particularly intense and groovy throughout the song.
Guitar riffs are playful and edgy in the good old days' fashion.
The guitar riffs aren't that complex in comparison with what you can find in Jonetsu wa Oboeteiru but it's this simplicity that makes the song incredibly fun to listen to.
Of course, when it comes to the guitar solo, e-ZUKA cranks up the difficulty and goes for a solo that plays around with the higher tones, including some dead notes in the mix, something that I absolutely love a good display of.
KISHOW goes for an impressive performance that has him tackling a lot of high notes in a sort of screaming fashion. His composure, confidence, and charisma shine in this song. Absolute masterclass of a hardrock track.
7 – 思い通りじゃなくても
This is as close to listening to GRANRODEO in the studio as you can get.
"Omoidouri janakute mo" is a song with a dirty, playful rock sound riding on a pounding beat and bouncy bassline.
There is a rawness to this recording, taking you to the center of it all, enjoying this open, loud, and fun rock sound. The verses go by quickly and the chorus is even shorter, with claps and tambourine joining in the percussion for this track.
This is something I believe will work incredibly well live, welcoming fans to participate in setting the rhythm for this groovy, careless tune.
On the vocal end, KISHOW is having a lot of fun with this performance. You can feel it in his lively approach to it.
All in all an entertaining performance however fits rather weirdly within this album.
8 – セツナの愛
[As previously reviewed] GRANRODEO kicks off this release with power. "Setsuna no Ai" brings to the table heavy guitar riffs on top of a stripped-down, bass-oriented sound. When GRANRODEO's fans think that the band has already experimented with everything, the band comes up with a new release and impresses.
The instrumental lends elements from hardrock, electronica, and pop and plays around with each genres' strengths to create what we just listened to.
"Setsuna no Ai" is an addictive song with an edgy, aggressive touch but also with an extremely easy listening twist, perfect for those that are not fans of the band's high throttle, heavier songs.
On the vocal end, KISHOW delivers a lush performance – his standard -, playing around with legato, crescendos, falsetto, and vibrato, adding nice details to this powerful song.
Additionally, the chants/pitch vocals are a nice touch to this song. Addictive and fresh, "Setsuna no Ai" is a must-listen.
9 – 情熱は覚えている
[As previously reviewed] GRANRODEO channel Indian vibes for Jonetsu wa Oboeteiru.
The song kicks off to the sound of a sitar and quickly evolves into an all-out groovy, fully dynamic toms-driven beat, making the best out of GRANRODEO's trademark rock sound.
The electric guitar and sitar share the spotlight, with the sitar's main melody serving as the guide for the whole song, adding a really unique taste to this track.
In this instrumental, you also have the contrast between the live session rock drums and what seems to be either a Tabla or a Mridangam (Indian fans, please correct me if I am wrong).
I am more inclined to say, especially after cross-referencing the percussion in this song, that a Tabla is responsible for giving all the groove we find in this track.
The guitar solo has quite a few interesting parts, escalating in tension and with a couple of sections to it, as e-ZUKA goes down the scale into a technical performance.
When it comes to the vocals, KISHOW adds a bit of theatricality to his vocals, something that is especially noticeable in the final pre-chorus but can be found a bit throughout the track.
Other than that, KISHOW adds intensity to his performance, playing around his range, delivering pretty solid low, mid, and high notes.
10 – Treasure Pleasure
[As previously reviewed] GRANRODEO makes a grand entrance with "Treasure Pleasure", a song that brings to the forefront bassy drums, funky guitar riffs, and fancy brass melodies.
There are strong funk and ska influences in this instrumental giving this song a danceable, fun, and elegant twist.
If you're the type of listener that loves a hearty, punchy bassline, "Treasure Pleasure" has that and more. It's funk town in here.
The verses are playful and upbeat, smoothly connecting with the groovy chorus in which the highlight is actually KISHOW's melodic head voice notes and riffing.
The tone in this song goes a lot in line with what the band has been doing – leaning more towards funk – and once again I say that this style and sound suits them really well.
11 – Give me your eyes
"Give me your eyes" brings to the table shredding guitar riffs, thunderous drums, punchy bassline, and yes, synths, taking you to an 80s inspired tune that refuses to slow down.
The verses are insanely technical, with the guitar work being over the top in here, with fast, tricky guitar riffs leading the way on top of double-bass drums and a bassline that adds so much depth to this song that is unreal.
The addition of synths – much in the style of what was customary for 80s metal bands – is such a nice touch to this song, ensuring that not everything you hear in this song is bassy, deep sounds. The color the synths add to the instrumental is essential to make this whole song shine.
That shredding guitar solo followed by a brief synth solo was unexpected but so, so good.
When you get to the last chorus and outro – in which KISHOW goes wild with his performance, bringing outstanding long notes in crescendo – you're already eager to listen to the song yet again.
This song is way too good.
12 – BEFORE the DAWN
[As previously reviewed] In an interesting change of tone, GRANRODEO brings a brass-led sound to the epic-rock tune "BEFORE the DAWN". The build-up in the intro – quite the long intro, 1 minute long – is easily one of the most magic ones in their repertoire.
The way the brass leads the way, slowly increasing the tension, the addition of timpani as the power percussion, dramatic strings, and delicate glockenspiel melodies hints at more than just a rock song with chamber music influences. There is much more to this song yet, if this is your first time listening to it, you're going to be blown away.
Leading up to the chorus, things quiet down and the stage is set for KISHOW's vocals to boom and sweep you off your feet.
When the chorus arrives, strings go wild, timpani adds an orchestral touch to the song, electric guitars go emotional and low and you're left with none other than an epic song.
After the 1st chorus – mind you, the only chorus in this song -, it will sound more like KISHOW is singing on top of a behemoth of a soundtrack song for a fantasy movie. It is grandiose, larger-than-life in its presentation. This is a song that, with KISHOW's vocals on top, takes itself to the next level, sounding incredibly emotional and engaging.
---
Final considerations
GRANRODEO brings a muscular, mature rock sound with their 9th album "Question".
Be ready to headbang and dance in equal measures with this album.
The band prepared a collection of songs, including previously released singles, that explores their versatility, bringing rock, jazz, ska, classic rock, and funk to the spotlight.
There are plenty of reasons to headbang, shout along, and dance like there is no tomorrow. GRANRODEO's music is that fun and engaging.
e-ZUKA's compositions continue to impress for how intricate and layered they are, while KISHOW's lyrics continuously make you smile, cry, and have mindless fun. Behind every composition and lyric, there is a lot of passion that I am sure fans will easily feel when listening to this album.
It is in the new songs that you find GRANRODEO's recent passion: jazz music.
This is a music genre that suits the versatile band and shines on several occasions in this album. Out of all songs with a jazz/jazz-rock sound, "Question" is really the grooviest and craziest.
"Tokeimawari no Torque" brings a couple of jazzy breaks completely breaking the rhythm of the song, something that was a first for the band. It still stands as one of the band's best songs.
That was bold but something that you could expect GRANRODEO would try at least to do once. And they absolutely nailed it.
World music continues to be something GRANRODEO loves to explore, having brought that to this album through the Chinese-inspired "Kami mo Hotokemo" and the Indian-inspired "Jounetsu wa Oboeteiru".
"Koi wa hachamecha" is the type of song I want to watch being played live with the full-on Latin ensemble on stage.
I'm a sucker for Santana's songs – if you don't know this band, I thoroughly welcome you to check them out as well as its guitarist, Carlos Santana – and to find a song that instantly reminded me of them, capturing their sound to perfection while giving it a GRANRODEO "twist" was so awesome to experience.
I believe this is going to be an underrated song – as most fans prefer the band's high-octane rock tunes – but do give this song a listen and experience what happens when a band is as awesome and versatile as GRANRODEO pays homage to a legendary Latin rock band such as Santana.
"Scorn" is the type of song that seems to come from Motley Crew but with a class and unique touch by GRANRODEO. It is high-throttle, relentless in its presentation, hyping you up from start to finish, low-key asking you to sing along to the chorus.
Although a weird transition from "Koi wa hachamecha", you and I are still well into the 80s rock scene, so do enjoy it fully.
"Omoidouri janakute mo" arrives as a surprise. This song ditches all the heavy post-production and just shows the fun in the studio, taking you to the middle of that laidback, careless fun.
While far from being a top song within this album – and fitting in a weird place within this album -, I feel like its unpolished sound is charming and worth checking out.
"Setsuna no Ai" continues to be a heavy hitter, "Treasure Pleasure" is massively underrated and with a jazz-rock sound that is as addictive as it is elegant.
"Give me your eyes" is the last new song on this CD, arriving later but it came to sweep everyone off their feet. Hard-hitting drums, merciless technical guitar riffs, a bassline as deep and intense as double-bass drums (!!!), and KISHOW's powerful emotional vocals and charisma shine.
This is exactly how I'd imagine GRANRODEO if they had been a band in the 80s. Way too awesome and with an interesting focus on adding color to it by bringing in the synths to the instrumental.
Wrapping up this album is "BEFORE the DAWN", song that shows how much of a behemoth GRANRODEO is a creative team. This is a grandiose piece, unique in their repertoire and no matter how many times I listen to it, I can't stop but be impressed with what they accomplished with an orchestra behind them.
I'll say it again, I'd love to see GRANRODEO either releasing a CD of orchestral arrangements of their songs or holding a special live show with an orchestra.
"Question" neatly consolidates a fantastic period in GRANRODEO's career.
The band's continuous growth after 15 years of activity continues to impress with them not being afraid to try new things, paying homage to the greats, sneaking in a couple of nods to legendary guitarists, showcasing their versatility as performers, lyricists, and composers.
If you want to get into GRANRODEO "Question" is the perfect entry point as this is the best point in their career – so far -, one overflowing with creativity, awesome tunes, memorable performances, and catchy choruses you'll want to sing, shout and scream along.
A must-listen for any rock music fan, the perfect entry for newcomers, and an album that will put a prideful smile on the face of longtime fans as the GRANRODEO never disappoints.
---
"Question" is available for purchase at CDJAPAN.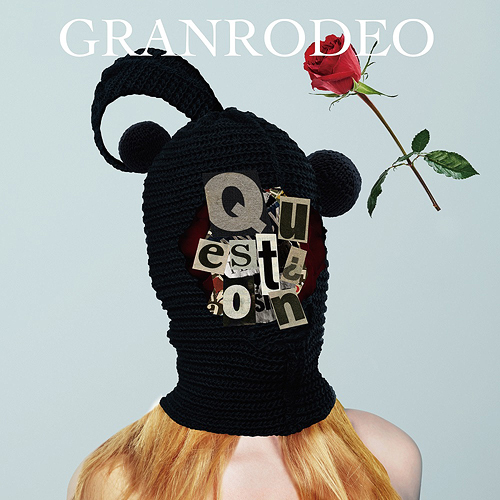 GRANRODEO
GRANRODEO
---
"Question" is available for streaming on Spotify.
---
Do not support piracy. Remember to support GRANRODEO by streaming via official outlets.