Daisuke Ono shows a renewed confidence as an artist in the compelling concept mini-album "STARGAZER".
Title: STARGAZER
Label: Lantis 
Release date: 14/10/2020
Genre: Funk/EDM/Acoustic/Rock
Tracklist:
1 - Hello
2 - ROCKET MAN (lyrics by Daisuke Ono)
3 - UNIVERSAL GRAVITY
4 - Firebird
5 - Deep & Holic
6 - cell "D" ~funky alien~
7 - ドラマティック
8 - Letter
9 - Dear
Track by track analysis (instrumentals are not rated):
1 – Hello [instrumental]
Acoustic guitars play in a dreamy soundscape stretching to infinity. Those echo in the background as screaming guitars play close to you. At the center, Daisuke Ono gives you details on the story unfolding.
Welcome to "Stargazer".
2 – ROCKET MAN
Dirty soaring synths and overdriven guitars lead the way for "ROCKET MAN", quickly evolving into a cool full band sound in which rock'n'roll is king.
The verses count with a reverberating bassline, snary drums, exciting guitar riffs, and brass. Background vocals create a sort of choir that helps hype up the listener.
The chorus is fun and quite brief, with the mix between brass and deep guitar riffs + bass working surprisingly well.
The bridge counts with an exciting guitar solo that will have you going.
Daisuke Ono's vocals are insanely good. You can tell that, from "DRAMATIC" to "Stargazer" he's kept working on his singing. His mid-tones are rock solid, whenever he needs to raise his tone, he goes there without issues. He sounds comfortable and confident and it reflects in this fun and energetic performance.
3 – UNIVERSAL GRAVITY
Soaring synths welcome you to an old-school funky delight of a song.
"UNIVERSAL GRAVITY" has an insanely fat bassline that will make you want to crank the volume just to feel it reverberating on your whole body.
That bassline slaps its way through the verses leaving a colorful soundscape in its wake. Funky guitar riffs and a double-bass drum beat flesh out the dreamy, summery vibe in this tune.
Everything about this song is addictive. Without noticing, you'll be shuffling or tapping your feet to it (I certainly am awkwardly shuffling as I write this).
The break has an ethereal piano break that I absolutely love. That together with the subtle guitar licks on your right hear ends being a treat for funk lovers.
On the vocal end, Daisuke Ono is absolutely in his element.
In "UNIVERSAL GRAVITY" his mid-tones are consistent, his energy is always on a good level, his emotional range shows with an exciting performance that will rub off on the listener, not to mention that his charisma makes it impossible to not want to hear more of him.
Well, this is certainly the song to have on repeat if you want to experience a good time in music form. Funk masterclass.
4 – Firebird
"Firebird" changes things around and goes the trap route, bringing dirty synths, a glitchy bassline, intense orchestral and brass hits.
Dark guitar riffs and synths paint the verses for this song. The soundscape is gritty, almost as if there is no hope however, little by little, that hope appears and the song evolves into a dreamy pre-chorus in which ethereal synths paint the soundscape.
The chorus is the climax of that hope, it's open and wide and the instrumental makes its best to illustrate that by introducing washy synths, adding delicate vibes and piano hits in the background and even harp melodies. In the middle of such a dark soundscape there's hope. There's a dream and nothing will stop you.
If you ask me, I believe this is quite the cinematic song. You can't help but feel invested in the story unfolding and be immersed in the setting the instrumental puts you in.
And when those chants hit you in the choir, you'll find yourself singing along, fist raised in the air.
On the vocal end, Daisuke Ono made sure you wanted to listen to more. His emotional range is wide and powerful for this song, with his performance in chorus making goosebumps (the vocal direction and progression in the chorus are epic) all over my skin. He's brought a bit of roughness to the verses, matching the dark and aggressive tone in that section.
When necessary, he goes soft and gently guides you through the story and dark instrumental.
Is this Daisuke Ono's best song to date? Quite possibly.
5 – Deep & Holic
Deep & Holic adds a layer of jazz-disco goodness to this mini-album. The beat is playful, riding on a Rhodes piano, a groovy bassline and brass add a unique flair to this tune that, with strings on top, is a tasteful take on disco and jazz.
The second verse introduces jazz drums, the last element needed to take the listener to the classy, jazz-bar soundscape created.
The outro introduces a bit of electronica mixed with a brief guitar solo that does not make any sense while listening to it. However, that outro will work perfectly as a dance break in a live setting.
Vocally, Ono delivers a consistent performance riding on his energetic mid-tones and improved falsetto to make this track a close to perfect intro.
6 – cell "D" ~funky alien~
Funk takes center stage for "cell "D" ~funky alien~" with a massive slap bass bassline and colorful brass melodies leading the way. This song has citypop influences, with the intro being reminiscent of those neon-filled 80s hits.
The verses follow a comfortable tempo that, with the help of funky guitar riffs and washy drums, gives off a "feel good" vibe. Daisuke Ono's singing in the verses has a really nice flair going, adding a layer of fun to this song.
The chorus capitalizes on the timeless quality of funk and brass takes the spotlight.
That instrumental repetition in the outro doesn't sound that well but since it only happens in the final 10 seconds of the song, it barely hinders my enjoyment of it.
Vocals-wise, Daisuke Ono brings fun to you. His performance is filled with energy, he's shining in the verses and his excitement can be felt in the chorus. He delivered quite an entertaining performance on this track.
7 – ドラマティック
Progressive synths, simple guitar riffs, and chants create an inspiring and motivational soundscape for Dramatic. The song builds up in a pretty interesting way, with the chants adding a layer of excitement to this track.
However, I felt like the way the song was crafted ended up highlighting something that – I hope – was not intentional: the abrupt cut in the chants midway through the verses, leaving in its wake a sudden silence in the instrumental.
It sounds odd, like something is missing from the track. You go from big dynamics to a tight, close-to-your-ears sound. It really sounds off and there's no way around this because it is put in front of most elements in the song.
Snary drums, a noticeable bass line, and delicate strings melodies join the song in the chorus, further adding up to the inspirational tone for this track.
When it comes to the vocals, Daisuke Ono delivers a fascinating performance that takes me back to his HERO days. The consistency and richness of his vocals shine in this song, even with a performance as simple as this one.
8 – Letter [INSTRUMENTAL]
"Letter" arrives as a melancholic intermission. Acoustic guitars are solemn, the electric guitar riffs are distorted, the atmosphere is stale. Daisuke Ono's tone carries a lot of weight.
The adventure is close to the end.
9 – Dear
Distant guitar riffs and a solemn acoustic guitar paint an empty soundscape.
You sit there, in an empty space as Daisuke Ono goes through the spoils of your adventure. The way OnoD goes through the lyrics seems like someone writing a letter to a loved one.
And that's when you notice that, although initially – apparently – a simplistic song, "Dear" evolves into an introspective exercise for you.
The verses are solemn and slow-paced. Acoustic guitars, a simple beat, and a longing saxophone add a bit of color to the soundscape you're in. It's not perfect but it still has some beauty to it.
OnoD's performance throughout this song carries a lot of weight. He trails through the verses in deliberately slow pacing, going over those in an introspective fashion yet never forgetting to add a lot of emotion to those.
By the time the song wraps up, you'll be feeling a certain warmth but, at the same time, emptiness. And that's what makes this song beautiful and a perfect send-off of sorts.
---
Final considerations
Daisuke Ono keeps on improving as a solo artist. His vocals are much smoother than before and he's starting to show some range beyond his trademark baritone range.
At the same time, OnoD keeps on cranking up his levels of awesome as a funk-disco artist. "UNIVERSAL GRAVITY" is one of his best songs to date, a bona fide hit with a 70s touch that makes it infectious.
The song pushes the boundaries of OnoD's funk sound by cranking up the bass to an unreal level in which it is insanely punchy and fat, having a life of its own within the song. If you're a sucker for good basslines, this song is that and more.
By now he's already a synonym of funk-disco music among seiyuu artists. He enjoys the genre and it shows in his performances time and time again.
On the other hand, OnoD keeps on adding new elements or trying new music genres as a solo artist.
"Firebird" is a first for him. As a solo artist he's never performed trap and much less a song as dirty as this one – on the instrumental side – and better yet: deliver a masterful performance that made me invested in the story from start to finish.
When the song hit its last chorus, I was already singing along to the chants in it. It's quite a powerful song.
The solemn tone in "Dear" will hit you like a truck, after the intermission of "Letter", it is a deep emotional blow to the listener. Those lyrics, the way OnoD performs them sound like a goodbye more than the end of a successful adventure. This is one of those songs that the more you listen, the more those feelings sink in.
Rock was brought back to the spotlight through "ROCKET MAN" and what a nice tune this track is! Bass and guitars were riveting, OnoD's vocals were insanely consistent and overflowing charisma.
"cell "D" ~funky alien~" and "Deep & Holic" added a little bit of funk to this release, much in the style that OnoD has used his fans to. Bouncy, classy, and mostly fun.
"DRAMATIC" ends up being the weakest song in this mini-album but it is still quite enjoyable to listen to – but it's not on the same level as other songs in this mini-album.
For a change, Daisuke Ono has a mini-album following a concept, with all songs having a connecting thread, telling us a story. There are intros and intermissions that tell you at which stage you are in your adventure and set the tone for what awaits you past those points.
I felt this to be such a compelling twist to OnoD's music. He's a performer first and foremost, and as a performer, he is a storyteller. "STARGAZER" is the embodiment of both sides of his artist self.
All in all, "STARGAZER" is a massive release. A stellar mini-album that shows an incredible growth as an artist by Daisuke Ono.
---
STARGAZER is available for purchase at CDJAPAN.
Daisuke Ono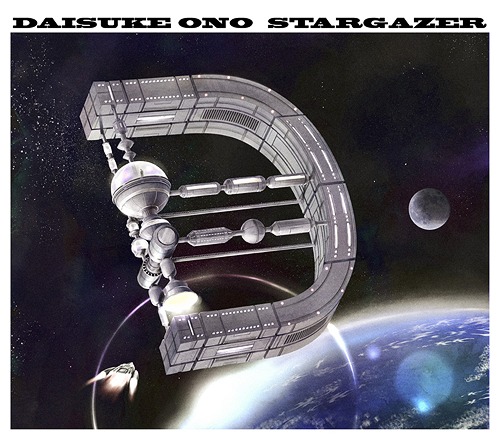 Daisuke Ono
---
STARGAZER is available for streaming on Spotify.
---
Do not support piracy. Remember to support Daisuke Ono's solo career by streaming via official outlets.