After a long hiatus, apple-polisher's trademark blend of rock, electronica and R&B is back with an intense "Neu-ERA".
apple-polisher consists of Shouta Aoi (vocals), Yuichiro Umehara, Yoshiki Nakajima and Takahiro Sakurai.
---
Title: Neu-ERA
Label: Honeybee Black
Release date: 17/02/2021
Genre: Electro-Rock
Tracklist:
1 - Neu-ERA
Track analysis:
1 – Neu-ERA
apple-polisher is back after 2 years and it seems that, no matter how much the DYNAMIC CHORD franchise has changed, the band remains essentially the same.
Muffled, processed vocals welcome fans to "Neu-ERA", song that unleashes the band's trademark blend of electronica with R&B and rock yet again.
The verses have an ethereal sound, with synths painting a dreamy soundscape while guitar riffs oscillate between bringing a funky, danceable vibe and an edge and intensity that are also a big part of the band's sound.
The bassline is punchy, driving the song forward but it is far from being at center stage like in previous songs in the band's repertoire. The drums are a blend of samples and live drums – synthetic ones -, an essential part of apple-polisher's danceable, loungy sound.
The verses are groovy – courtesy of funky guitar work, a tight beat, and bassline – while riding on a comfortable tempo. The build-up to the chorus adds more electronica elements to the track, raising the tension to the chorus that, in good apple-polisher fashion, has its guitar and drums go loud and emotional while Shouta Aoi delivers a powerful performance.
This song winks at "real sensation" and "beat goes on" with its focus on a more traditional rock guitar sound. However, in parts such as the chorus, you can hear those washy synths that are a big part of "HOLDING OUT".
While everything I've mentioned in this review makes it seem like "Neu-ERA" captures a lot of apple-polisher's old sound, there's something off in their sound.
It is really subtle – I've pinpointed it to be the overall quality of the song/production – but it is enough for me to not get the feeling that this is a song of theirs. But once again, as the song says "It's a new era" so it's best to embrace this minimal change of quality. Also, I may have been a bit picky here given how high-quality the band's music sounded up until 2018. I believe most people won't note the difference as it is really subtle.
On the vocal end, Shouta Aoi's edge as Narumi is back stronger than ever.
Ad-libs, vibrato, legato, and falsetto make his performance incredibly colorful and overflowing with emotion. He's smooth yet powerful in his delivery, something that adds up to the enjoyment you take from his performance.
All in all, "Neu-ERA" signals apple-polisher's comeback after really turbulent times for the DYNAMIC CHORD franchise.
The band is back with the same power, emotion, and quality with Shouta Aoi on vocals and the sound is still as danceable as ever with a rock edge on top. In comparison with other songs in their repertoire, this song falls a bit short in quality but other than that it's a triumphant comeback from this experimental band.
Glad to have apple-polisher back and I look forward to what they can pull off in this new chapter.
---
"Neu-ERA" is available for purchase at CDjapan.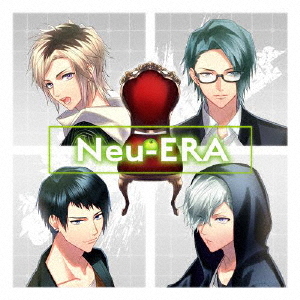 apple-polisher