Re:vale are back with the new single "NO DOUBT". Between carefully crafted Latin imbued instrumentals and simple, progressive dance songs that mix perfectly rock with dance elements, NO DOUBT is, hands down, a vibrant single, Re:vale's best.
Title: NO DOUBT
Label: Lantis
Release date: 

10/01/2018


Genre: J-Pop/Dance
Tracklist:
1. NO DOUBT
2. 太陽のEsperanza
3. NO DOUBT (Off Vocal)
4. 太陽のEsperanza (OFF VOCAL)
Track by track analysis:
1 – NO DOUBT 
Already well known to the fans, NO DOUBT is quite possibly one of the most exciting and well put together songs on Re:vale's repertoire. As soon as the song kicks off, the listener is enveloped in a simple danceable instrumental that blends dirty, washy synths, a mid-tempo hi-hat-driven beat and guitar riffs. This blend gives off a regal aura while keeping everything to a minimum, creating a classy minimalistic dance sound that anyone can enjoy. The verses are rather well paced, the chorus is catchy – one of the best from this unit -, and the bridge, although slightly off-putting when we first come into contact with it, sounds better with further listens. In the vocal department, Hoshi and Tachibana venture to melodic territory, delivering a rich, attention grabbing performance. 5/5
2. 太陽のEsperanza
Now, the new song on this release is 太陽のEsperanza. If the Spanish part of the title wasn't enough to predict what would await us for this song, as soon as we pressed play, any predictions we had were confirmed as we were presented with an thoroughly addictive latin influenced instrumental. The infectious beat courtesy of congas, timbales and bongos set a laidback danceable pace. At the same time, brass and acoustic guitars added depth to this tune but they are just the tip of the iceberg in terms of instruments featured on this rich instrumental, it's possible to find more elements and bits part in this piece but to catch on those, you either are trained to distinguish them, or you'll need several listens to notice them. The warmth associated with the instrumental invites the listener to enjoy it and dance along. On the vocal end, the performances weren't anything out of extraordinary – this kind of song didn't require anything like that – with their energy being crucial to make this song sound the real deal. 5/5
Final rating:
NO DOUBT is, hands down, Re:vale's best single to date. The duo has been showing some improvement over the past couple of years, and we can tell that by just comparing their first ever released songs with the ones on this release. We can't shake off that regal and classy vibe we get from Re:vale after listening to this release.
NO DOUBT – the song – is already one song that fans hold dear since it was first released/made available. Not only is the song unique in their repertoire, but it's also completely different from everything else being released within the IDOLiSH7 franchise. Dance music crafted properly is something we enjoy more than overcrowded desperate attempts to impress the listener with a whole lot of flair and machinations (way too common in 2.5D idol music). Less is more, and it works well for Re:vale.
太陽のEsperanza impressed with its danceable sound and Latin warmth and vibrancy. This is not the first time Re:vale have incorporated Latin instrumentalization but this is certainly the first time it worked out perfectly well for them. The song was exciting and filled with life. 太陽のEsperanza is a song made to make you move and enjoy it, as simple as that.
Vocally, Tachibana and Hoshi have now found common ground, at least, sort of. Both seem to have found a balance in their performances with Hoshi showcasing more control over his vocals than he initially had, however. there are still some instances in which he sounds like he's forcing his tone, which doesn't sound that good in the end product. Tachibana doesn't need to carry the duo on his back anymore – even if, at times, he too wasn't as reliable as he should be in the past -, now that Hoshi is starting to turn into a reliable vocalist. The unit keeps steadily growing in the vocal department which is great news.
All in all, Re:vale's vibrant and classy NO DOUBT is the perfect release to kick off 2018 with.
"NO DOUBT" is available for purchase on CDJAPAN for all overseas fans.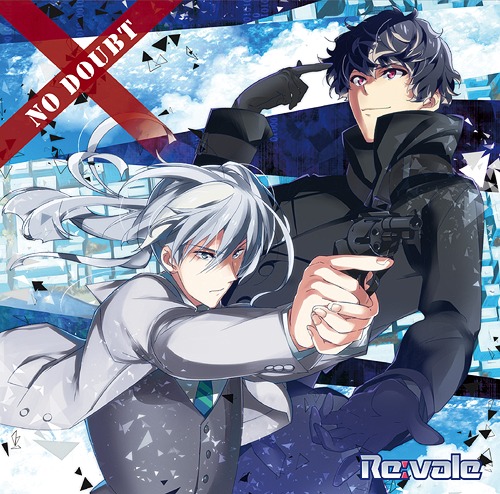 Re:vale