Uta no Prince-sama's power unit QUARTET NIGHT made their comeback in December. Showtaro Morikubo, Tatsuhisa Suzuki, Tomoaki Maeno and Shouta Aoi presented us a single with lack of balance between tracks, regardless they still stand as the best group within the Utapri unverse.
Title: God's S.T.A.R.
Release date: 21/12/2016
Label: Broccoli
Genre: J-Pop

Tracklist:
1 - God's S.T.A.R.
2 – KIZUNA
Track by track analysis:
1 – God's S.T.A.R.
Already known to all the fans that have watched this past Utapri season, God's S.T.A.R is a grand scale song in which synths mix with a funky bassline, melodic piano parts and simple synthetic drums. Kicking it off powerfully, this song is full of energy and excitement – mostly provided by the hyped chorus -, the verses are rather calm in comparison with the full throttle chorus, serving as the perfect stage for these four power vocals. Vocally this group covers almost every tone and scale possible. Aoi is in charge of the higher notes, occasionally making good use of his vibrato and falsetto; Tomoaki showcases his incredibly low vocals, covering a major part of the ground alongside Suzuki; Morikubo's versatility allows him to either support the higher belting as well as the lower with ease, and Suzuki goes all out with his mid-tones, lending his natural vibrato to the track. We dare to say that this track is quite possibly one of the best QUARTET NIGHT has sang as a group in the last couple of years. 5/5
2 – KIZUNA
After the title track, KIZUNA falls a bit short in our opinion. The major electronic elements – synths, pads and the sort -, have been toned down to make way for a more "listener friendly" experience. While this instrumental piece doesn't overwhelm the listener as much as the title track did in its early stages, KIZUNA lacks any kind of excitement or power in comparison. The chorus is bland and the verses lack anything vocally spectacular. We're not saying that the group is singing badly, only that their full potential can't be seen on this one. This is a track that could still fit this "pretty pop" with the help of a viola section or a funky bass solo but we got none. 3.5/5
Final rating: 
Despite the fact that QUARTET NIGHT have a fantastic lineup with experienced singers, sadly this group tends to lose their momentum incredibly fast. That usually happens as soon as the instrumentals kick off. There's no balance with this unit. Either we have too much synthesizers taking part on a song or we don't have them at all and all energy vanishes with them.
We need to add that, with a group as vocally experienced as this one, it's a shame we can't be graced with power ballads or slow jams, something that would fit with the instruments related to each of the characters they portray. Having barely no cello on their tracks, no maracas (not that we complain about its absence), and a simple bass (when its focus should be on that funky slap bass), is a shame. Despite all this, we were positively impressed with the title track which already says something about this group – even in the middle of the lack of inspiration Utapri's songs have been facing in the last couple of years, they still managed to make something exciting without being over-the-top cheesy.
The new single is already available for pre-order on CDJAPAN for all overseas fans.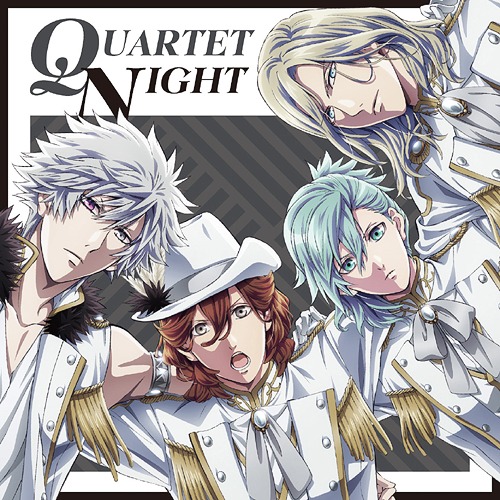 QUARTET NIGHT