NOISE NOVA show off the quality in their experienced lineup and ethereal dance sound in "True Place".
PERFECTION NOISE is the name of the newest franchise by TEAM Entertainment – creators behind the popular DIG-ROCK franchise. It is part of the recently announced new TEAM Entertainment sub-label, Spica.
PERFECTION NOISE so far counts with one group in its roster, NOISE NOVA.
To get to know more about this project, the group, its lineup and upcoming releases, head over to the PERFECTION NOISE's introductory article here at The Hand That Feeds HQ.
---
Title: PERFECTION NOISE Episode.0
Label: Spica / TEAM Entertainment Inc. 
Release date: 04/11/2020
Genre: EDM / Dance
Tracklist:
1 – NOISE NOVA
2 – はじまった共同生活
3 – 秋人と千智
4 – 成海と瀬那
5 – 影の努力
6 – それぞれの思い
7 – ユニットとしての絆
8 – True Place (NOISE NOVA debut song)
Track analysis:
8 – True Place
NOISE NOVA's debut song, True Place, embraces EDM and blends pop, R&B, and hip-hop in it, giving the song an interesting twist with the addition of their double centers, Shoya Chiba and Soma Saito.
The soundscape in True Place is airy and ethereal, with a dreamy piano melody leading the way, atmospheric synths creating a vast soundscape that envelops the listener.
The beat is infectious although slow-paced, it gives a unique, danceable touch to the track. In the verses, the triplets create an urban pop vibe that blends perfectly with the song.
The bass is deep and pulses throughout the song, enhancing the beat whereas electric guitars add a fancy twist to the song, channeling strong summer vibes. Those guitar accents make this song sound more than your regular EDM-meets-Pop track.
On a first listen, something that stands out a lot to me is how weirdly mixed is the song in the chorus.
The vocals of the centers are, of course, paned to each of your speakers (or each side of your headphones) but, due to that, when the chorus hits, they are almost suffocated by the background and pitch vocals that take a lot of the spotlight, more than you'd normally add if you wanted the centers to standout.
The 2nd chorus is actually a bit easier to digest, and the only thing that was done was removing 1 of the synths playing in the background.
The 1st time you listen to the chorus, it will be quite intense and overwhelming. Fortunately, it doesn't carry over to the 2nd and 3rd chorus but is still quite the surprise on a first listen.
On the vocal end, Shoya Chiba and Soma Saito are kings of their own castle.
Shoya Chiba got the biggest share of clean singing parts whereas Soma Saito got a solid mix of rap with clean singing that, at times, makes him stand out a bit more as his performance flows from rap to singing parts and singing to rap parts pretty seamlessly.
The contrast between Chiba's lower, nasal-y vocals and Saito's high, clear vocals works like a charm for this group, with both adding a unique touch with their quirks and quality as experienced singer-songwriters.
This is something that few will pay attention to but, while not required of seiyuu, I deeply appreciate when the English parts are actually clear and clean with a pronunciation that doesn't make you go "Hmm?".
Soma Saito is that member for NOISE NOVA.
His English parts are clean and clear and flowing seamlessly between languages which is yet another commendable point.
But let's not forget about the sub-vocal and sub-rapper for this group.
Although barely in the spotlight and with very few parts, Ryohei Kimura and resident sub-rapper Kaito Ishikawa, added a unique flavor to this track.
They are responsible for most of the background vocals – even if the double-centers still have a lot of influence in there – and keep the group locked in a consistent, charismatic performance from start to finish.
I am quite impressed with Kaito Ishikawa's vocals as the last time I heard him was as part of Swiiiiiits and his performances for that group were all sub-par.
In NOISE NOVA, although he is not in the spotlight and only has 1 clean singing part – and a couple of rap parts -, his singing was solid and blended well with the high level of the rest of the group.
All in all, and after going into more detail on NOISE NOVA's True Place, I can safely say that this is a song that has that electronic, ethereal sound that Anthos and QUELL's fans will love however, it is a more danceable sound, louder, bassier and tailormade for the dancefloor which is what makes the group stand out from both those awesome projects and idol projects out there that have been using EDM as its greeting card.
NOISE NOVA's True Place showcases a charismatic and powerful group with experienced, multi-talented singers in perfect harmony, all while donning an ethereal, danceable sound that blends a wide variety of music genres but does so in a tasteful way.
---
PERFECTION NOISE Episode.0 is available for purchase at CDJAPAN.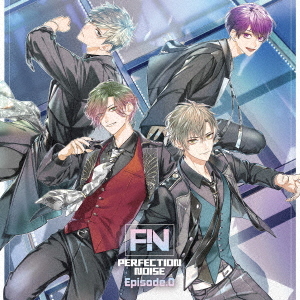 Drama CD
---