"Kimi no egao boku no egao" is Okamoto's newest entry in his repertoire. Taking over as the main lyricist for all of this single's tracks, Okamoto not only showed that he's determined about his solo career as well as he wants to show yet another new side to himself. Changing some of the gears from "Questory", this single take us on a summery trip that we'll certainly remember.
Single: 君の笑顔 僕の笑顔
Label: Kiramune
Release date: 06/07/2016 
Genre: J-Pop
Tracklist:
1. 君の笑顔 僕の笑顔
2. Miseries of life
3. つかめ輝きを
Track by track analysis:
1. 君の笑顔 僕の笑顔
The title track goes back to Okamoto's bright bubblegum pop and mixes it with danceable, slower synths – bringing out a more easy listening sound for his listeners. This playful instrumental lends a bit of what has been done in the past in Trignal and Hiroshi Kamiya's releases – shifting from the tacky pop that relies too much into sounding cute, into a complete 360º with powerful synths and bass driven melodies that are pleasant to the ears. It's a mature sound, there's no doubt about it."Kimi no egao boku no egao" turns out to be an addictive track in which Okamoto is sounding way too good. It's impressive how fast he's improving. This vocal performance was incredibly stable and energetic without a single key issue. Solid, solid performance in what is a fun track. 4.5/5
2. Miseries of life
Revisiting his glorius "Questory" days, Okamoto presents us "Miseries of Life", a pop-rock track with a brighter, shinier sound, a song that passes by as fast as lightning, making us want to put it on repeat. With its fast paced drums, exciting technical guitar riffs (props to that guitar solo in the bridge), thunderous bass as well as the synths that put together every single element in this instrumental, we're ultimately faced with a hands down entertaining song that will certain jump right into Okamoto's top tracks released so far. Vocally this is a track that would be a tought hurdle to tackle for the past Okamoto, right now reaching to high notes without voice cracks or off key moments is easy for him. 5/5
3. つかめ輝きを
Not breaking away from the single's vibe, つかめ輝きを is an entertaining track that lends a lot of brightness from his previous releases in the instrumentalization. Guitars resort to simple chord progressions, the drums are quite simple and mid-tempo, on the other side the bass is barely noticeable behind the prominent synths that lead the way in this track. Once again Okamoto doesn't disappoint with his vocal performance showcasing his stability whenever he goes up on the scale as well as when on his trademark mid-tones. Energetic and entertaining but easily the weakest track out of this single. 4/5
Final rating:
It's scary how fast Okamoto is improving his singing skills. We've seen a bit in the past with the dark "Questory", but this time we're even more surprised because everything that was wrong in the previous release was completely redone and improved. For those that look only at the cover you'll probably be expecting something cute coming out of this.
We know that lately we've been using "Questory" for the basis of comparison to whatever Okamoto does but if notice it: just for the cover alone in the previous release we got an idea that it might, somehow break away from the cute sound (breaking away from the cute image was farely easy), but "Kimi no egao boku no egao" looks like yet another return to his origins with the bubblegum pop that sometimes threw us off. It's not. Okamoto is sticking to his pop-rock (hinting more towards rock based on the instrumentals alone), mixing it with synths in some occasions to showcase that he can also deliver good dance pop songs.
He's showcasing his multi-talented self having written all the lyrics on this release. Although a bit simple at times, his lyrics are surprisingly good and catchy (mainly in the choruses). Okamoto sure is underrated in comparison with some of his peers in Kiramune, but he's slowly catching up to them. We can only be excited about his following releases.
君の笑顔 僕の笑顔 is available for purchase on CDJAPAN for all overseas fans.
Nobuhiko Okamoto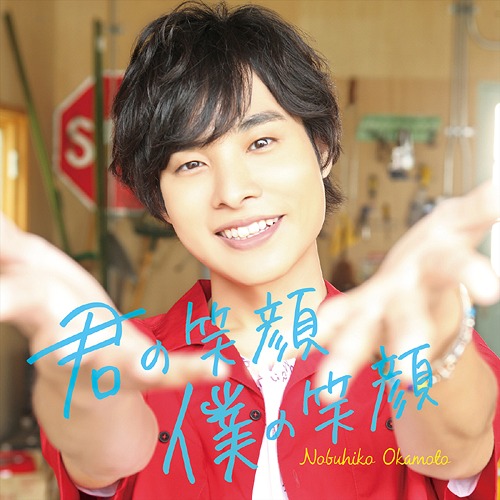 Nobuhiko Okamoto