Natsuki Hanae is back with yet another song featured as the opening theme for "Saiki Kusuo no Psi-nan". Despite the high expectations for this single, "Kokoro" only showed us what we already knew from the previous release, Hanae is playing safe.
Single:こころ (Kokoro)
Label: Nippon Columbia
Release date: 09/11/2016 
Genre: J-Pop/Rock
Tracklist:
01.こころ
02.トクベツ
03.こころ(Instrumental)
04.トクベツ(Instrumental)
Track by track analysis:
01.こころ
Hanae is back with his mid-tempo, laidback rock sound with "Kokoro". This instrumental is rather simple, with melodic, ethereal guitar riffs, a memorable bass line – that basically takes the spotlight for the whole duration of the song, and slow splashy drums to complete the mix. The instrumental might sound like nothing out of the ordinary for most of the listeners, but if you're expecting something more out of this track then the vocal department won't give you that. This track has a really soft, simple, and comfortable vocal performance in which Hanae avoided going into anything fancy to impress the listeners. It's just a quiet, coffee shop-like song. 4/5
02.トクベツ
If you have a certain interest for acoustic pop-rock tunes, "Tokubetsu" is the song you need to check out. This entertaining mid-tempo song puts the main focus on the acoustic guitars, setting the tone for the rest of the instrumental piece. Once again major props to whoever was in charge of playing the bass parts for this single. The bassline is thoroughly entertaining, managing to set the tempo slightly faster in certain parts of the song. The bass playing is robust and you can tell just by how much importance it has in the overall feel of the track. Beware the melodic guitar solo featured in this track. Vocally, Hanae reprises what he did in the previous song, tackling each verse with total comfort, even dropping a little bit of falsetto here and there. A classic, simple, and clean performance. 4/5
Final rating: 
"Kokoro" is yet another solid release by Hanae but it lacks anything that might deem it "impressive" or "exciting" in any sort of way. Mid-tempo instrumentals, simple melodies, comfortable vocal work. This is an easy listening pop-rock, nothing more, nothing less. For those that are used to listen to Hanae tackling rather difficult songs with his vocal prowess (in SolidS for example), the formula used on this single won't work for you at all. Despite Hanae being a vocal powerhouse, we couldn't even notice it at all in this single. Technicality is sacrificed in order to make this release something sweet and simple.
"Kokoro" is available for purchase on CDJAPAN for all overseas fans.
Natsuki Hanae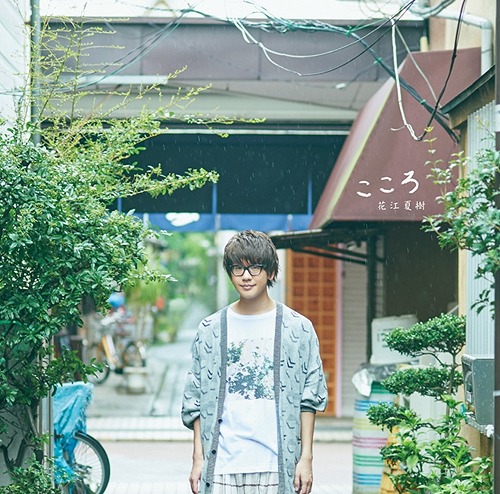 Natsuki Hanae