MooNs released their new single "SUMMER MERMAID" last month. After a bland release last year can we expect any improvement from this unit? This and more questions answered below.

Title: SUMMER MERMAID
Label: B-Project 
Release date: 18/01/2017 
Genre: J-Pop
Tracklist:
01.SUMMER MERMAID
02.パノラマ
03.SUMMER MERMAID(Off Vocal)
04.パノラマ(Off Vocal)
Track by track analysis:
01.SUMMER MERMAID
The quintet starts off incredibly strong with SUMMER MERMAID, a sweet mid-tempo electronic pop tune with a classy touch to it. The simple beat and synths make up for most of the verses, only increasing its tension as we approach the chorus due to the synthetic drums. The bridge is taken over by dubstep drums and synths, cleanly wrapping up into a final chorus. But if you think that this song is all about being a slow dance tune, you're mistaken, at least, half mistaken. As one could expect from B-Project's units there are actually raw instruments on this one, even if a bit masked by reverbs and the sort. The guitars play a major role into dictating the flow of the song – which is a good thing that ultimately enriches the overall composition. The ending feels rather abrupt, leaving us with the sensation that this song shouldn't have ended this shortly. Vocally we find a unit that seems to have finally found their common ground, sounding better than ever. 5/5
02.パノラマ
"Panorama" is a bright pop tune with a bubbly synth setting the overall mood of the song. In comparison with the previous song, this one is a bit more crowded in the instrumental piece. There is a lot of synth work going on in the background, some will only be noticeable if listen to the song more than twice. We'll give it to you, the amount of detail in the instrumental piece is interesting, still it doesn't save the song from sounding way too generic if we compare with "SUMMER MERMAID". On the vocal department we need to point out that Morikubo and Kakihara really shine on this one. Out of all members in the group they have proven that experience is a good trump card under their sleeves. Both of them go all out with their vibrato and smooth vocals to lead the way in this song. Of course we're not taking the merit away of the rest of the members but these two stood out naturally – Kakihara in the chorus and Morikubo in the verses and bridge. With a generic sounding instrumental that could have been more if only the focus wasn't on being too bright, MooNs fall a bit short with this song. 4/5
Final rating:
"SUMMER MERMAID" is MooNs' best release to date. There's a clear improvement in the instrumentals in comparison with their previous release and the vocals sound better – both isolated and as a group. The title track is a major winner in this release really showcasing the unit's strengths to its fullest.
On the other side "Panaroma" isn't their best song, at least instrumentally, but the vocal performance seems to save the show.
If we take a closer look at this unit we only find vocal talent. Showtaro Morikubo not only is a successful solo artist with almost 20 years of solo career under his belt but he's also part of QUARTET NIGHT, one of most hyped and talented units in Japan. He's owner of a fantastic vibrato – that he put to good use in this single – and if singing with his trademark tone, he makes almost anything sound high quality.
We also have Tetsuya Kakihara, one of the most improved solo artists in 2016, now displaying a top tier vibrato (that if you listen closely to any of his solo work you'll notice that he only trained it recently – starting from 2016) alongside his trademark nasal tone, being able to confidently lead a song as smooth as he did with "Panorama".
Okawa and Masuda are valuable members that serve as the bridge between the top tier talent from some of the members and the current lack of it by others. Balancing things out, both of them display solid mid-tones, making the harmonies sound fuller and richer.
Uemura still needs a lot of work in his vocals. Without comparing with the rest of MooNs he sounds a bit weak and unable to lead a song properly. His tone reminds us of Tsubasa Yonaga's debut days, when he used to force the tone and ended up sounding weird. With more practice Uemura will certainly overcome this weakness.
All in all, "SUMMER MERMAID" was a clear improvement for this unit, not only in terms of instrumentals but also the vocal performances. Everything felt right and sounded well so we can only expect the following releases to follow the same trend.
SUMMER MERMAID is available for purchase on CDJAPAN for all overseas fans.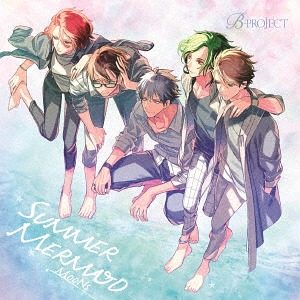 MooNs