TV Guide unveiled the lineup for its 4th issue of TV Guide VOICE STARS Dandyism featuring Kisho Taniyama on the cover.
The veteran seiyuu and GRANRODEO's frontman/lyricist (as KISHOW) Kisho Taniyama graces the upcoming cover of TV Guide VOICE STARS Dandyism.
TV Guide VOICE STARS Dandyism Vol.4 is scheduled to be released on 02/03/2022 and available in regular and Amazon editions (covers are different, the contents are the same in both editions).
The covers are the following:
For his feature, KISHOW was interviewed about GRANRODEO's 9th album "Question". The feature includes a long interview and photoshoot.
Previews of his feature are out. Please notice that these are samples of the bonus bromides included with pre-orders/purchases at specific stores in Japan (honto, Animate, and 7net shopping respectively).
A commentary video featuring KISHOW is out. Check it out below!
Also in this issue are features with:
Hikaru Midorikawa
Katsuyuki Konishi
Show Hayami x Kosuke Toriumi
Toshihiko Seki x Soichiro Hoshi x Hiroaki Hirata x Akira Ishida
Shinichiro Miki
Kazuhiro Yamaji x Romi Park
Hiro Shimono
Yoshimasa Hosoya (LESLIE KEE corner)
Previews of Yoshimasa Hosoya's feature for LESLIE KEE's corner are out. Check them out below!
This issue of TV Guide VOICE STARS Dandyism is A4-sized and includes a wide poster of KISHOW.
---
TV Guide VOICE STARS Dandyism Vol.4 is available for purchase at CDJAPAN.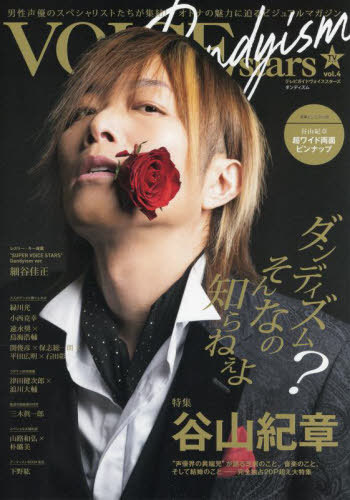 Tokyo News Service
---
SOURCE: Tokyo News magazine & mook / TV Guide Person official Twitter account
Last updated on 02/03/2022