"VESSEL is like a mirror to Suzumura's career: always going forward and while there's a path available, he'll explore as much as possible, staying safe in his music genre."
Reaching mid May we're presented with Kenichi Suzumura's new album titled "VESSEL". The multitalented seiyuu brings us his rock sound that we're so used to and doesn't fail to impress. VESSEL is a consistent album with some new tracks added to the already known ones like シロイカラス, あすなろ, All right and messenger. The new tracks add new elements to Suzumura's versatile solo career, be it the funky guitars in さあ見栄張りましょう or the unusual pittoresque sound in おもちゃ箱. Now off for some details regarding this release:
Album: VESSEL
Release date: 16/05/2014 
Label: Lantis
Genre: J-Rock
The tracklist is the following:
01. overture




02. SHIPS




03. あすなろ




04. messenger




05. バベル




06. シロイカラス




07. さあ見栄張りましょう




08. あいうえおんがく




09. おもちゃ箱




10. All right




11. ALL GREEN




12. EXTRA ROUND




13. つながり




14. finale
Track by track analysis:
1 – Overture
Underwater is where we start with this intro to the album. A simple, quiet intro that slowly builds up with Suzumura's humming in the background, minimal synths and drums until the fadeout for "Ships". 5/5
2 – Ships
"Ships" is the single chosen to promote this album. A track that mixes electronica elements with the traditional rock instruments. "Ships" resorts to a simple instrumental with minimal synths in the background and the acoustic guitar leading the way to all the other instruments. It's clearly noticeable that the track was built around the acoustic guitar and, as usual the guitar work is amazing, both with the acoustic and the electric guitars. "Ships" showcases Suzumura on top of his game archiving here a great and catchy single, an excellent way to kick off the album. Impresses not because it's an amazing track, but because it's so simple yet so catchy and such an entertaining song that you can't stay indifferent to it. 5/5
[youtube=http://youtu.be/Li-vvY8nV8E]
3 – あすなろ
One of the many already known tracks in this album is あすなろ, single released in 2011. This is one of the strongest Suzumura songs released so far. The chorus wins it all in this track changing the tempo of the track from that mid-tempo drumming and speedy piano playing to a uptempo track with the drums and guitars being the culprits in this chorus. This is a well conceived track with a natural build up in the chorus and skillful tempo changes throughout the track. The guitars deliver a great job in this track especially in the outro with their solo. On the vocal side of the track we have Suzumura adapting his vocals to the more upbeat, polished rock sound in this track. The vocal track is spotless, keeping up or even beating the instrumental the majority of the times. 4/5
4 – messenger
Released in 2012, messenger is Suzumura's 8th single and is a more mellow rock track than the previous ones. The intro focuses more in the piano and the guitars making a solid blend leading to the first verses. This track is mainly a slow one in the verses and has a simple yet effective chorus, resorting to the skillful drum playing and dramatical guitar riffs. This is one of those rock tracks that you can listen to time after time and you still can't get enough of it, it's such a great upbeat track besides its intently slow tempo and that is what manages to make an impression in the listener. Sweet, slow, dramatic ballad. A must listen for any Suzumura fan. 4.5/5 
5 – バベル
We start off this song with some kind of broken guitar chords. バべル (Babel) is the highlight of this single. The bassline is one of the best I've heard in Suzumura's songs and the idea of making the song half acoustic until the chorus was an excellent choice making the song a sweet melody with simple yet meaningful guitar chords that instantly make you drawn to the song. Suzumura's vocals are on top of their game on this one, be it high or low notes he catches them perfectly. Such a good song from start to finish. 5/5
6 – シロイカラス
The famous ending theme for CODE: Breaker anime. シロイカラス is a full throttle, old school rock track, it starts fast and strong and keeps up the momentum throughout the track. It's highly addictive due to the upbeat, hyped up chorus and manages even to get ahold of you in the slightly slower verses where Suzumura delivers one vocal performance to remind in years to come. Aggressive guitar riffs and impressive solo in the outro, this alone wins the listener right away but the final touches are made by the vocal track. A performance to behold, one of the top 5 all-time best tracks released so far by Suzumura. 5/5
7 – さあ見栄張りましょう
A new track taking a completely different route from the previous tracks. This is a funky track resorting to soulful bass playing, retro pianos, old school kind of background vocals and funky guitar playing. This is the 60's and 70's all over again in full bloom in this album. Suzumura's vocals seem to fit to perfection to this entertaining and catchy track. Even the solos are old school both the piano and the guitars battle it out in the outro. A time travel presented to all the fans which an interesting thing to do and it's good to see/listen to changes in this album but we weren't expecting something so "unexpected" in this album. Not bad at all. 4/5
8 – あいうえおんがく
Guitar riffs and claps lead the beginning of a song clearly more energetic than the last one. A rock song through and through "あいうえおんがく" is an aggressive, speedy rock song that doesn't fail to impress. The instrumental piece has a bit of electronic elements with the usage of synths throughout the whole song. The outro is incredibly strong with both guitars, bass, drums giving their all along Suzumura's angelic vocals. This song would have been a good choice for a single since it has it all: good riffs, fast, technical drumming, a bit of electronica, a catchy chorus and flawless vocal work.5/5
9 – おもちゃ箱
Another change in the album, a more pittoresque sound lead by the acoustic guitars and the drums played in a much slower tempo than any of the previous tracks. It resembles a bit of the the "country" genre. It's naked of any electric instruments and resorts to some unusual mixes: violins, acoustic guitars and the snare in the drums that sounds almost like a clap track playing in loop in the background. With all this おもちゃ箱 is really an improbable track, still not impressing that much in the end. 3/5
10 – All right
Upbeat rock song with great guitar riffs and drums. One of those rock songs that are incredibly catchy that give that feel good aura when you listen to it. One thing that always comes to my mind while listening to Suzumura's songs is that he never fails to impress vocal-wise. His vocals are always prepared to sing anything and sound incredibly well, of course, fitting like a glove to his pop/rock genre than others. This song is so laidback, the lyrics are good and overall I just want to sing my lungs out while listening to it. Might not sound like a big song but we have to notice the small details, the acoustic guitar on the background, the never-stopping bassline that tries to catch up with the drums' speed those things that, together with Suzumura's vocals, make this song an interesting listen. 4.5/5
11 – ALL GREEN
ALL GREEN reminds a bit of messenger's guitar playing and even the intro, still it's such a strong and enveloping track from start to finish, that we almost completely forgive Suzumura for the kind of "copy paste" between both tracks arrangement and overall work behind it. The chorus is powerful with the drums taking the spotlight away from the guitars that have lead the way since the beginning of the track, but that doesn't last long because they ensure that you won't forget them being there from the very beginning: the deliver a rich, technical solo in the outro leading to yet another chorus. The vocal track is beyond words. Suzumura sings this track in the softest, sweetest and most emotional way possible and that is imprinted in our minds. It's a flawless vocal performance with not a single problem of synchronization or with fitting in with the tempo. If it's not the best track in the album, it's close to that. 5/5
12 -EXTRA ROUND 
Upbeat, all out track from the very first second to the finish. EXTRA ROUND goes that extra mile that the previous tracks lacked. It's a loud track breaking the pace that some of the slowest tracks in this album dictated. Fast and precise drum playing and incredibly good work with the guitars that, once again, managed to impress in this album. Those are some aggressive and fast guitar riffs without being literally "noise", completely befitting this rock round that has been Suzumura's trademark since his solo debut. 4.5/5
13 – つながり
And to drop the curtains we have the slow paced つながり. A song that impresses with its quality and richness and by how simple is instrumental. The guitar is melodic, being helped by the acoustic guitar throughout the song. Suzumura delivers here one perfornance close to perfection in what is one of the best ballads on the album. Sweet, careful, almost as if he were holding something rather fragile, this is the performance that is delivered in this album. An extremely thorough and impressive track. Suzumura on top of his game without a doubt. 5/5
14 – finale
finale picks up where we were left off in the previous track, like a beautiful, sweet intermission with draw the curtains and end this chapter. 5/5 
Final rating: 4.5/5
It gets rated a 4.5 out of 5 and that is the most accurate. The album is close to being an incredibly good one but fails in some places. Still, it's good to see Suzumura trying new things with his sound. It's those experimentations that enrich the sound of his music and, most of all, keep the fans excited for new releases. VESSEL is like a mirror to Suzumura's career: always going forward and while there's a path available, he'll explore as much as possible, staying safe in his music genre. Better metaphor is impossible.
VESSEL is available for purchase on CDJAPAN for all overseas fans.
Kenichi Suzumura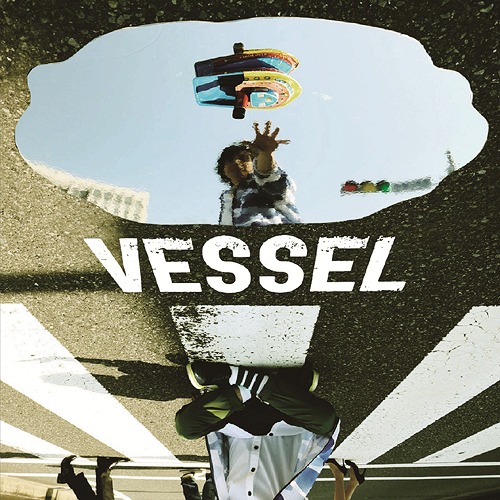 Kenichi Suzumura