Jun Fukuyama is back in the music business with his first major debut single "KEEP GOING ON!". Returning from a long hiatus we can't help to wonder just how much Fukuyama has improved. Can we expect something great from this release? Does it fail to impress? More on this below.
Title: KEEP GOING ON!
Label: Pony Canyon
Release date: 15/02/2017
Genre: J-Pop/Dance
Tracklist:
1 -「KEEP GOING ON !」
2 - ショートコント「多弁ヒーロー JUNJUN MAN」(DRAMA TRACK)
3 - ランプジェンガ  
4 -「KEEP GOING ON !」(Inst.) 
5 - ランプジェンガ(Inst.)
Track by track analysis:
1 -「KEEP GOING ON !」
With the help of Kuro from Home Made Kazoku, Fukuyama presents us "KEEP GOING ON!", an enthusiastic dance pop song with edgy guitar riffs to go with. We weren't expecting an instrumental like this. Synths mixed with guitars, mid-tempo drums mixed with sampled progressive drum pads and all that instrumental mixed with a dramatic choir. If you were here hoping to find Fukuyama singing his lungs out like he did in the past, you'll certainly be surprised. He's rapping 75% of the song, the only sang parts are the chorus and intro. We found the rapping rather interesting in the first verse but when we reach the second one it starts to tick you off – there's something about the Intonation and the delivery that didn't pan out well. The opposite can be said of the vocal performance: weak in the first chorus, strong and slightly stable for the rest of the song. This is a song that gave us a lot of mixed feelings. 3.5/5
3 – ランプジェンガ 
To complete this release we're presented with the loungy, ethereal ランプジェンガ. The mood for this song is a complete opposite from the previous song, a welcomed change. With a wide array of synths at his disposal, he has a really soft instrumental behind his vocal performance. We find this song more enjoyable than "KEEP GOING ON!". The instrumental is solid standing in the thin line between dance tune, bright pop song and ballad, an interesting touch that really got our attention. The vocal performance is not the best ever. Fukuyama is incredibly unstable when there's high notes to tackle, his mid-tones lack emotion. If only the vocal performance was good this would have been one of the best songs released in February. In lack of that we can only say that this song had good potential that was ultimately ruined by the vocal performance. 3.5/5

Final rating:
A lackluster. "KEEP GOING ON!" is a forgettable release without any noteworthy moments. Kuro's collaboration with Fukuyama wasn't enough to make the title song stand out. To top it all, the vocal performance was incredibly unstable throughout the whole release. It's hard to find really good, stable vocal parts in this single, which is a letdown. Still, props for the rap parts.
On another note, the instrumentals were surprisingly good. "ランプジェンガ" stood out for its quiet, minimal touch that mixed ballad with dance without overstepping the bounderies of each of those music genres. The hybrid worked well.
All in all, Fukuyama still has a long way to go or maybe not, taking into account that despite his long hiatus, he hasn't improved one bit. Unstable singing, fickle high notes, weak, dead mid-tones. There are too many things that went wrong with his performance. Taking into account that only the good cuts were chosen for each song, we can't even fathom how the shelved cuts sounded like.
We're kind of curious to see/hear if the following release will showcase any improvements.
"Keep Going On!" is available for purchase on CDJAPAN for all overseas fans.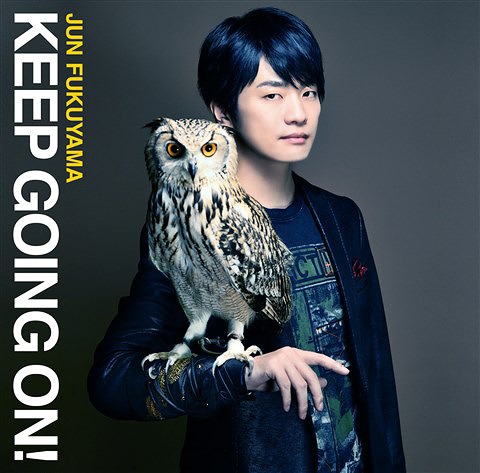 Jun Fukuyama
Jun Fukuyama