Hypnosis Mic released today the cover art as well as the title for Fling Posse's upcoming release.
"Hypnosis Mic -Division Rap Battle-", is a rap battle project that counts with a total of 12 seiyuu split into 4 crews. This isn't the typical idol rap project – hence it's helmed by a real rap/hip-hop label – EVIL LINE RECORDS. For more information about this project please refer to this article.
Fling Posse (Shibuya division) consists of Yusuke Shirai (leader), Soma Saito and Yukihiro Nozuyama.
Titled "Fling Posse -F.P.S.M-", this release is going to be released on 27/12/2017.
The cover art is the following:
More details, including tracklist and previews, will be unveiled in the upcoming days. Be on the look out for more updates from us.
"Fling Posse -F.P.S.M-" is available for pre-order on CDJAPAN for all overseas fans.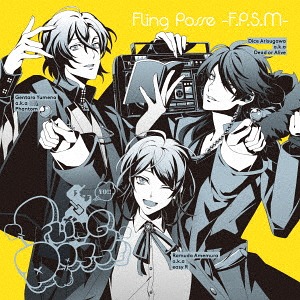 Shibuya Division "Fling Posse"