Shibuya division doesn't bring to the table the darkness that other districts part of the Hypnosis Mic project has but their brightness – even if as a pretense -, manages to show that this district is far from being a paradise. Fling Posse delivers us a groovy portrait of a troubled and addiction-filled Shibuya.
"Hypnosis Mic -Division Rap Battle-", is a rap battle project that counts with a total of 12 seiyuu split into 4 crews. This isn't the typical idol rap project – hence it's helmed by a real rap/hip-hop label – EVIL LINE RECORDS. For more information about this project please refer to this article.
Fling Posse (Shibuya division) consists of Yusuke Shirai (leader), Soma Saito and Yukihiro Nozuyama.
Title: "Fling Posse -F.P.S.M-"
Label: EVIL LINE RECORDS (King Records)
Release date: 27/12/2017
Genre: Rap/Hip-Hop
Tracklist:
1 - drops (performed by Yusuke Shirai)
2 - シナリオライアー (performed by Soma Saito)
3 - 3$EVEN (performed by Yukihiro Nozuyama)
4 - シブヤ・ディビジョン Fling Posse Drama Track1
5 - シブヤ・ディビジョン Fling Posse Drama Track2
6 - drops (off vocal ver.)
7 - シナリオライアー (off vocal ver.)
8 - 3$EVEN (off vocal ver.)
Track by track analysis:
1 – drops 
As it has been a tradition with Hypnosis Mic's releases, the leader of each crew releases the most impactful song on the release. "drops" embraces an early 80's loungy and bassy pop sound, putting emphasis on funky, Chic-inspired guitar riffs and licks, and soothing synths that bring those David Bowie "China Girl/Let's Dance" era vibes or even something coming straight from Katy Perry's repertoire into the mix.
Alone, this '80s imbued instrumental steals the show. Its rich instrumentalization makes this song sound fun, laidback, and melodic, all at the same time.
On the vocal end, this song has almost a 50-50 split between singing and rapping. Yusuke Shirai surprises positively with a complete performance that includes sharp rap and an addictive chorus in which his vocals shine.
If we had to recommend a section of the song in which his vocals really come through in such a perfect way, we'd choose the bridge and last chorus. Shirai not only sounds great on those parts, but his falsetto is as smooth as ever.
Truly one of a kind performance that we could easily label as one of the best on the Hypnosis Mic project and the best on this release. 5/5
2 – シナリオライアー
Perhaps the most introspective song on this release "Scenario Liar" takes us on a trip to Gentaro's memories or lies. A melancholic piano melody leads the way alongside a noticeable, slow-paced bassline and jazzy brass section.
The beat is simple with its focus on hi-hats and dirty snares. The instrumental's slow pace is perfect to let the story Soma Saito is telling us sink in. Embracing a peculiar rap technique, Saito trails and tackles each rhyme and verse in a mix of singing, rapping, and talking, really similar to Matenro's Kento Ito, the only difference is that Saito's performance is more focused on sounding melodic.
The flow in the verses sounds a bit odd at times, especially on a first listen, but the fact that the rap and the beat don't match in some parts is a crucial element that shows the dichotomy between the what is told and the reality in the story that is being presented to us.
The chorus is the only part of the song that leaves room for Saito to sing, even if not for long – it's a rather short chorus. Still, Saito put to good use his melodic high notes to enrich his performance.
We were expecting something slightly different and impactful from the bridge but that didn't end up happening.
While we understand that we're being told a story, there's something missing in the performance, there's no tension, no build-up, no powerful outro. Solid performance with a groovy instrumental that only lacked a bit in delivering something more eventful. 4.5/5
3 – 3$EVEN
The grooviest instrumental on this release belongs to 3$EVEN. As soon as the song kicks off it's impossible to not be pulled in by the heavy bassline and slow-paced beat.
Brass, slot machine and dice effects, simple bassy beat, and clap tracks join in to set a party, "live the moment" vibe. The topic as one can easily figure out is gambling, and betting blindly in hopes of getting rich.
The instrumental brings to life the gambling concept with not only the elements we mentioned above but also minimalistic synths that add an 8-bit game soundtrack touch to it. Even if the instrumental is mostly the best to jam along, there were sections of it that sounded too overwhelming – i.e the outro.
So, in the middle of so much gambling and money talk, what do we find on the vocal end? Yukihiro Nozuyama brings to the table raw rap, groovy rhymes, and overall solid singing (when needed), more than enough to spark our interest and grab our attention. 4.5/5
Final considerations
Vibrancy and energy mark the life of Shibuya, one of the busiest districts in Tokyo with millions of people living there. In the middle of these million, gambling is life for some, others live lies while others are in love and proud of their surroundings.
Shibuya division doesn't bring to the table the darkness that other districts part of the Hypnosis Mic project has but their brightness – even if as a pretense – manages to show that this district is far from being a paradise. Pride, abandonment, pampering, and addiction are some of the topics we find explored in this release, even if, at times, some of those are only touched upon really lightly.
"drops" is mostly about loving and being proud of your roots, where you belong. The instrumental is bright and filled with life even if there's an underlying bittersweet vibe on it.
Yusuke Shirai delivers the best performance on this release is a mix of groovy rapping and stunning high notes. His performance left us in awe, especially on the bridge.
"Scenario Liar" sheds light on Gentaro's personal history, one that might or not be a lie. A complicated childhood in which abandonment and pampering strangely coexisted shaped the sound of this song.
On the vocal end, we found Soma Saito delivering a haunting performance in which his singing and rapping blended into a melancholic mix that impressed us.
It was a pity that Saito, that has delved multiple times into rap performances (thanks to his work in SolidS), got to perform a song that almost didn't get to showcase his rapping skills. We need to add as well that we felt like the instrumental could have had more tension, a breaking point, something that might ignite this performance.
We got neither and the song might sound, for some, slightly "boring" in comparison with the others on this release as well as the ones released by the other crews.
Gambling addiction was mildly depicted in 3$EVEN, song performed by Yukihiro Nozuyama. The song embraced a brass-driven sound with several sound effects related to the theme at hand. We found some minor issues with the instrumental, however, those don't make the song unlistenable.
Between that early drop that introduced us to a heavy bass-driven instrumental to Nozuyama's skillful and raw rap skills, we were impressed. Nozuyama claims that he's good at freestyling and the truth is, those skills came in handy for his performance. His flow grabbed our attention for the duration of the song.
Fling Posse's "Fling Posse -F.P.S.M-" might fall a bit short in comparison with some of the other releases on this franchise, but was still an interesting, rich listen for us. The themes and the ways they were explored, the vocal performances, and the bassy instrumentals, are more than enough reasons for you to check this release.
As we wrap up the last review part of the Hypnosis Mic, we came to the conclusion that this project was more serious than what most people were expecting. The performances were in the wide majority far from being on "idol rapping" level.
The themes were typical of rap/hip-hop music yet they introduced a maturity we don't usually find in music performed by seiyuu (be it solo, group, band, or even 2.5D units).
Themes like guns, violence, gangs, family, addiction, life, and pride were presented to us and handled properly. This was a fresh project in a seiyuu business filled with 2.5D idols and pop music.
We hope to listen more about this project in 2018.
"Fling Posse -F.P.S.M-" is available for purchase on CDJAPAN for all overseas fans.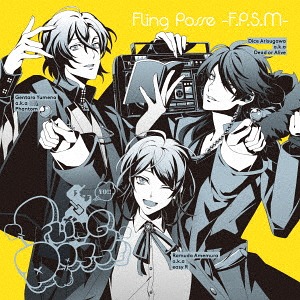 Shibuya Division "Fling Posse"