Hypnosis Mic -Division Rap Battle-, rap project created by Idea Factory and Otomate in collaboration with King Records EVIL LINE RECORDS released today a special music video featuring all rap crews within the series. Get a first look and listen to each crew's style and flow with this special video.
"Hypnosis Mic -Division Rap Battle-", is a rap battle project that counts with a total of 12 seiyuu split into 4 crews. This isn't the typical idol rap project – hence it's helmed by a real rap/hip-hop label – EVIL LINE RECORDS. For more information about this project please refer to this article.
The music video unveiled today counts with all crews performing a song produced by invisible manners.
For those that have been out of the loop, the four crews are the following:
Buster Bros!!! (Ikebukuro division) consists of Subaru Kimura, Haruki Ishiya, Kouhei Amasaki. Their first CD is scheduled to be released on 25/10/2017. More details can be found HERE.
MAD TRIGGER CREW (Yokohama division) consists of Shintaro Asanuma, Shinnichiro Kamio and Wataru Komada. Their CD is scheduled to be released on  15/11/2017.
Matenrou (Shinjuku division) consists of Show Hayami, Ryuichi Kijima and Kent Ito. Their CD is set to be released on 06/12/2017.
The final crew is FLING POSSE (Shibuya division) and consists of Soma Saito, Yusuke Shirai and Yukihiro Nozuyama. Their CD will be released on 27/12/2017.
Event – First live
According to Anime Anime Japan, there is a special event already scheduled for this November at "Animate Girls Festival 2017" to be held in Ikebukuro.
Attending this event will be all members of Buster Bros!!!, from Mad Trigger Crew only Shintaro Asanuma, from Matenrou only Show Hayami and from Fling Posse only Yusuke Shirai. This event will include live performances.
More details on all releases will be unveiled in the upcoming months. Be on the look out for more updates from us.
All releases are already available for pre-order on CDJAPAN for all overseas fans.
Ikebukuro Division "Buster Bros!!!"
Yokohama Division "Mad Trigger Crew"
Shinjuku Division "Matenro"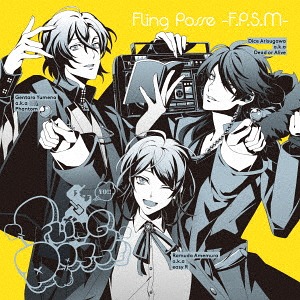 Shibuya Division "Fling Posse"